Pertukaran Penyuluh, Selandia Baru Buka Peluang RI Kerjasama Bilateral Pertanian
New Zealand Opens Opportunities for Agricultural Cooperation with Indonesia
Editor : M. Achsan Atjo
Translator : Dhelia Gani

PUBLISHED: Rabu, 03 Juli 2019 , 00:28:00 WIB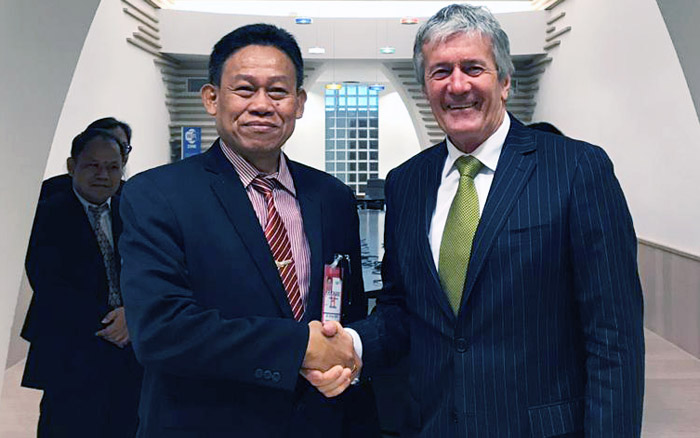 SIDANG ke-41 FAO: Plt Sekjen Kementan, Momon Rusmono [kiri] dan Menteri Pertanian Selandia Baru, Damien O'Connor [Foto: Humas Kementan]
Roma, Italia [B2B] - Pemerintah Selandia Baru berniat melakukan pertukaran dan kerjasama tenaga ahli dan penyuluh pertanian, dan membuka penerimaan calon pengajar bidang pertanian dari Indonesia di Selandia Baru. Indonesia dinilai berhasil menerapkan strategi dan kebijakan untuk menarik minat generasi muda kembali ke sektor pertanian melalui mekanisasi pertanian serta teknologi informasi dan komputasi [TIK].
Hal itu dikemukakan oleh Menteri Pertanian Selandia Baru, Damien O'Connor kepada Momon Rusmono, Pelaksana Tugas [Plt] Sekretaris Jenderal Kementerian Pertanian RI [Sekjen Kementan] pada pertemuan bilateral di sela Sidang ke-41 Badan PBB untuk Pangan dan Pertanian [Food and Agriculture Organization/FAO] di Roma, Italia, kantor pusat FAO, penghujung Juni lalu.
"Seperti negara-negara lain, Selandia Baru memiliki tantangan besar menarik minat generasi muda untuk bekerja di pertanian, dan kami akui Indonesia berhasil menerapkan strategi yang tepat untuk menjawab tantangan tersebut," kata Menteri Damien O´Connor kepada Momon Rusmono di Roma.
Apresiasi tersebut dia lontarkan setelah menyimak paparan Momon Rusmono terkait strategi kebijakan dan program Pemerintah RI mendorong minat generasi muda bekerja di sektor pertanian, dan salah satu upaya yang ditempuh Indonesia adalah memperkuat pendidikan dan pelatihan vokasi untuk SDM pertanian.
"Indonesia mentransformasi 10 sekolah tinggi pendidikan pertanian menjadi perguruan tinggi vokasi pertanian, dari STPP menjadi Polbangtan yang diharapkan mampu menciptakan generasi muda dengan pengetahuan dan keterampilan yang adaptif terhadap TIK dan siap bekerja di berbagai sektor pembangunan," kata Momon Rusmono dalam pertemuan bilateral yang diinisiasi Menteri Damien O´Connor.
Indonesia selama empat tahun terakhir juga fokus menarik minat generasi milenial agar menjadi bagian dari pembangunan pertanian Indonesia, dengan menerapkan pertanian berbasis teknologi modern melalui mekanisasi dan digitalisasi.
"Selain mempersiapkan generasi muda agar mampu berkompetisi menyambut Revolusi Industri 4.0, program beasiswa atau magang di luar negeri juga diberikan kepada petani muda, akademisi, maupun pegawai kementerian untuk penguatan keterampilan dan menambah pengalaman" kata Momon Rusmono yang juga menjabat Kepala Badan Penyuluhan dan Pengembangan SDM Pertanian [BPPSDMP Kementan].
Berbagai upaya yang diterapkan Pemerintah RI selama ini telah berhasil meningkatkan jumlah generasi muda yang mendaftar ke Polbangtan hingga 1.238%. Data BPPSDMP Kementan menyebutkan pendaftar STPP pada 2013 hanya 980 orang, kemudian meningkat ke 13.111 orang yang mengikuti ujian masuk Polbangtan.
Selama rentang waktu yang sama, tambah Momon, data Kementerian Ristekdikti menunjukan peningkatan generasi muda terhadap dunia pertanian juga linier dengan peningkatan jumlah mahasiswa pertanian yang mencapai hingga 64,16%.
Roma of Italy [B2B] - The New Zealand government intends to exchange and collaborate with Indonesian agricultural experts and extension workers, and accept agricultural lecturers of Indonesia to study in New Zealand. Indonesia is considered successful in implementing strategies and policies to attract youth to the agricultural sector through mechanization of agriculture and information technology.