Bukti Demplot Tangkal Stigma Negatif Padi Gogo di Lampung Utara
Indonesian Agriculture Anticipate Covid-19 by Weaker Health Systems
Editor : M. Achsan Atjo
Translator : Dhelia Gani

PUBLISHED: Sabtu, 25 April 2020 , 01:10:00 WIB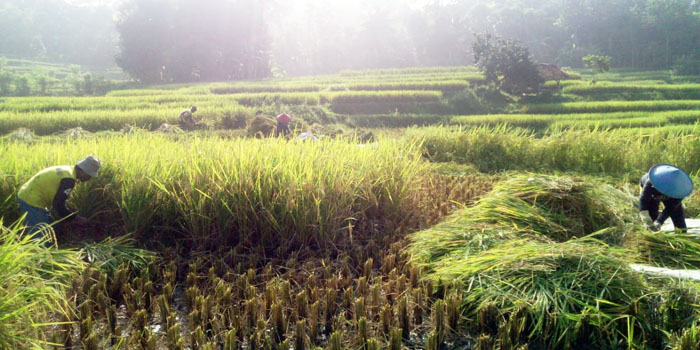 HASIL DEMPLOT: Musim rendeng 2019 menandai banyaknya petani yang beralih menanam padi gogo dengan produktivitas 8 hingga 9 ton per hektar [Foto: Humas Pusluhtan BPPSDMP]
Lampung Utara, Lampung [B2B] - Agustinus, penyuluh pertanian di Lampung Utara tidak banyak bicara, namun kerja keras dan kerja cerdasnya berhasil meyakinkan petani di Kecamatan Abung Surakarta, untuk kembali menanam padi gogo.
Peristiwa pada musim rendeng 2018 diceritakan oleh Kepala Balai Penyuluhan Pertanian [BPP] Wardoyo tentang tantangan penyuluh di Provinsi Lampung mengajak petani di Kecamatan Abung Surakarta kembali menanam padi.
"Petani di sini dulu kapok karena merugi dan memilih menanam ubi kayu karena lebih untung. Tanam padi gogo itu rumit, kata mereka. Gulma dan hamanya sulit dikendalikan. Hasil panen tidak seimbang dengan biaya produksi," kata Wardoyo saat videoconference dengan Kepala BPPSDMP Prof Dedi Nursyamsi belum lama ini.
Menurutnya, Agustinus, penyuluh di Desa Bandarsakti pada musim tanam rendeng pada 2018 mengajak rekan-rekan penyuluh melakukan demonstration rice plot [Demplot].
"Tiap penyuluh mengajak seorang petani di wilayah binaannya, diutamakan petani yang mempunyai lahan kering agar mau menanam padi gogo dengan benih hibrida dan budidaya yang mudah," kata Wardoyo.
Hasil panen mencapai 7,2 ton per hektar. Petani pun percaya setelah melihat bukti, bukan janji. Musim rendeng 2019 menandai banyaknya petani yang beralih menanam padi gogo dengan produktivitas 8 hingga 9 ton per hektar.
"Itulah kerja keras dan kerja cerdas yang layak ditiru. Petani itu mudah diajak kerjasama. Perlihatkan proses dan buktinya, mereka akan langsung replikasi," kata Dedi Nursyamsi.
Mentan Syahrul Yasin Limpo mengatakan negara sedang dalam kondisi tidak biasa dan pejabat pemerintah di sektor pertanian harus hadir menyelamatkan 267 juta jiwa penduduk.
"Karena itu, pada masa pandemi Covid-19 ini saatnya pemerintah bergerak untuk membantu dan meyakinkan bahwa kondisi akan baik-baik saja," kata Mentan yang disarikan penyuluh pusat Wellyana Sitanggang melalui pernyataan tertulis yang dihimpun Pusat Penyuluhan Pertanian [Pusluhtan BPPSDMP].
Kerja keras dan kerja cerdas penyuluh Lampung Utara, Agustinus dkk diapresiasi oleh Kepala BPPSDMP Kementan, Prof Dedi Nursyamsi setelah berhasil meyakinkan petani Abung Surakarta kembali menanam padi. "Pertanian jangan berhenti. Teruslah menanam." [Liene]
North Lampung of Lampung [B2B] - Indonesia´s Agriculture Ministry is in intensive care after testing positive for the novel coronavirus, as civil servants in head office and across the country were ordered to close over the health threat. The World Health Organization has said it is particularly concerned about high-risk nations with weaker health systems, which who may lack the facilities to identify cases, according to senior official of Indonesian Agriculture Ministry.