Motivasi Poktan, Penyuluh Jembrana Gelar Penilaian Kelas Kemampuan Kelompok
Balinese Agricultural Extensionists Increase the Ability of Farmer Groups
Editor : M. Achsan Atjo
Translator : Dhelia Gani

PUBLISHED: Rabu, 16 Oktober 2019 , 00:32:00 WIB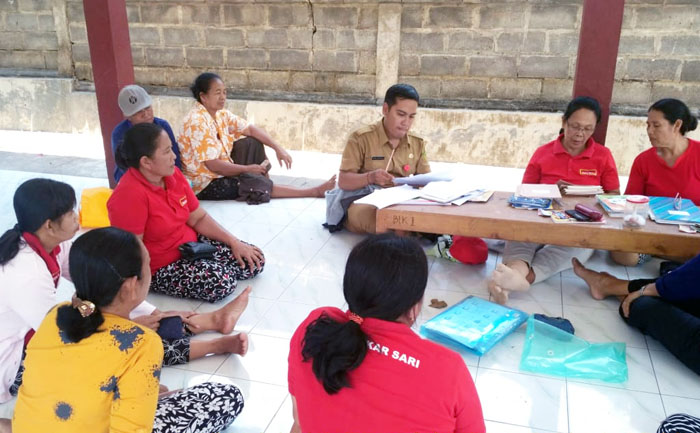 DUKUNG SIMLUHTAN: PPL Kecamatan Negara, Dewa Nyoman Darmayasa [kemeja coklat] melakukan penilaian kelas kemampuan kelompok tani [Poktan] agar berprestasi [Foto: Dewa Nyoman Darmayasa]
Jembrana, Bali [B2B] - Penilaian kelas kemampuan kelompok tani [Poktan] merupakan salah satu bentuk pembinaan, untuk memberikan motivasi kepada anggota Poktan agar lebih berprestasi dalam hal mencapai kelas kemampuan yang lebih tinggi, sekaligus mengetahui kelemahan-kelemahan Poktan yang dinilai sehingga memudahkan langkah-langkah melakukan pembinaan.
"Ada empat tujuan penilaian kelas kemampuan kelompok yakni untuk mengetahui keragaman kemampuan kelompok tani; menyediakan bahan perumusan kebijakan dan strategi pemberdayaan petani; mengetahui metodologi dan pemetaan kebutuhan penyuluh pada masing-masing kelas kemampuan kelompok tani," kata PPL Kecamatan Negara, Dewa Nyoman Darmayasa selaku fasilitator kegiatan penilaian kelas kemampuan kelompok yang dibuka pada Senin [14/10].
Tujuan kelima, kata Dewa, menyediakan database Poktan melalui Sistem Informasi Penyuluh Pertanian [SimLuhTan] untuk meningkatkan kinerja PPL dalam melakukan pengawalan dan pendampingan Poktan.
Menurutnya, kelas kemampuan Poktan dibagi dalam empat kelas: Pemula dengan skor 0 - 245; Lanjut [246 - 455]; Madya [456 - 700] dan Utama [701 - 1000].
Kegiatan penilaian oleh PPL di Kecamatan Negara, Kabupaten Jembrana di Provinsi Bali berlangsung hingga 29 Oktober 2019.
"Khusus di Kecamatan Negara, dari hasil penilaian 2018 terdapat 70 kelompok kelas pemula, 102 kelompok kelas lanjut, 60 kelompok kelas madya, dan tiga kelompok kelas utama," kata Dewa.
Dengan dilakukannya penilaian kemampuan kelas kelompok secara serentak oleh para penyuluh pertanian di kecamatan lingkup Kabupaten Jembrana diharapkan akan memperoleh data jumlah kelompok yang mengalami peningkatan kelas kelompok, baik kuantitas maupun kualitas yang valid dan akhirnya dapat di-update ke SimLuhTan sebagai Big Data yang diakses oleh semua masyarakat Indonesia yang membutuhkan. [Liene]
Jembrana of Bali [B2B] - Indonesian Agriculture Ministry evaluates group farmers across the Jembrana province to increase motivation to members of agricultural groups to achieve higher abilities, as well as knowing its weaknesses so as to facilitate the steps of development.