Penyuluh Gorontalo Utara Dampingi Petani `Demplot Turiman` Lahan Kering
Indonesian`s Agricultural Extensionists must Support Agriculture Modernization
Editor : M. Achsan Atjo
Translator : Dhelia Gani

PUBLISHED: Kamis, 26 Maret 2020 , 00:33:00 WIB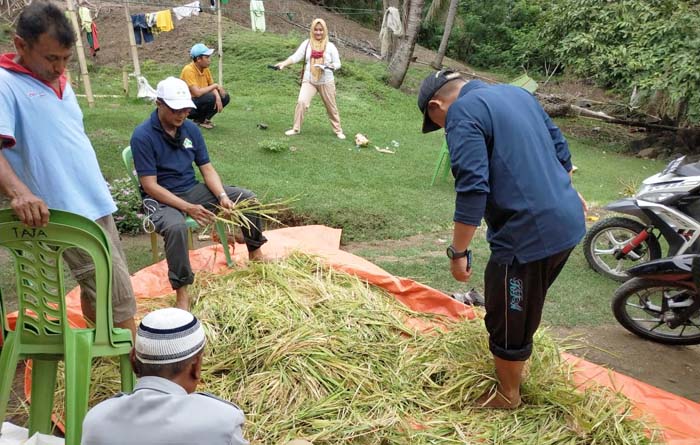 JAGA JARAK: Penyuluh dan petani dari Poktan Karya Baru di Kabupaten Gorontalo Utara, Gorontalo garap hasil panen tanpa mengabaikan imbauan ´jaga jarak´ antisipasi penyebaran virus Corona [Foto: Humas Pusluhtan]
Gorontalo Utara, Gorontalo [B2B] - Petani di Kabupaten Gorontalo Utara, Provinsi Gorontalo khususnya Poktan Karya Baru dipimpin Sarton Djafar di Desa Ilangata Barat, Kecamatan Anggrek melakukan panen di lahan demonstration plotting [Demplot] tanaman padi lahan kering dan jagung disingkat Turiman dengan varietas Situbagendit di lahan seluas 0,5 hektar.
Kegiatan Demplot oleh penyuluh pertanian di Kecamatan Anggrek dilakukan atas koordinasi Tanaman pangan, Hortikultura dan perkebunan Kabupaten Gorontalo Utara, dipimpin Kisman P Kuka dalam pelaksanaan penyuluhan dan pendampingan kegiatan pertanian di lapangan.
"Hasil ubinan swadaya dari Demplot Turiman pada lima plot yang berbeda, produktivitas sekitar 2,83 hektar," kata Ketua Poktan Karya Baru, Sarton Djafar usai panen.
Sementara puncak panen padi sawah dan lahan kering maupun jagung di Kabupaten Gorontalo Utara berlangsung pada minggu keempat Maret hingga April 2020.
"Kegiatan pendampingan dan pengawalan ini diharapkan memberikan motivasi kepada petani pelaksana untuk terus menerapkan teknologi budidaya tanaman pangan, yang diharapkan mampu meningkatkan pendapatan petani di Gorontalo Utara," kata Kisman P Kuka.
Menurutnya, dengan kondisi saat ini mendekati puncak panen raya, diharapkan percepatan penyaluran benih dari anggaran APBN provinsi maupun pusat, mengingat musim tanam gadu di Gorontalo Utara diperkirakan mulai pekan pertama April 2020. [IS]
North Gorontalo of Gorontalo [B2B] - Indonesian agricultural extensionist workers are expected to encourage farmers to do demonstration plotting through mentoring activities by training farmers, especially rice transplants, then reporting performance every day according to senior official of the ministry.