#Serasi Banyuasin, Pusluhtan `Update Data` 3.209 Petani Milenia Muara Telang
Indonesian Govt Identification Swamp Land Farmers in South Sumatra Province
Editor : M. Achsan Atjo
Translator : Dhelia Gani

PUBLISHED: Selasa, 08 Januari 2019 , 03:39:00 WIB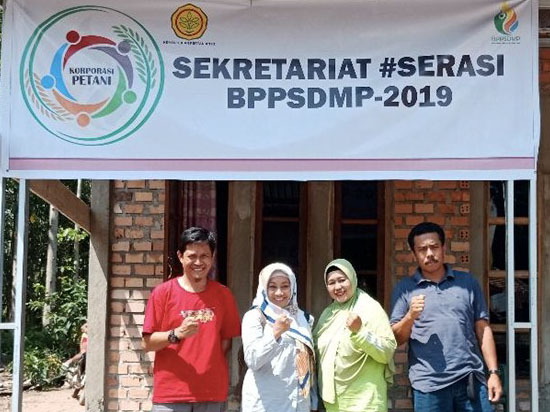 BENTUK POSKO: Kepala Pusluhtan BPPSDMP, Siti Munifah (ke-2 kiri) bersama penyuluh pertanian utama Kementan Siti Nurjannah dan Suwarna (kanan) dan Kasubbag Data dan Evaluasi, Acep Hariri (Foto: Humas Pusluhtan)
Banyuasin, Sumsel (B2B) - Pusat Penyuluhan Pertanian (Pusluhtan) dipimpin Kepala Pusluhtan, Siti Munifah selama tiga hari, Jumat sampai Minggu (4 - 6 Januari), melakukan identifikasi kelembagaan petani Kecamatan Muara Telang, Kabupaten Banyuasin, dengan potensi 3.209 petani milenia yang tersebar di tiga desa: Telang Rejo, Telang Karya, dan Telang Makmur. Identifikasi bertujuan menunjang kesejahteraan petani lahan rawa berbasis koperasi yang dikorporasikan melalui program Kementerian Pertanian RI ´Selamatkan Rawa Sejahterakan Petani´ disingkat #Serasi di Provinsi Sumatera Selatan.
Kepala Pusluhtan Siti Munifah memimpin timnya membentuk Posko #Serasi BPPSDMP di Muara Telang untuk mendukung pemutakhiran data kelompok tani (Poktan) dan gabungan kelompok tani (Gapoktan), data kelembagaan dan ketenagaan penyuluhan pertanian untuk mengetahui kondisi riil di lapangan. Tujuan utamanya, identifikasi data Poktan dan Gapoktan di wilayah pilot project #Serasi yang menjadi tanggung jawab Pusluhtan di Badan Penyuluhan dan Pengembangan SDM Pertanian (BPPSDMP) Kementerian Pertanian RI.
Data yang dilansir Pusluhtan menyebutkan dari 3.209 petani di tiga desa Muara Telang didominasi petani pria 1.698 orang dan 1.511 perempuan. Terbanyak berada Telang Makmur mencapai 1.158 orang dan rentang usia mereka adalah 19 hingga 39 tahun sebagai sampel dari hasil identifikasi lapangan.
Dari analisa usaha tani padi diketahui bahwa total biaya usaha tani tertinggi adalah Desa Telang Makmur sebesar Rp12.525.000 untuk satu kali tanam (IP100) dengan total penerimaan Rp24 juta dan hasil pendapatan dari panen Rp11.475.000, produktivitas enam ton per hektar dan harga gabah Rp4.000 per kg. Sementara biaya usaha tani terendah di Telang Rejo untuk IP200 sebesar Rp9.097.000, total penerimaan Rp13.500.000 dan pendapatan Rp4.402.500.
Sementara dari identifikasi optimalisasi pemanfaatan Alsintan untuk mendukung peningkatan indeks pertanaman (IP) diketahui Desa Telang Makmur kekurangan paling banyak traktor roda dua (TR2) sekitar 152 unit, untuk traktor roda empat (TR4) Desa Telang Karya yang paling banyak membutuhkan atau sekitar 49 unit, begitu pula dengan combine harvester butuh 49 unit.
Rencana tindak lanjut adalah pembentukan kelompok usaha bersama (KUB), penetapan pengurus dan pemilihan manajer, penetapan peserta pelatihan, pelaksanaan pelatihan, pembentukan kelompok pemuda tani, didukung kegiatan pembinaan, pendampingan dan pengawalan, dengan monitoring dan evaluasi rutin. (Liene)
Banyuasin of South Sumatera (B2B) - Indonesian Agricultural Extension Center or the Pusluhtan led by Director Siti Munifah for three days, Friday to Sunday (4 to 6 January) identify farmer institutions in Muara Telang subdistrict of Banyuasin regency, potential 3,209 farmers of three villages: : Telang Rejo, Telang Karya, and Telang Makmur. Identification activities aimed pilot projects of swamp rice development through the swampland use program for agriculture´ or the #Serasi by the Agriculture Ministry.
Director of Pusluhtan led her team form the control center calle as the Posko #Serasi BPPSDMP in Muara Telang, to support update data of farmer groups and farmer groups combined, institutional data and the work of agricultural extension services to find out the real conditions in the field.
Data reported by Pusluhtan mentions 3,209 farmers in Muara Telang sub-district consisting of 1,698 men and 1,511 women. Most farmers in Telang Makmur reached 1,158, and ages 19 to 39 were sampled from field identification.
Analysis of rice farming states that the highest total cost of farming in Telang Makmur Village is IDR 12,525,000 for one planting period with total income of IDR 24 million and revenue of IDR 11,475,000, productivity of six tons per hectare and grain prices of Rp. 4,000 per kg. While the lowest farming costs were in Telang Rejo, IDR9,097,000, total revenues of IDR13,500,000 and revenues of IDR4,402,500.
While the identification of agricultural machinery utilization support increasing cropping index it is known that the Telang Makmur Village lacks two-wheeled tractors of around 152 units, Telang Karya village which requires the most four-wheeled tractors around 49 units, and combine harvester needs 49 units.
Follow-up plan is to form a joint venture group, management and selection of managers, Determination of training participants, training activities, formation of farmer youth groups, supported by coaching, mentoring and escort activities, as well as monitoring and evaluation.