Cadangan Bulog 2,3 Juta Ton, Stok Beras Aman Sampai 2020
Indonesian Govt Ensures that Rice Stocks are Safe until 2020
Editor : M. Achsan Atjo
Translator : Dhelia Gani

PUBLISHED: Senin, 02 Desember 2019 , 00:40:00 WIB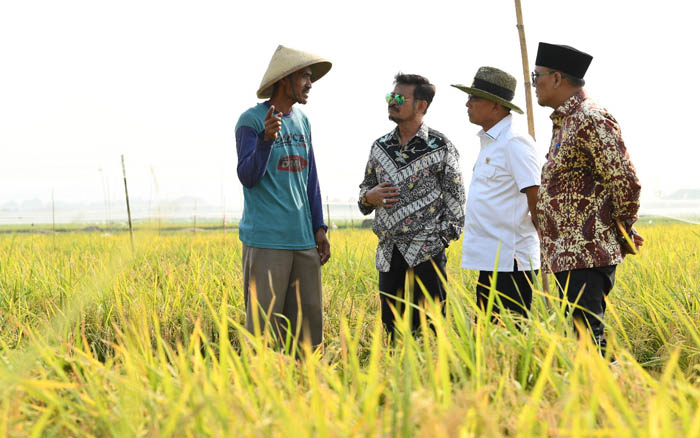 PANEN PADI: Mentan Syahrul Yasin Limpo [ke-2 kiri] berbincang dengan petani Karawang didampingi Seskab Moeldoko [Foto: Biro Humas Kementan]
Jakarta [B2B] - Kementerian Pertanian RI memastikan kebutuhan beras nasional tergolong aman, menjelang panen raya padi awal 2020. Perum Badan Urusan Logistik [Bulog] pun menegaskan cadangan beras pada gudang Bulog di seluruh Indonesia mencapai 2,3 juta ton, lebih dari cukup untuk memenuhi kebutuhan pangan pokok 267 juta penduduk.

"Data yang dimiliki Bulog saat ini cadangan beras di gudangnya mencapai 2,3 juta ton. Artinya kebutuhan beras aman. Apalagi awal tahun ini kita akan memasuki panen raya," kata Kepala Biro Humas Kementerian Pertanian, Kuntoro Boga Andri di Jakarta, Sabtu [30/11].

Menurutnya, mengacu pada perhitungan rata-rata konsumsi nasional saat ini mencapai 111,58 kilogram per kapita per tahun, dengan angka produksi beras diperkirakan mencapai titik surplus sebanyak 4,64 juta ton pada periode ini.

"Ketersediaan ini didukung dengan produksi di luar Jawa dan adanya penanaman varietas padi gogo yang diketahui tahan pada musim kering," katanya.

Kendati begitu, diakui bahwa musim kering yang berlangsung cukup lama beberapa bulan terakhir telah membuat stok padi di masyarakat berkurang. Namun, hal itu tak memengaruhi daya tahan pangan karena stok beras masih cukup hingga panen 2020.

"Sekali lagi tidak ada pengaruhnya karena kita akan menghadapi musim panen di awal 2020," katanya.

BPS dan Bulog
Prediksi Badan Pusat Statistik [BPS] menggunakan kerangka sampel area [KSA] luas panen besar mencapai 8,99 juta hektar. Angka tersebut meliputi produksi Januari hingga September yang diperkirakan mencapai 46,9 juta ton gabah kering giling [GKG] atau setara 26,91 juta ton beras.

"Untuk konsumsi selama periode ini diperkirakan mencapai 22,28 juta ton," menurut BPS.

Direktur Operasional dan Pelayanan Publik Perum Bulog Tri Wahyudi menyatakan akan membuang 20 ribu ton cadangan beras pemerintah senilai Rp160 miliar. Pembuangan dilakukan karena usia penyimpanan beras sudah melebihi satu tahun.

"Semua stok Bulog yang disimpan lebih dari lima bulan itu dapat dibuang, bisa diolah kembali, diubah menjadi tepung dan yang lain, atau turunan beras atau dihibahkan," tukasnya.
Jakarta [B2B] - Indonesian Agriculture Ministry ensures that national rice needs are safe, ahead of the rice harvest in early 2020. The Indonesian Logistics Agency [Bulog] also stressed that rice reserves in Bulog warehouses across the country reached 2.3 million tons, more than enough to meet the basic food needs of 267 million people of Indonesia, according to senior official of the ministry.