Agung H: Ketersediaan dan Distribusi Pangan Penentu Pengendalian Inflasi
Food Availability and Distribution Determinant of Indonesia`s Inflation Control
Reporter : Gusmiati Waris
Editor : Cahyani Harzi
Translator : Dhelia Gani

PUBLISHED: Sabtu, 29 Desember 2018 , 04:13:00 WIB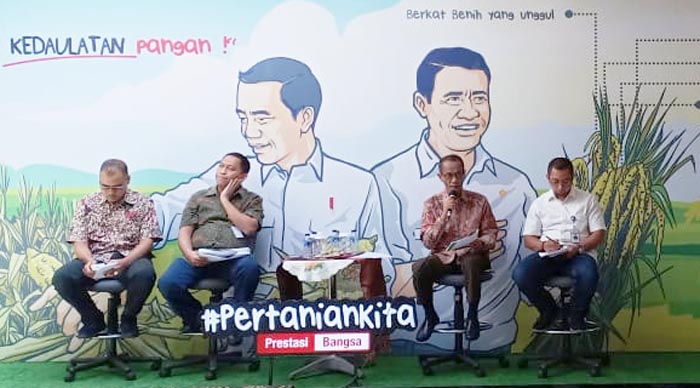 FLUKTUASI HARGA: Kepala BKP Kementan, Agung Hendriadi (ke-2 kanan) menjawab pers usai pelepasan armada TTI suplai telur ayam ke pasar atasi fluktuasi harga jelang Tahun Baru 2019 (Foto: B2B/Mya)
Jakarta (B2B) - Sektor pertanian terbukti mumpuni menekan inflasi bahan makanan dari 11,35% pada 2013 ke 1,26% di 2017 atau turun 88,9%. Begitu pula tahun ini, Januari - November hanya 1,69% atau lebih rendah dari inflasi nasional 2,5%.
"Hal itu berkat upaya pemerintah menjaga ketersediaan, distribusi, dan pemanfaatan pangan. Kementerian Pertanian RI terus mendukung dan mendorong peningkatan produksi pangan strategis seperti padi, jagung, dan kedelai," kata Kepala Badan Ketahanan Pangan (BKP) Kementan, Agung Hendriadi kepada pers di Jakarta, Jumat (28/12).
Menurutnya, faktor penentu lain adalah mendekatkan sentra produksi dengan konsumen, memangkas rantai pasok, dan pemantauan kontinyu fluktuasi harga pangan pokok di pasar turut menentukan upaya pemerintah menekan inflasi bahan makanan.
"Kalau produksi pangan hanya di beberapa sentra maka akan sulit mengendalikan harga bahan makanan. Begitu pula dengan rantai pasok, kalau pemasaran produk pertanian terlalu banyak yang menangani akan membuat harga pangan pokok makin mahal," kata Agung H
Pantauan kontinyu fluktuasi harga pangan pokok turut menentukan pengendalian inflasi, ketika harganya melampaui ketetapan pemerintah maka ditempuh langkah operasi pasar.
"Pemerintah juga mengimbau konsumen tidak membeli bahan makanan secara berlebihan, khususnya sembako terutama pada hari besar keagamaan nasional seperti halnya telur yang saat ini melonjak ke Rp28 ribu rupiah, dan kami menyikapi sejak dini melalui distribusi langsung ke pasar untuk memangkas rantai pasok," kata Agung H.
Strategi tersebut, katanya, bukan hanya menguntungkan konsumen untuk mendapatkan pangan dengan harga terjangkau, kesejahteraan petani pun meningkat. Tampak dari nilai tukar petani (NTP) dan nilai tukar usaha petani (NTUP) yang cenderung naik meskipun inflasi rendah.
"Meskipun inflasi rendah, tapi NTP dan NTUP naik. Penduduk miskin di desa juga turun dari 17,7 juta kini menjadi 15,81 juta rumah tangga miskin," kata Agung H.
Jakarta (B2B) - The agricultural sector is proven to be capable suppressing food inflation of 11.35% in 2013 to 1.26% in 2017 or down 88.9%.
"That´s because the government´s efforts to maintain the availability, distribution and utilization of food. Indonesian Agriculture Ministry continues to support and encourage increased strategic food production: rice, corn and soybeans," the Director General of Food Security Agency or the BKP, Agung Hendriadi told the press here on Friday (December 28).
According to him, another determining factor is bringing production centers closer to consumers, cut supply chains, and continuous monitoring of fluctuations in staple food prices.
"Food production in only a few production centers will be difficult to control food prices. Likewise with the food supply chain, distribution and marketing does not involve many third parties who will harm farmers and consumers," Mr Hendriadi said.
Continuous monitoring of fluctuations in staple food prices also determines inflation control, fluctuations in staple food prices when the price exceeds the government´s provisions, the market operation steps are taken.
"The government also urges consumers not to buy food in excess, especially staple foods on national religious holidays such as eggs, and we respond quickly with direct distribution to the market to cut the supply chain," Mr Hendriadi said.
The strategy, he said, does not only benefit consumers to get food at affordable prices, the farmers become prosperous. It can be seen of the farmer´s exchange rate and the farmer´s business exchange rate which tends to rise despite low inflation.
"Despite low inflation, it remains profitable for farmers. Poor people in the village also fell of 17.7 million to 15.81 million poor households," he said.