Rp1,63 Triliun, 78,8% Dianggarkan Ditjen Perkebunan untuk Bibit dan Komoditas
Indonesian Govt Provides 1.63 trillion Rupiah for Estate Crops Development
Editor : M. Achsan Atjo
Translator : Dhelia Gani

PUBLISHED: Rabu, 06 Juni 2018 , 04:35:00 WIB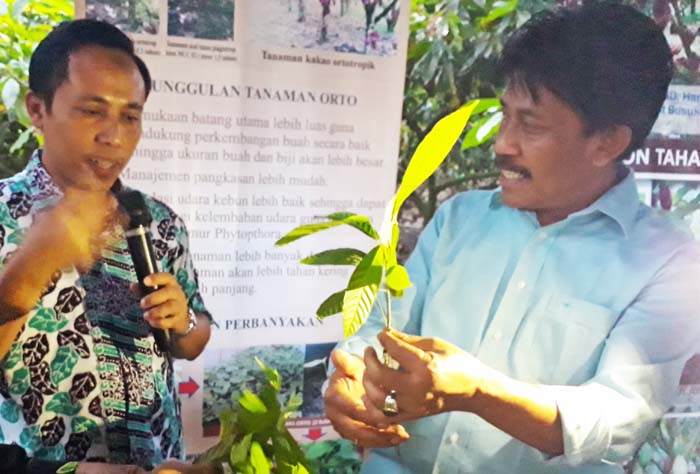 Dirjen Perkebunan Kementan, Bambang WD mengamati bibit tanaman kakao pada kunjungan kerja di Puslitkoka Jember, Jawa Timur (Foto: B2B/Mac)
Jakarta (B2B) - Pemerintah RI tahun ini menganggarkan Rp1,63 triliun untuk Direktorat Jenderal Perkebunan di Kementerian Pertanian RI, sekitar 78,8% atau Rp1,28 triliun akan dimanfaatkan untuk penyediaan 58,9 juta batang bibit untuk ditanam pada lahan seluas 145.777 hektar dan 9 juta batang bibit untuk pengembangan komoditas untuk mencapai target peremajaan tanaman perkebunan atau replanting.
Dirjen Perkebunan, Bambang Wahyu Dwiantoro mengatakan dari total pengadaan bibit tersebut, dialokasikan untuk 3,4 juta batang bibit pala; 3,3 juta batang bibit kelapa; 16,4 juta batang bibit kopi; 18,3 juta batang bibit kakao; 6,15 juta batang bibit lada; 2,17 juta batang bibit karet; dan komoditas lain sebanyak 9 juta batang bibit.
"Target penanaman 58,9 juta batang bibit dialokasikan pada lahan seluas 145.777 hektar yang dibagi untuk pala 32.250 hektar; 28.000 hektar untuk kelapa; 19.380 hektar untuk kakao; 4.736 hektar untuk lada; 5.646 hektar untuk karet; dan 37.015 hektar untuk komoditas lain," kata Dirjen Bambang WD kepada pers di Jakarta pada Selasa (5/6) didampingi Sekretaris Ditjen Perkebunan, Sigit Wahyudi.
Dia mengingatkan bahwa target peremajaan tidak termasuk kelapa sawit, dan diharapkan program replanting akan mendukung perluasan lahan dan perbaikan tanaman untuk menunjang peningkatan produksi perkebunan strategis yang sebagian besar dimanfaatkan untuk ekspor ke mancanegara maupun kebutuhan nasional.
"Sisa anggaran sebesar Rp178,7 miliar atau 10,95 persen dimanfaatkan untuk kepentingan internal Ditjen Perkebunan seperti gaji pegawai, sekretariat, dan lain-lain," kata Bambang WD.
Sisa anggaran sebesar Rp86,4 miliar atau 5,28% untuk penyediaan alat pengolahan, penanganan pascapanen, standarisasi mutu, dan pemasaran. Sementara untuk pengendalian organisme pengganggu tanaman (OPT), desa organik, dan pemberdayaan perangkat memanfaatkan anggaran Rp80,8 miliar atau 4,95%.
Jakarta (B2B) - Indonesian government this year provides a 1.63 trillion rupiah state budget for the Directorate General of Estate Crops of Agriculture Ministry, will be utilized to provide 58.9 million seed stems to be planted in 145,777 hectares of land, and 9 million seeds stems for commodity development, to achieve the target of replanting.
Director General of Plantation, Bambang Wahyu Dwiantoro said of the amount, allocated to 3.4 million stems of nutmeg seed; 3.3 million coconut seed stems; 16.4 million coffee seed stems; 18.3 million cocoa seed stems; 6.15 million stems of pepper seed; 2.17 million rubber seed rods; and other plantation commodities about 9 million seed stems.
"The target of planting 58.9 million seed stems is allocated to 145,777 hectares of land divided for nutmeg 32,250 hectares; 28,000 hectares for coconuts; 19,380 hectares for cocoa; 4,736 hectares for pepper; 5,646 hectares for rubber; and 37,015 hectares for other commodities," Director General Bambang WD told the press here on Tuesday (June 5).
He cautioned that the replating program targets to support land expansion, and improvement of plantation crops to support increased production of strategic plantations, which are mostly used for export to foreign countries as well as national needs.
"While the remaining budget of 178.7 billion rupiah or 10.95 percent for internal interests such as salaries, secretariats, and others," Mr Dwiantoro said.
The state budget of 86.4 billion rupiah or 5.28% for the provision of processing, post-harvest handling, quality standardization, and marketing. As for the control of plant pests, organic village, and the empowerment of devices utilize a budget of 80.8 billion or 4.95%.