Pandemi Covid-19, Lhokseumawe Tetap Semangat Tanam Jagung
Indonesian Agriculture Anticipate Covid-19 by Weaker Health Systems
Editor : M. Achsan Atjo
Translator : Dhelia Gani

PUBLISHED: Sabtu, 16 Mei 2020 , 00:45:00 WIB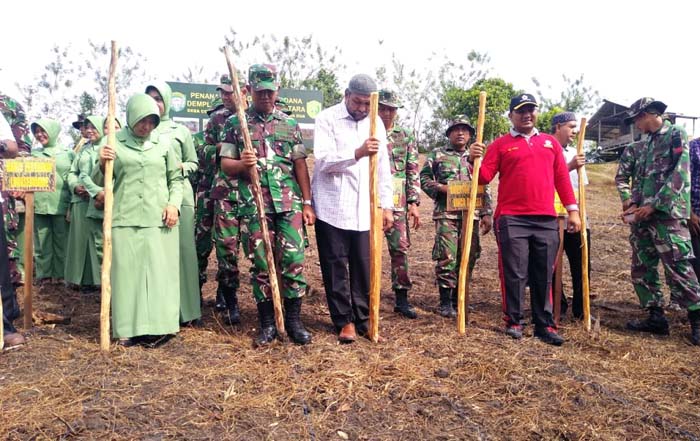 ALAT TANAM: Koordinator Penyuluh Kota Lhokseumawe, Andria Afrida melaporkan kegiatan tersebut mencakup penanaman jagung tahap pertama dengan varietas Bisi-18 pada lahan enam hektar [Foto: istimewa]
Lhokseumawe, Aceh [B2B] - Pemerintah Kota Lhokseumawe di Provinsi Aceh terus mendorong petani khususnya di Kecamatan Muara Dua untuk menanam jagung setelah penanaman padi. Targetnya, meningkatkan ketahanan pangan dan kesejahteraan melalui pendampingan penyuluh pertanian di tengah pandemi Covid-19.
"Walaupun lahan pertanian di Lhokseumawe terbatas, kita berharap dari potensi lahan yang ada, kita dapat memanfaatkan dengan optimal, terlebih situasi pandemi saat ini," kata Wakil Walikota Lhokseumawe, Yusuf Muhammad saat penanaman perdana jagung di Desa Blang Crum, Kecamatan Muara Dua, Kota Lhokseumawe, belum lama ini.
Menurutnya, selain di Desa Blang Crum, penanaman jagung di areal persawahan juga akan dilakukan di Desa Mns Manyang, Cut Mamplam dan selanjutnya di Kecamatan Muara Satu dan Blang Mangat.
"Saya mengingatkan para petani dan penyuluh melakukan aktifitasnya mematuhi Protokol Kesehatan di tengah pandemi Covid-19," kata Yusuf Muhammad pada kegiatan yang dihadiri Kepala Dinas Kelautan, Perikanan, Pertanian dan Pangan, Mohammad Rizal; Koordinator BPP Muara Dua, Andria Afrida; dan penyuluh Desa Blang Crum, Nurjannah.
Koordinator Penyuluh Kota Lhokseumawe, Andria Afrida melaporkan kegiatan tersebut mencakup penanaman jagung tahap pertama dengan varietas Bisi-18 pada lahan enam hektar. Penanaman menggunakan alat tanam jagung [corn planter] tipe dorong dari bantuan Kementrian Pertanian RI.
"Mudah-mudahan pada musim tanam kali ini, produktivitas jagung lebih meningkat, kalau biasanya hanya enam sampai tujuh ton per hektar. Kita harapkan penanaman kali ini bisa lebih meningkat," kata Andria Afrida melalui pernyataan tertulis yang dihimpun Pusat Penyuluhan Pertanian - Badan Penyuluhan dan Pengembangan SDM Pertanian [Pusluhtan BPPSDMP].
Ketua Poktan Blang Crum Tani, M Bakir penggunaan alat pertanian corn planter bisa menghemat tenaga kerja dibandingkan cara manual. "Tanpa corn planter, untuk lahan satu hektar butuh waktu dua hari dikerjakan seorang petani."
Penyuluh pertanian pusat di Kementerian Pertanian RI, Sumardi selaku pendamping kegiatan penyuluhan pertanian Provinsi Aceh menyatakan bahwa Menteri Pertanian RI Syahrul Yasin Limpo mengapresiasi dukungan kepala daerah yang terjun ke lapangan mendampingi petani dan penyuluh membudidayakan jagung.
"Saya 25 tahun menjadi kepala daerah. Saya rasakan kalau mengambil keputusan di lapangan, aroma tanah pasti tercium sehingga berefek baik bagi daerah masing masing," kata Mentan Syahrul saat pencanangan menanam padi dan jagung serentak di seluruh Indonesia pada Selasa [12/5] melalui videoconference di Agriculture War Room - Komando Strategis Pembangunan Pertanian [AWR KostraTani]. [Liene]
Lhokseumawe of Aceh [B2B] - Indonesia´s Agriculture Ministry is in intensive care after testing positive for the novel coronavirus, as civil servants in head office and across the country were ordered to close over the health threat. The World Health Organization has said it is particularly concerned about high-risk nations with weaker health systems, which who may lack the facilities to identify cases.