Sinergi Petani, Penyuluh Blitar Percepat Tanam Tangkal Kemarau
Indonesian Rice Production until December 2020 is Predicted 15 Million Tons
Editor : M. Achsan Atjo
Translator : Dhelia Gani

PUBLISHED: Kamis, 18 Juni 2020 , 00:45:00 WIB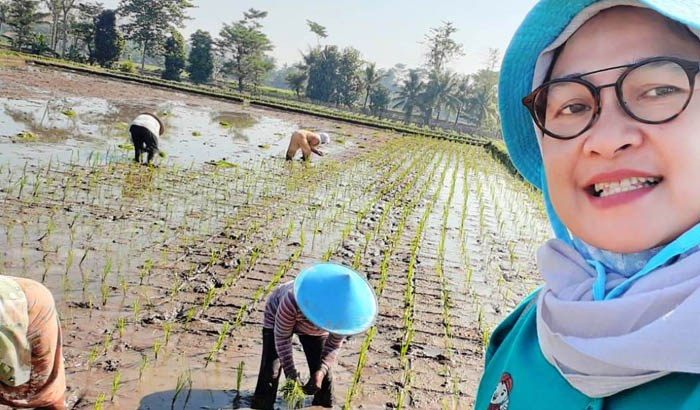 DAMPINGI PETANI: Penyuluh Ninik melaporkan via online bahwa penanaman serempak untuk mengantisipasi kekeringan pada musim kemarau serta memastikan ketersediaan pangan untuk kebutuhan lokal [Foto: Humas Pusluhtan]
Blitar, Jatim [B2B] - Penyuluh Kabupaten Blitar, Provinsi Jawa Timur mendampingi petani di Kecamatan Wlingi mempercepat tanam padi pada fase New Normal untuk menangkal dampak musim kemarau. Saat ini 170 hektar sawah di Wlingi telah ditanami padi dari target 500 hektar pada Juni 2020 sementara luas baku sawah mencapai 1.525 hektar.
Penyuluh BPP Wlingi, Ninik melaporkan kinerja petani dari sejumlah kelompok tani di Kelurahan Tangkil, Kecamatan Wlingi kepada Kepala BPPSDMP Prof Dedi Nursyamsi pada video conference tiap Jumat 'Mentan Sapa Petani dan Penyuluh' (MSPP) pada Jumat pagi pekan lalu (12/6).
"Lahan persawahan di Wlingi, Blitar merupakan lahan irigasi teknis sehingga ketersediaan air untuk tanaman padi tidak bermasalah. Dalam dua tahun terakhir, bisa menanam padi lima kali, maksudnya dalam setahun bisa menanam dua hingga tiga kali," kata Ninik kepada Dedi Nursyamsi yang hadir memimpin kegiatan MSPP mewakili Menteri Pertanian RI Syahrul Yasin Limpo.
Penyuluh Ninik melaporkan via online bahwa penanaman serempak untuk mengantisipasi kekeringan pada musim kemarau serta memastikan ketersediaan pangan untuk kebutuhan lokal. Kelompok tani (Poktan) yang terlibat antara lain Poktan Lumayan, Sido Makmur, Rukun Tani Jaya, Sido Muncul di Kelurahan Tangkil.
"Varietas yg ditanam bervariasi antara lain IR 32, IR 64, Inpari 32, Inpari 42, Mekongga, Ciherang, ketan hitam dan ketan putih. Sejumlah varietas tersebut sengaja ditanam, karena tahun lalu produktivitasnya lumayan tinggi, maksimal 7,5 ton per hektar," kata Ninik melalui pernyataan tertulis yang dihimpun Pusat Penyuluhan Pertanian (Pusluhtan BPPSDMP).
Ketika Dedi Nursyamsi menanyakan ketersediaan benih dan pupuk, dia mengatakan bahwa sarana produksi (Saprodi) tersebut tidak bermasalah, karena selalu tersedia atas dukungan penyuluh mendampingi petani menyusun Rencana Definitif Kegiatan Kelompok (RDKK).
Penyuluh Pusat Bambang Gatut Nuryanto di Kementerian Pertanian RI melaporkan bahwa Kepala BPPSDMP mewakili Mentan Syahrul mengapresiasi para petani dan penyuluh Wlingi, yang berperan aktif memberikan kontribusi signifikan dalam peningkatan kapasitas produksi melalui percepatan tanam padi MT II untuk mendukung terwujudnya ketahanan pangan nasional.
"Mentan berulangkali mengingatkan petani dan penyuluh tetap semangat bekerja di fase Normal Baru ini atau New Normal, dengan tetap memperhatikan dan menerapkan Protokol Kesehatan utamanya kenakan masker, hindari kerumunan, jaga jarak dan rajin cuci tangan dengan sabun pada air yang mengalir sebelum dan setelah beraktifitas," kata Dedi Nursyamsi. [Liene]
Blitar of East Java [B2B] - Indonesia´s Agriculture Ministry is in intensive care after testing positive for the novel coronavirus, as civil servants in head office and across the country were ordered to close over the health threat. The World Health Organization has said it is particularly concerned about high-risk nations with weaker health systems, which who may lack the facilities to identify cases.