Satu KUB 1 Desa, Kelembagaan Petani Ideal di Banyuasin Sumsel
Indonesian Farmers` Economic Institutions Support the #Serasi Program
Editor : M. Achsan Atjo
Translator : Dhelia Gani

PUBLISHED: Rabu, 09 Januari 2019 , 05:31:00 WIB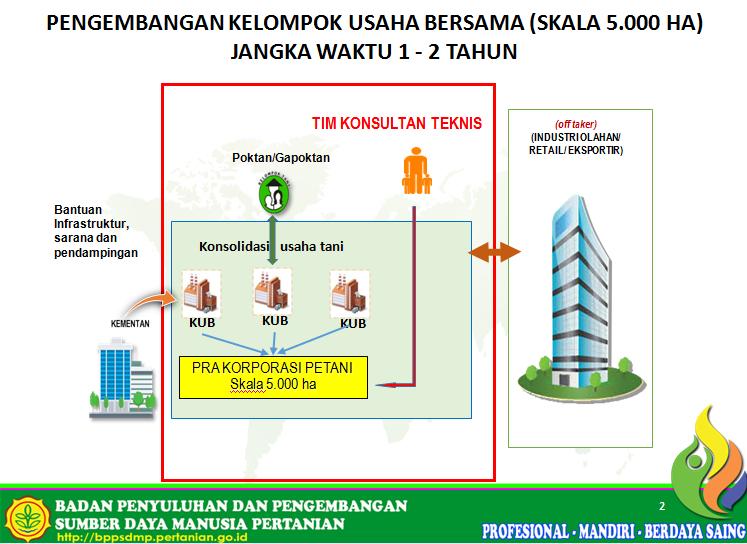 Tabel & Data: Pusluhtan BPPSDMP Kementan
Banyuasin, Sumsel (B2B) - Kementerian Pertanian RI mengelaborasi pembentukan kelompok usaha bersama (KUB) tergantung kondisi geografis lahan dan sosial, luasan minimal 1.000 hektar pada satu hingga empat desa, khusus Kecamatan Muara Telang, Kabupaten Banyuasin, Provinsi Sumatera Selatan idealnya satu KUB cukup di satu desa; misalnya Desa Telang Rejo potensi lahan pertanian 1.800 hektar, yang dilansir Badan Penyuluhan dan Pengembangan SDM Pertanian (BPPSDMP), untuk dikembangkan pada lahan rawa.
Pusat Penyuluhan Pertanian (Pusluhtan) menguraikan perbandingan cakupan KUB Muara Telang di Banyuasin, Sumsel dengan Kecamatan Sungai Tabuk di Kabupaten Banjar, Provinsi Kalimantan Selatan memerlukan tiga desa dengan potensi lahan pertanian 1.494 hektar; tersebar di Tanjau Landung 404 hektar, Keliling Benteng Ilir (502), dan Sungai Bangkal (588) untuk membentuk satu KUB di proyek percontohan program ´Selamatkan Rawa Sejahterakan Petani´ disingkat #Serasi.
Model bisnis KUB yang dirilis BPPSDMP Kementan, untuk tahap awal menerima bantuan pemerintah berupa perbaikan infrastruktur, sarana produksi, dan mesin pertanian atau Alsintan. Sementara permodalan KUB berasal dari iuran anggota, pinjaman dari lembaga keuangan pemerintah, dan sumber lain yang tidak mengikat.
Pengelolaan KUB dilakukan secara profesional yang dipimpin oleh seorang manajer yang ditetapkan oleh pemerintah. Pra Korporasi Petani dibentuk dari beberapa KUB dengan luasan 5.000 Ha, dikelola secara profesional yang dibantu oleh tenaga konsultan manajemen usaha dan teknis, yang ditetapkan oleh Pemerintah.
Sementara unit usaha KUB meliputi usaha pengolahan lahan, penanaman, penyediaan air, penyewaan jasa Alsintan, panen, distributor pupuk, kios saprotan, usaha pasca panen untuk beras dan olahan lainnya. (Liene)
Banyuasin of South Sumatera (B2B) - Indonesian Agriculture Ministry elaborating the formation of joint farmers´ business groups or the KUB based of geographical and social conditions, minimum area of 1,000 hectares in one to four villages in Muara Telang subdistrict of Banyuasin regency in South Sumatra province, for example Telang Rejo village has a potential of 1,800 hectares of agricultural land.
The ministry´s Agricultural Extension Center describes the comparison of KUB Muara Telang in Banyuasin, South Sumatra with the Sungai Tabuk sub-district in Banjar district, South Kalimantan province covering three villages with the potential 1,494 hectares of agricultural land; tersebar di Tanjau Landung 404 hektar, Keliling Benteng Ilir (502), dan Sungai Bangkal (588) to form a KUB in the pilot project of the swampland use program for agriculture´ or the #Serasi.
The KUB business model released by the Agricultural Extension Center in the initial phase received assistance of government to improve agricultural infrastructure, production facilities and agricultural machinery. While the business capital of KUB from membership fees, government financial institution loans, and other non-binding sources.
KUB management is professionally led by a manager appointed by the competent authority. Before forming a corporation, several KUBs with an area of 5,000 hectares, will be supported by business management and technical consultants appointed by the government.
While the KUB business unit includes land processing, planting, water supply, rental of agricultural machinery, harvesting activities, fertilizer distributors, post-harvest agricultural production businesses.