Petani Penggarap dan Buruh Tani Kediri Dukung Penguatan KostraTani
Indonesian Agriculture Ministry Anticipate Covid-19 by Weaker Health Systems
Reporter : Gusmiati Waris
Editor : Cahyani Harzi
Translator : Dhelia Gani

PUBLISHED: Rabu, 01 April 2020 , 00:53:00 WIB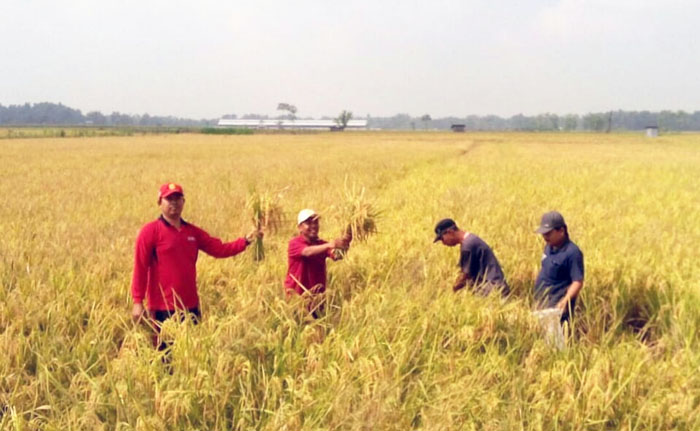 PERTANIAN KEDIRI: Penyuluh mendampingi petani Kediri menjelang panen raya di tengah ancaman Covid-19 [Foto: Humas Pusluhtan BPPSDMP]
Kediri, Jatim [B2B] - Mengantisipasi dampak penyebaran virus Corona, Covid-19, Dinas Pertanian dan Perkebunan Kabupaten Kediri telah mengidentifikasi potensi SDM pertaniannya. Hingga 31 Maret 2020 teridentifikasi 22.424 petani penggarap dan buruh tani pada 25 Balai Penyuluhan Pertanian [BPP] di seluruh Kediri, Provinsi Jawa Timur.
Hasil identifikasi potensi SDM pertanian bertujuan antisipasi dampak Covid -19 sebagai pandemi global, sekaligus memberikan dukungan penguatan kelembagaan BPP sebagai KostraTani.
Hal ini untuk menjawab program yang dicanangkan Kementerian Pertanian RI ditindaklanjuti oleh Kepala BPPSDMP Prof Dedi Nursyamsi tentang pendataan petani penggarap dan buruh tani mengacu pada Nomor Induk Kependudukan [NIK] sebagai sasaran penerima bantuan cash program sektor pertanian.
Salah satu tujuan pembangunan pertanian adalah menyediakan pangan bagi 267 juta penduduk Indonesia, untuk itu kegiatan pertanian tidak boleh berhenti di tengah pademi global Covid-19.
Lahan pertanian umumnya berada di zona hijau [aman] dengan berlimpahnya sinar matahari di lahan pertanian berlimpah, karena sinar matahari [ultraviolet] yang membuat Covid-19 tidak aktif.
Peran penyuluh harus tetap berlangsung untuk mendampingi petani guna mewujudkan ketersediaan pangan secara nasional .
Sejalan dengan itu, Menteri Pertanian RI Syarul Yasin Limpo mengimbau SDM pertanian tetap bekerja di lahan pertanian dengan semangat, melaksanakan seruan pemerintah untuk menjaga jarak [social distance], menghindari kerumunan, sering cuci tangan pakai sabun, gunakan masker apabila batuk atau pilek, rajin konsumsi produk empon-empon [herbal] seperti wedang uwuh, jahe, kunir asem, beras kencur, dan lain-lain yang secara klinis dapat melawan covid-19.
Hal senada disampaikan oleh Prof Dedi Nursyamsi kepada para penyuluh untuk mendorong petani tetap produktif dalam upaya penyediaan pangan dan memanfaatkan jejaring ostraTani, Kostrada, Kostrawil dan KostraTanas melalui AWR KostraTani membuat media informasi online interaktif melalui Cyber Extension dan media sosial terkait langkah praktis antisipasi Covid-19.
Hal ini dimaksudkan untuk mendukung kinerja petani penggarap dan buruh tani untuk tetap bekerja di sawah dan penguatan BPP sebagai Kostratani di tingkat kecamatan melalui identifikasi potensi SDM pertanian oleh penyuluh. [Bgn]
Kediri of East Java [B2B] - Indonesia´s Agriculture Ministry is in intensive care after testing positive for the novel coronavirus, as civil servants in head office and across the country were ordered to close over the health threat. The World Health Organization has said it is particularly concerned about high-risk nations with weaker health systems, which who may lack the facilities to identify cases, according to official of the region.