Songsong Lebaran, Penyuluh Dampingi Petani Bulungan Panen Cabai
Indonesian Agriculture Anticipate Covid-19 by Weaker Health Systems
Editor : M. Achsan Atjo
Translator : Dhelia Gani

PUBLISHED: Sabtu, 16 Mei 2020 , 00:53:00 WIB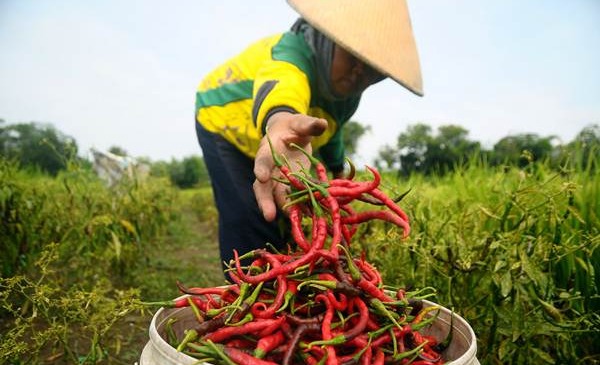 KEBUTUHAN DOMESTIK: Petani Bulungan melakukan panen cabai keriting di perbatasan utara Kaltara, bukan untuk tujuan ekspor melainkan memastikan masyarakat di Bulungan terpenuhi kebutuhan pangannya [Foto: Pusluhtan]
Bulungan, Kaltara [B2B] - Dua pekan menjelang Idul Fitri 1441 H, sejumlah penyuluh pertanian di Kabupaten Bulungan, Provinsi Kalimantan Utara [Kaltara] mendampingi petani panen cabai keriting seluas 1,5 hektar di Kecamatan Tanjung Palas Tengah dan Tanjung Palas Utara oleh kelompok tani [Poktan] setempat.
Petani Bulungan melakukan panen cabai keriting di perbatasan utara Kaltara, bukan untuk tujuan ekspor melainkan memastikan masyarakat di Bulungan terpenuhi kebutuhan pangannya, khususnya cabai keriting sekaligus mencegah fluktuasi harga.
Penyuluh pertanian pusat di Kementerian Pertanian RI, Bambang Gatut Nuryanto selaku pendamping kegiatan penyuluhan pertanian di Kaltara menyatakan petani dan penyuluh Bulungan tetap semangat bekerja di lapangan. Hal itu sesuai instruksi Menteri Pertanian RI Syahrul Yasin Limpo bahwa bahwa produksi pertanian harus digenjot tanpa mengabaikan Protokol Kesehatan.
"Kondisi ini sekaligus menjawab tuntutan Bulungan sebagai pusat administrasi perkantoran tingkat provinsi Kaltara yang memiliki tanggungjawab lebih dibanding kabupaten dan kota lainnya untuk menjaga stabilitas pangan," kata penyuluh Akhmat Juni Arafat melalui pernyataan tertulis yang dihimpun Pusat Penyuluhan Pertanian - Badan Penyuluhan dan Pengembangan SDM Pertanian [Pusluhtan BPPSDMP].
Akhmat JA mendampingi kegiatan panen Poktan Mulyo di Desa Panca Agung, Kecamatan Tanjung Palas Utara. Lahan panen seluas 0,5 hektar milik Agoes Soebagio dan Sayuti yang menanam cabai keriting varietas Dewata 43 dan Baskara.
Sementara penyuluh Kaltira mendampingi petani binaannya dari Poktan Bina Sejahtera panen seluas 0,5 hektar milik Sabar. Varietas cabe keriting yang ditanam adalah Lado kemudian dipasarkan ke pasar di Bulungan.
"Panen cabai keriting biasanya dilakukan hingga lima kali sehingga stok di pasar kabupaten cukup tersedia bagi konsumen," kata Akhmad JA.
Aktifitas penyuluh dan Poktan Bina Sejahtera serta Poktan Mulyodi sesuai arahan Kepala BPPSDM Prof Dedi Nursyamsi bahwa pertanian tidak berhenti.
"Petani dan penyuluh tetap bekerja di lahan pertanian dengan semangat, serta mendorong petani tetap produktif dalam upaya penyediaan pangan di tengah pademi covid-19," kata Dedi Nursyamsi. [Liene]
Bulungan of North Borneo [B2B] - Indonesia´s Agriculture Ministry is in intensive care after testing positive for the novel coronavirus, as civil servants in head office and across the country were ordered to close over the health threat. The World Health Organization has said it is particularly concerned about high-risk nations with weaker health systems, which who may lack the facilities to identify cases.