Petani Milenial Penentu Sukses Pengembangan Lahan Rawa
Indonesia`s Tough Farmers Determine the Success of Swampland Development
Editor : M. Achsan Atjo
Translator : Dhelia Gani

PUBLISHED: Selasa, 08 Januari 2019 , 05:37:00 WIB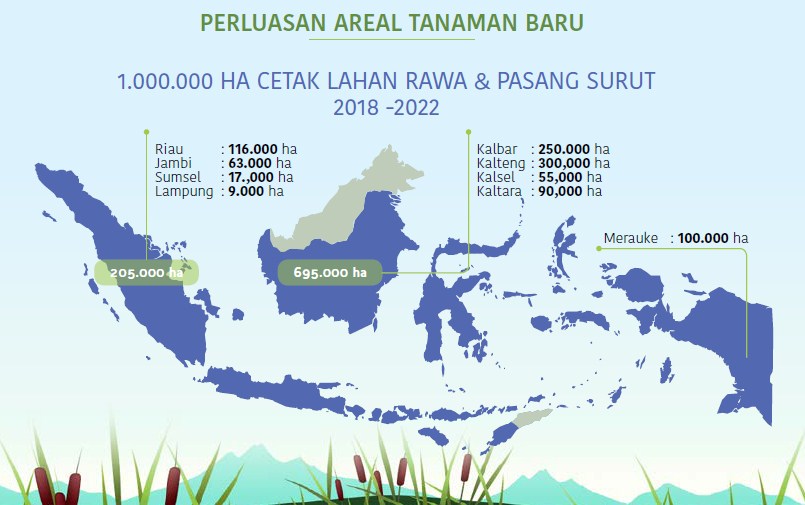 Data & Tabel: Kementan
Banyuasin, Sumsel (B2B) - Jutaan hektar lahan rawa di Indonesia selama ini terbengkalai bagai ´raksasa tidur´ padahal potensinya luar biasa untuk memproduksi pangan sepanjang tahun tanpa terpengaruh kekeringan musim kemarau. Petani milenial bermental baja didukung mekanisasi pertanian menjadi penentu keberhasilan Kementerian Pertanian RI mengembangkan lahan rawa sebagai tumpuan masa depan produksi pangan nasional.
Hal itu dikemukakan oleh Dirjen Tanaman Pangan, Sumarjo Gatot Irianto; Sekretaris Badan Penyuluhan dan Pengembangan SDM Pertanian (BPPSDMP) Andriko Noto Susanto; Kepala Pusat Pendidikan Pertanian (Pusdiktan) Idha Widi Arsanti; dan Kepala Pusat Penyuluhan Pertanian (Pusluhtan) Siti Munifah saat kunjungan kerja di lahan rawa Kabupaten Banyuasin, Provinsi Sumatera Selatan, Minggu (6/1).
Keempat pejabat eselon satu dan dua Kementan tersebut berada di Banyuasin selama tiga hari, 4 - 6 Januari, untuk mendukung sukses program ´Selamatkan Rawa Sejahterakan Petani´ disingkat #Serasi yang diluncurkan Menteri Pertanian RI Andi Amran Sulaiman di Jakarta pada 22 November 2018.
"Jutaan hektar lahan tidak dapat dimanfaatkan secara optimal karena kelebihan air, namun dengan penataan didukung mesin pertanian dan petani milenial maka lahan rawa berubah menjadi produktif sepanjang tahun," kata Gatot I melalui pernyataan tertulis.
Data Kementan menyebutkan pemerintah pusat didukung daerah akan mengembangkan sejuta hektar lahan rawa dan pasang surut pada 2018 - 2022 yang tersebar di delapan provinsi: Riau, Jambi, Sumatera Selatan, Lampung, Kalimantan Barat, Kalimantan Tengah, Kalimantan Selatan, dan Kalimantan Utara.
Pengembangan #Serasi di Sumsel yang menjadi tanggung jawab BPPSDMP Kementan, menurut Andriko NS, petani milenial didukung Alsintan modern menjadi penentu keberhasilan mengelola lahan rawa dengan mengembangkan varian-varian pekerjaan yang semula dikerjakan secara konvensional menjadi mekanisasi.
"Mengelola lahan rawa akan menjadi menarik lantaran upah lebih tinggi dan lebih kompetitif ketimbang bekerja sebagai buruh," kata Andriko NS.
Siti Munifah menyoroti pengembangan kelembagaan petani dan kelembagaan ekonomi untuk menunjang kesejahteraan petani lahan rawa berbasis koperasi yang dikorporasikan melalui #Serasi sangat penting, agar lahan dan modal tidak dimiliki oleh segelintir orang.
"BPPSDMP Kementan ditugasi Mentan untuk mendukung kelembagaan petani dan kelembagaan ekonomi menunjang kesejahteraan petani," kata Kapusluhtan.
Idha WA menambahkan bahwa sepanjang ada kehidupan, pangan akan selalu dibutuhkan. Lahan rawa membuka peluang bagi petani milenial untuk bergabung mendukung pencapaian kedaulatan pangan.
"Ini sejalan dengan penetapan Presiden Jokowi bahwa 2019 sebagai milestone pengembangan SDM berkompetensi sesuai tuntutan global," kata Idha WA.
Banyuasin of South Sumatera (B2B) - Millions of hectares of swampland in Indonesia have been abandoned like ´sleeping giants´ even though the potential is extraordinary for producing food throughout the year without being affected by the dry season. Farmers supported by agricultural mechanization are determinants success of Agriculture Ministry to developing swampland for the future of national food production.
It was stated by the Director General of Food Crops, Sumarjo Gatot Irianto; Secretary of Directorate General Extension and Agricultural HR Development, Andriko Noto Susanto; Director of Agricultural Education Center, Idha Widi Arsanti; Director of Agricultural Extension Center, Siti Munifah on working visits in the swampland of Banyuasin regency of South Sumatra province, Sunday (January 6).
The four first and second echelon officials at the ministry were in Banyuasin for three days, 4 to 6 January, of socialization ´the swampland use program for agriculture´ or the #Serasi was launched by Agriculture Minister Andi Amran Sulaiman in Jakarta on November 22, 2018.
"Millions of hectares of swampland could not be used because of excess water, but agricultural machinery and tough farmers will turn out to be productive throughout the year," Irianto said in the written statement.
Ministry data shows that the central government supported by the regions will developing million hectares of swamp and tidal land in 2018 - 2022 spread in eight provinces: Riau, Jambi, South Sumatra, Lampung, West Borneo, Central Borneo, South Borneo, and North Borneo.
#Serasi development in South Sumatra which is the responsibility of his office, according to Susanto, farmers supported by modern agricultural machinery are the determinants of the success of swampland development as a center for national food production.
"Developing swampland will be interesting because wages are higher and more competitive than working as laborers," Susanto said.
Munifah highlighted the development of farmer institutions and economic institutions to support the welfare of swampland farmers so that the land and capital are not owned by a few people.
"We were asked by the agriculture minister to support farmer institutions and economic institutions to support the welfare of swampland farmers to developing corporations," she said.
Arsanti say during life, food will always be needed. Swampland opens opportunities for farmers to join in supporting the achievement of food sovereignty.
"This is in line with President Joko Widodo´s target that 2019 is an HR development milestone," she said.