Pergub Sergap Bulog, 15% Produksi Padi Sulsel untuk Cadangan Pangan
Indonesia`s South Sulawesi Provincial Govt Supports Farmers Selling Rice to Bulog
Editor : M. Achsan Atjo
Translator : Dhelia Gani

PUBLISHED: Jum'at, 08 Februari 2019 , 00:58:00 WIB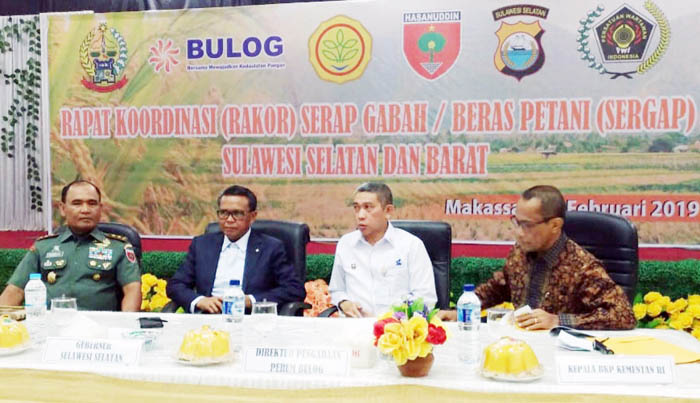 SERGAP SULSELBAR: Kepala BKP Kementan, Agung Hendriadi (kanan), Direktur Pengadaan Bulog, Mayjen TNI (Purn) Bachtiar; Gubernur Sulsel Nurdin Abdullah; dan Pangdam XIV Hasanuddin, Mayjen TNI Surawadi (Foto: Humas BKP)
Makassar, Sulsel (B2B) - Pemerintah Provinsi Sulawesi Selatan (Pemprov Sulsel) akan mengeluarkan peraturan gubernur (Pergub) sebagai komitmen mempercepat serap gabah di 24 kabupaten/kota, dengan menetapkan 15% dari total produksi padinya harus diserap oleh Perum Badan Urusan Logistik (Bulog) melalui program serap gabah/beras petani disingkat Sergap.
Hal itu dikemukakan Gubernur Sulsel, Nurdin Abdullah pada rapat koordinasi Sergap di Makassar, Kamis (7/2), yang dipimpin Kepala Badan Ketahanan Pangan - Kementerian Pertanian RI (BKP Kementan), Agung Hendriadi. Hadir Direktur Pengadaan Perum Bulog, Mayjen TNI (Purn) Bachtiar; Pangdam XIV Hasanuddin, Mayjen TNI Surawadi; dan Kepala Divre Bulog Sulselbar, Mansur Siri.
Gubernur Nurdin Abdullah mengatakan serapan Bulog terhadap produksi beras petani bisa meningkat hingga di atas 15%, yang awalnya hanya 10% berdasarkan peraturan gubernur. Saat ini, Sulsel menyuplai kebutuhan beras 27 provinsi di Indonesia.
"Sinergi antarinstansi terkait sangat penting. Saya akan segera koordinasi dengan para bupati, Panglima Kodam, Kapolda dan pihak-pihak terkait untuk all out mendukung pencapaian target Sergap," kata Nurdin A.
Kepala BKP Kementan Agung H mengapresiasi komitmen Gubernur Sulsel, sehingga target Sergap dapat tercapai, bahkan bisa melampaui target yang ditetapkan.
"Tujuan utama program Sergap adalah membantu petani menjual hasil panennya kepada Bulog, bukan pada tengkulak, sekaligus memperkuat cadangan beras pemerintah yang disimpan di Bulog," kata Agung H.
Direktur Bachtiar menegaskan kesiapan Bulog melakukan penyerapan gabah sesuai target provinsi, dengan menerapkan strategi mempermudah kerjasama pengadaan beras/gabah, menambah kapasitas gudang penyimpanan, dan meningkatkan pelayanan dengan tetap buka pada hari libur.
Sementara Mayjen TNI Surawahadi menyatakan komitmen TNI AD di Sulsel mendukung sukses pemerintah mencapai target Sergap, dengan melakukan pendampingan dan pengawalan terhadap petani menjual hasil panennya.
Makassar of South Sulawesi (B2B) - South Sulawesi provincial government will issue a governor´s regulation as a commitment to accelerate rice farmers sell grain to the National Logistics Agency or the Bulog by setting 15% of the total rice production across the all provinces must be purchased by Bulog through the rice sales program to Bulog or the Sergap program.
It was stated by South Sulawesi Governor, Nurdin Abdullah at the Sergap coordination meeting here on Thursday (February 7), who was led by Director General of the Food Security Agency of Agriculture Ministry, Agung Hendriadi. Also present Director of Procurement of Bulog, Maj. Gen. TNI (Ret.) Bachtiar; Commander of Hasanuddin´s Military Command, Maj. Gen. TNI Surawadi; and Head of Bulog Regional Division, Mansur Siri.
Governor Nurdin Abdullah said Bulog´s absorption of rice farmers´ production could increase to above 15%, which initially was only 10% based on governor´s regulations. At present, South Sulawesi supplies rice for 27 provinces in Indonesia.
"Synergy between related agencies is very important. I will immediately coordinate with the regents, the military, the police to all out support the Sergap target," Governor Abdullah said.
Agung Hendriadi appreciated Governor Abdullah´s commitment, so that the Sergap target could be achieved, it could even exceed the target set.
"The main objective of Sergap program is to help farmers sell rice products to Bulog, not middlemen, and fill the government´s rice reserves at Bulog," Hendriadi said.
Director Bachtiar ensures that Bulog is ready to buy grain from rice farmers according to the provincial target, by facilitating cooperation, adding storage warehouse capacity that remains open even though it is a holiday.
While Maj. Gen. Surawahadi stated that the commitment of the Army in South Sulawesi to support the government´s success by providing assistance and escorting farmers to sell their crops.