GPN 2018, Upaya BKP Kementan Tingkatkan Pengembangan Industri Pangan Lokal
Indonesian Govt Ssupports the Ddevelopment of Local Food Inddustry
Reporter : Gusmiati Waris
Editor : Cahyani Harzi
Translator : Dhelia Gani

PUBLISHED: Kamis, 26 Juli 2018 , 09:08:00 WIB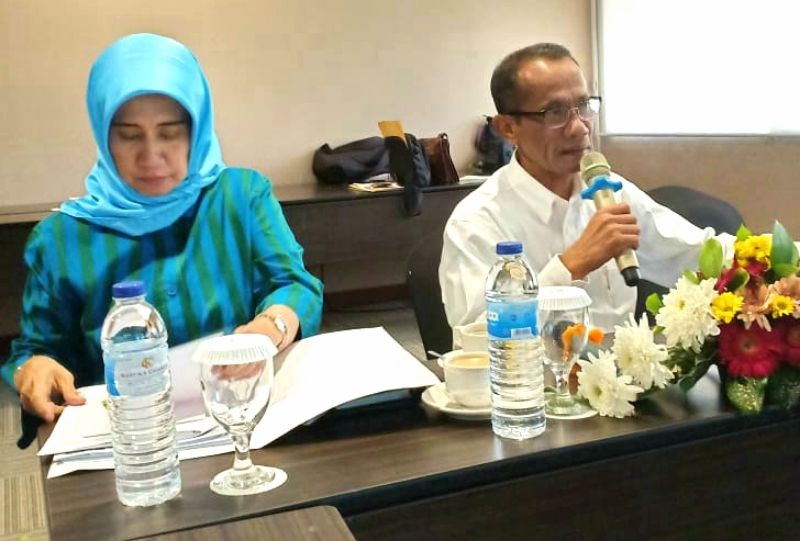 Kepala BKP Kementan, Agung Hendriadi menjawab wartawan pada konperensi per di Jakarta (Foto: B2B/Mya)
Jakarta (B2B) - Kementerian Pertanian RI berupaya meningkatkan komitmen pemerintah pusat dan daerah mendukung pengembangan industri pangan lokal melalui kegiatan Gelar Pangan Nusantara 2018 (GPN) yang akan diadakan di Jakarta oleh Badan Ketahanan Pangan (BKP) mulai besok, Jumat hingga Minggu (27 - 29 Juli).
"Kegiatan GPN ketiga tidak hanya bertujuan mengangkat eksistensi pengembangan pangan lokal untuk bersaing dengan produk pangan lainnya secara komersial, sekaligus berupaya meningkatkan komitmen pemerintah baik pusat maupun daerah mendukung pengembangan industri pangan lokal," kata Kepala BKP Kementan, Agung Hendriadi kepada pers di Jakarta, Rabu (25/7).
Tujuan lain, katanya, sebagai wahana untuk menunjukkan berbagai hasil pengembangan pangan dan kekuatan pangan lokal dalam mewujudkan kedaulatan pangan.
"Di tengah banyaknya serbuan pangan dari luar, GPN menjadi sangat penting sebagai salah satu sarana dan bentuk media untuk memperkenalkan produk pangan lokal kepada masyarakat terutama konsumen dan industri pangan, untuk meningkatkan pemasarannya di dalam dan luar negeri," paparnya.
GPN 2018 dijadwalkan akan diikuti 113 peserta untuk mengisi stand dari seluruh badan/kantor/instansi yang menangani ketahanan pangan di provinsi dan kabupaten/kota, kementerian/lembaga pemerintah pusat, BUMN/BUMD, perguruan tinggi, swasta terkait dengan pangan lokal di Indonesia, pelaku bisnis/pengusaha/UKM/koperasi/industri pangan lokal, serta pemerhati pangan lokal dan peserta Iain yang terkait dan mendukung pengembangan pangan lokal.
Serangkaian acara GPN antara lain adalah Gerakan Cinta Makanan Indonesia, temu bisnis, pameran pangan nusantara, talkshow, bazar pangan murah dan Toko Tani Indonesia Centre (TTIC), pojok icip-icip, wisata edukasi, dan aneka lomba.
Jakarta (B2B) - The Indonesian Agriculture Ministry seeks to increase commitment of central and local governments to support development of local food industries, through the 2018 Indonesian Food Exhibition or the GPN in Jakarta on July, 27 to 29.
Another goal, as a means to showcase local food development and local food power in realizing food sovereignty.
Director General of Food Security Agency or BKP, Agung Hendriadi told the press here on Wednesday (July 25).
Another goal, as a means to showcase local food development and local food power in realizing food sovereignty.
"In the midst of many food invasions from outside, the GPN becomes very important as a means, to introduce local food products to the public, especially consumers, and the food industry to increase its marketing at home and abroad," he said.