Sisbun, Sistem Informasi Online Ditjen Perkebunan `1 Data 1 Pintu`
Indonesian Ministry Launched an Online Plantation Business Service
Reporter : Gusmiati Waris
Editor : Cahyani Harzi
Translator : Dhelia Gani

PUBLISHED: Sabtu, 10 November 2018 , 10:05:00 WIB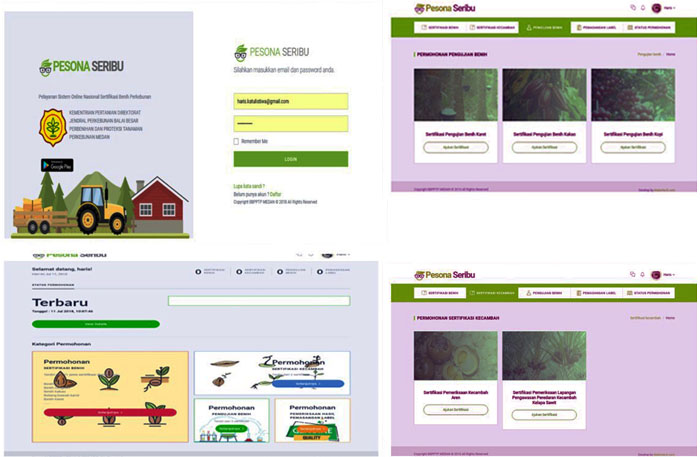 GOOD GOVERNANCE: Layanan online Sisbun mencakup UPT di bawah koordinasi DitjenBun seperti Balai Besar Perbenihan dan Proteksi Tanaman Perkebunan (BBPPTP) Surabaya, Jawa Timur, dan Medan (Ilustrasi: Humas DitjenBun)
Jakarta (B2B) - Kementerian Pertanian RI meluncurkan layanan online Sistem Informasi Perkebunan disingkat ´Sisbun´ yang dikembangkan oleh Direktorat Jenderal Perkebunan - DitjenBun untuk mewujudkan layanan ´1 Data 1 Pintu´ untuk pengambilan kebijakan, perencanaan, monitoring dan evaluasi, perizinan sehingga memudahkan masyarakat mengakses via online.
Direktur Jenderal Perkebunan, Bambang Wahyu Dwiantoro mengatakan layanan online Sisbun mencakup banyak layanan informasi antara lain ´sistem informasi perizinan perkebunan´ disingkat Siperibun untuk meningkatkan tata kelola perkebunan lebih baik.
"Siperibun menyediakan aneka layanan mencakup jumlah izin, lokasi, luas lahan, nama perusahaan, struktur manajemen, dan kepemilikan perusahaan," kata Dirjen Perkebunan Bambang WD kepada pers di Jakarta, Jumat (10/11).
Menurutnya, layanan Sisbun bukan hanya mengakomodir kepentingan DitjenBun di Kementan, namun mencakup beberapa unit pelaksana teknis (UPT) di bawah koordinasi DitjenBun sudah melaksanakannya antara lain Balai Besar Perbenihan dan Proteksi Tanaman Perkebunan (BBPPTP) di Surabaya, Jawa Timur, Medan (Sumatera Utara) dan Ambon (Maluku).
Saat ini layanan online BBPPTP Surabaya dikenal sebagai Siani, singkatan dari ´Sahabat Setia Petani´ bukan hanya berbasiskan online juga didukung layanan ´jemput bola ke lapangan´ dengan Mobil Siani.
Layanan yang disediakan Siani antara lain Sistem Layanan Dokter Tanaman disingkat Sinanda, pengujian Mutu APH dan quality control, pengujian mutu pestisida, pengujian residu pestisida dan logam berat pada hasil pertanian, penyuluhan sertifikasi benih dan sistem pelayanan uji mutu benih.
Pelayanan Siani mencakup 13 kabupaten sentra perkebunan di Jawa Timur di antaranya Malang, Trenggalek, Pasuruan, Madiun, Lumajang, Probolinggo, Pacitan, Jombang dan Mojokerto.
"Begitu pula dengan BBPPTP Medan yang menyediakan layanan sertifikasi online nasional - sertifikasi benih perkebunan yang dikenal dengan sebutan Pesona Seribu BBPPTP Medan," kata Dirjen Bambang WD.
Jakarta (B2B) - Indonesian Agriculture Ministry launched an online Plantation Information System service called ´Sisbun´ developed by the Directorate General of Plantation, to realize ´1 Data 1 Door´ service for policy making, planning, monitoring and evaluation, licensing so as to make it easier for public to access via online.
Director General of Plantation, Bambang Wahyu Dwiantoro, said Sisbun´s online service includes many information services, including ´plantation permit information system´ abbreviated as Siperibun to improve plantation management.
"The Siperibun provides various services including licensing, location, land area, company name, management structure, and company ownership," Mr Dwiantoro told the press here on Friday (November 10).
According to him, the Sisbun´s services cover across the country not only central government also technical implementation units in Center for Seedling and Protection of Plantation Plants in Surabaya, Medan and Ambon.
Currently the online BBPPTP Surabaya service is known as Siani, locally known as the Sahabat Setia Petani, not only online-based services are also supported by the community by Siani Car.
Services provided by Siani include the Sistem Layanan Dokter Tanaman or the Sinanda, quality control, quality testing of pesticides, testing of pesticide residues and heavy metals of agricultural products, extension of seed certification and seed quality test service system.
Siani´s services cover 13 plantation center districts in East Java including Malang, Trenggalek, Pasuruan, Madiun, Lumajang, Probolinggo, Pacitan, Jombang and Mojokerto.
"Similarly, the Medan BBPPTP provides national online certification services or the Pesona Seribu," Mr Dwiantoro said.