BKP Kementan: APTERR Strategis Dukung Cadangan Beras Darurat Kawasan
Indonesia Support Role of Emergency Rice Reserve in Southeast Asia Region
Editor : M. Achsan Atjo
Translator : Dhelia Gani

PUBLISHED: Kamis, 21 Februari 2019 , 01:10:00 WIB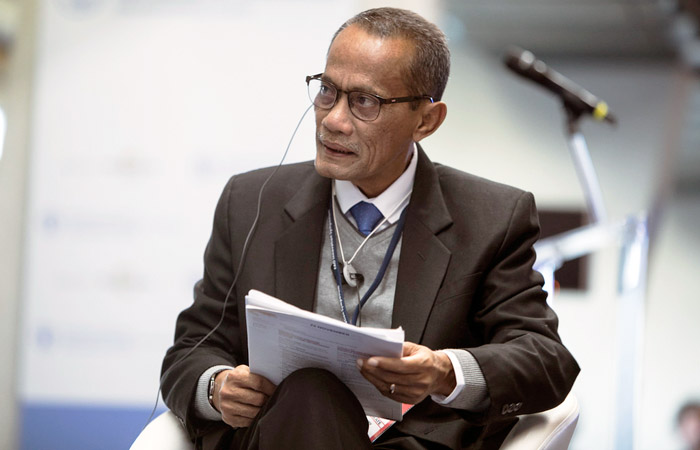 ASEAN PLUS 3: Kepala BKP Kementan, Agung Hendriadi memimpin delegasi Indonesia pada pertemuan APTERR ke-7 di Putrajaya, Malaysia (Foto: Humas BKP Kementan)
Putrajaya, Malaysia (B2B) - Pemerintah RI memandang keberadaan Cadangan Beras Regional untuk Keperluan Darurat atau ASEAN Plus Three Emergency Rice Reserve Council (APTERR) sebagai suatu tambahan sumber daya bagi cadangan beras pemerintah. Tantangannya adalah bagaimana agar proses pemberian bantuan beras lebih efektif dan efisien, serta ke depan agar APTERR dapat berperan menjaga stabilitas pasokan dan harga beras di kawasan.
Kepala Badan Ketahanan Pangan - Kementerian Pertanian RI (BKP Kementan) Agung Hendriadi mengusulkan untuk menambah aktifitas baru berupa monitoring dan evaluasi dampak pelaksanaan program penyaluran bantuan APTERR, Tier 1 maupun Tier 3 pada work plan dan annual operation budget APTERR tahun fiskal 2019.
"Negara anggota APTERR perlu menyiapkan dan menyampaikan proposal kepada Sekretariat APTERR," kata Agung Hendriadi, ketua delegasi Indonesia pada pertemuan APTERR ke-7 di Putrajaya, Malaysia, 19 - 20 Februari yang dihadiri delegasi dari 10 negara anggota ASEAN serta China, Jepang dan Korea.
Menurut Agung, Indonesia dan negara anggota perlu menyiapkan dan menyampaikan proposal kepada APPTERR Sekretariat. Terkait dengan pembayaran operational cost fase kedua diharapkan negara anggota APTERR segera mempercepat proses ratifikasi dan menyerahkan kepada Sekretariat ASEAN. Hasil lainnya adalah mendorong negara APTERR memanfaatkan cadangan beras melalui skema Tier-1.
Sebagaimana diketahui, kawasan Asia Tenggara dan Asia Timur merupakan kawasan cukup rentan terhadap bencana alam seperti gempa bumi, banjir, angin topan, dan lainnya yang mengakibatkan kerusakan fisik pada sentra produksi pangan strategis yang mengakibatkan terjadinya gagal panen, sehingga memicu kerawanan pangan dan hambatan akses pangan.
Negara-negara di kawasan ASEAN Plus Three memiliki coping strategy untuk mengatasi dampak negatif dari bencana setelah terjadi. Mekanisme yang dilakukan yaitu melalui pembentukan cadangan beras antara negara ASEAN Plus Three (China, Jepang dan Korea), yang dikenal dengan istilah APTERR.
APTERR dibentuk berdasarkan prinsip kemandirian kolektif untuk memberikan kontribusi terhadap penguatan ketahanan ekonomi nasional masing-masing negara, serta ketahanan ekonomi regional dan solidaritas Negara ASEAN Plus Three.
Pertemuan APTERR ketujuh di Putrajaya, Malaysia sepakat kembali memilih Chanpithya Shimpalee sebagai General Manager Sekretariat APTERR periode 2019 - 2021 setelah dibuka oleh Zunika Binti Mohamed, Deputi Sekretariat Jenderal, Kementerian Pertanian dan Industri Azas Tani, Malaysia. Pertemuan APTERR kedelapan akan berlangsung di Myanmar pada Februari atau April 2020.
Putrajaya of Malaysia (B2B) - The Indonesian government assesses the importance of existence the ASEAN Plus Three Emergency Rice Reserve Council or the APTERR as an additional resource for government rice reserves. The challenge is how to make the rice assistance process more effective and efficient, and the APTERR has the role of maintaining supply stability and rice prices in the region.
The Director General of Food Security Agency at the Indonesian Agriculture Ministry propose APTERR to add new activities, monitor and evaluate the impact of aid distribution programs, Tier 1 and Tier 3, on work plans and annual operations APTERR budget for fiscal year 2019.
"APTERR member countries need to prepare and submit proposals to the APTERR Secretariat," said Agung Hendriadi as the chairman of Indonesian delegation at the 7th APTERR meeting here on, February 19 - 20 attended by delegates of 10 ASEAN member countries as well as China, Japan and Korea.
According to Hendriadi, Indonesia and member countries need to prepare and submit proposals to the Secretariat APPTERR. Regarding the payment of second operational cost phase, the APTERR member countries immediately speed up the ratification process, and submit to the ASEAN Secretariat. Another result is encouraging APTERR countries to utilize rice reserves through a Tier-1 scheme.
As is known, the Southeast Asia and East Asia as a disaster-prone regions are classified as vulnerable to natural disasters such as earthquakes, floods, hurricanes, and others, which impact on physical damage in strategic food production centers that trigger crop failure, the impact is food insecurity and difficulty accessing food.
Countries in the ASEAN Plus Three region have coping strategies to overcome negative impacts after natural disasters The mechanism is to form rice reserves between ASEAN Plus Three countries (China, Japan and Korea), known as the APTERR.
The APTERR was established based on principle of collective independence to contribute to the resilience of national economy of ASEAN member countries and regional economic resilience and ASEAN Three Plus solidarity.
The seventh APTERR meeting in Putrajaya, Malaysia agreed to re-elect Chanpithya Shimpalee as General Manager of the APTERR Secretariat for the period 2019 - 2021 after it was opened by Zunika Binti Mohamed, a senior official at the Malaysian agriculture ministry. The 8th APTERR meeting will take place in Myanmar in February or April 2020.