Kapusluhtan Sinkronisasi dan Sosialisasi Kebijakan Penyuluhan di Jatim
Indonesian Govt Socializes Farmer Cards to Agricultural Extensionist
Editor : Cahyani Harzi
Translator : Dhelia Gani

PUBLISHED: Kamis, 06 Desember 2018 , 11:47:00 WIB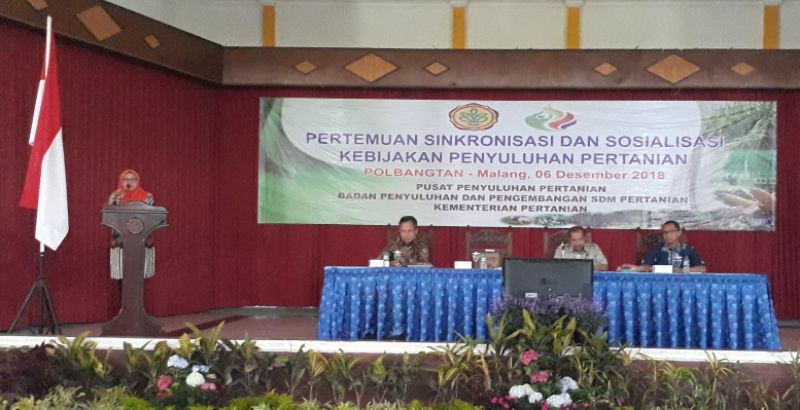 MONITORING & EVALUASI: Kepala Pusluhtan BPPSDMP Kementan, Siti Munifah (kiri) memberi arahan pada 360 peserta sinkronisasi dan sosialisasi penyuluhan pertanian (Foto: B2B/Mac)
Malang, Jatim (B2B) - Kepala Pusat Penyuluhan Pertanian (Pusluhtan) Siti Munifah pagi ini, Kamis (6/12) di Malang membuka kegiatan ´sinkronisasi dan sosialisasi kebijakan penyuluhan pertanian terkait indikator kinerja penyuluhan pertanian´ dan pengembangan Kartu Tani di Provinsi Jawa Timur.
Kepala Pusluhtan Siti Munifah tiba kampus Polbangtan Malang pukul 09:30 Wib disambut oleh Direktur Politeknik Pembangunan Pertanian, Dr Bambang Sudarmanto S.PT, memasuki ruang pertemuan yang dihadiri 360 peserta terdiri atas penyuluh pertanian dari Kabupaten Malang dan Kota Batu serta para koordinator jabatan fungsional penyuluh pertanian pada Balai Penyuluhan Pertanian (BPP) dari 38 kabupaten/kota se-Jawa Timur.
Siti Munifah mengingatkan kegiatan di Malang pagi ini merupakan wadah koordinasi dan sinkronisasi untuk meningkatkan silaturahim dan pemanfaatan ilmu pengetahuan dan teknologi khususnya di era Revolusi Industri 4.0 serta memiliki pemahaman yang sama dalam mencapai tujuan petani mandiri dan sejahtera.
"Khususnya pengembangan Kartu Tani yang didukung oleh perbankan terkemuka seperti BNI yang hari ini telah diteken MoU antara Pusluhtan BPPSDMP Kementan dengan pimpinan BNI," kata Siti Munifah.
Tampak hadir Kepala Divisi Bisnis Usaha Kecil BNI, Bambang Setyamoko; Direktur Pupuk Ditjen PSP Muhrizal; dan sejumlah pejabat eselon tiga Pusluhtan BPPSDMP Kementan di antaranya Kabid Program dan Evaluasi Penyuluhan, I Wayan Ediana; Kabid Penyelenggaraan Penyuluhan, Zahron Helmy. Pejabat eselon empat yang hadir antara lain Kasubbid Program dan Kerjasama Penyuluhan, Ricky Feriyadi; Kasubbid Informasi dan Materi Penyuluhan, Septalina Pradini dan Kasubbid Pemberdayaan Kelembagaan Petani, Yoyon Haryanto. (liene)
Malang of East Java (B2B) - Senior official of the Indonesian Agriculture Ministry, Siti Munifah this morning, Thursday (December 4) in Malang, about 93 km of Surabaya, East Java provincial capital, opened an ´outreach program of agricultural extension policies related to performance indicators´ and development of Farmer Cards in the province.
Siti Munifah as the Director of Agricultural Extension Center arrived at campus of the Polbangtan Malang at 7:30 a.m. It was welcomed by Director of Malang´s Agricultural Development Polytechnic or the Polbangtan, Dr Bambang Sudarmanto S.PT, the heads of local agricultural extension services, and coordinators of agricultural extension offices of 38 districts and cities across the province.
Mrs. Munifah reminded that activities in Malang were a forum for coordination and synchronization to increase friendship and the use of science and technology, and the same understanding of achieving the goals of independent and prosperous farmers.
"Especially the development of Farmer Cards supported by leading banks such as the BNI Bank," she said.