Sosialisasi CPCL, Kepala BPPSDMP Ingatkan Tenggat Waktu September 2018
Indonesian Govt Supports Agricultural Extensionist from Village to the Province
Editor : M. Achsan Atjo
Translator : Dhelia Gani

PUBLISHED: Jum'at, 07 September 2018 , 11:52:00 WIB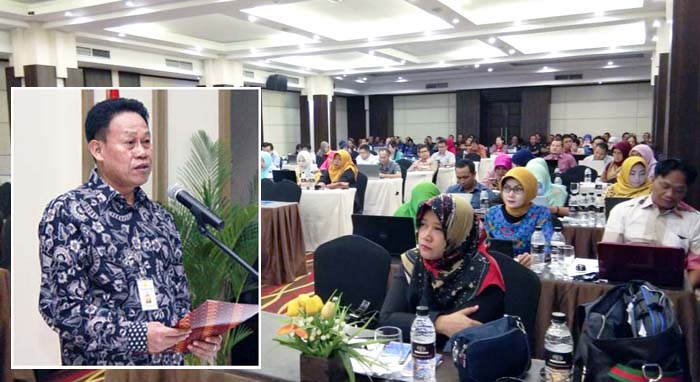 PROGRAM PUSLUHTAN: Pejabat eselon dua hingga empat di Pusluhtan BPPSDMP Kementan menyimak arahan Momon Rusmono tentang program dan kebijakan penyuluhan (Foto2: Humas Pusluhtan/Septalina P)
Denpasar, Bali (B2B) - Kementerian Pertanian RI mengingatkan pemerintah daerah untuk menuntaskan data Calon Petani Calon Lokasi (CPCL), dan potensi wilayah dari tingkat kecamatan harus rampung September 2018, akan ada sanksi terhadap daerah yang gagal memenuhi tenggat waktu tersebut berupa pengalihan alokasi anggaran ke provinsi lain.

Hal itu dikemukakan oleh Kepala Badan Penyuluhan dan Pengembangan SDM Pertanian (BPPSDMP) Momon Rusmono di Denpasar, Rabu (5/9) pada kegiatan ´Penyusunan Program Penyuluhan Pertanian´ yang dibuka oleh Kepala Pusat Penyuluhan Pertanian (Pusluhtan) Siti Munifah didampingi Kepala Bidang Program dan Evaluasi, Wayan Ediyana, yang dihadiri oleh 135 peserta dari seluruh Indonesia.

"Data CPCL harus diselesaikan sampai September 2018, ada punishment untuk pemerintah daerah yang tidak mematuhi tenggat waktu, maka alokasi anggaran dialihkan ke provinsi lain," kata Momon Rusmono yang berada di Denpasar menghadiri ´rapat pimpinan terpadu´ yang dibuka Mentan Andi Amran Sulaiman pada hari yang sama.

Dia mengingatkan bahwa menangani penyuluhan pertanian ´harus dengan hati´ bukan sekadar bekerja memenuhi target kinerja. Pasalnya, eksistensi penyuluhan pertanian di sektor pertanian merupakan energi yang luar biasa, yang bergerak mulai dari tingkat kecamatan.

Kepala BPPSDMP Kementan mengharapkan para Admin yang menangani Sistem Informasi Penyuluh Pertanian (Simluhtan) adalah membangun kepercayaan publik terhadap fungsi pendampingan dan pengawalan pembangunan pertanian nasional.

"Memang tidak mudah mewujudkan tugas prioritas tersebut, namun harus dipertimbangkan tentang bagaimana memperkuat balai penyuluhan pertanian atau BPP di tingkat kecamatan. Harus ada kesamaan persepsi di tingkat pusat dan daerah, didukung sinergi dan advokasi para pemangku kepentingan," kata Momon Rusmono yang menjabat Kepala Pusluhtan di Kementan pada 2014.

Menurutnya, fungsi kelembagaan penyuluhan yang mengorganisir dan merestrukturisasi hal-hal yang terkait pada keberlangsungan fungsi penyuluhan pertanian. Begitu pula dengan menumbuhkembangkan Pos Penyuluhan Desa (Posluhdes).

"Mengembangkan satu penyuluh swadaya untuk satu desa, didukung penanganan penyuluh THL-TBPP dengan baik dan bijak. Kalau perlu, pemerintah kabupaten melalui badan kepegawaian daerah dapat mengajukan usulan kebutuhan kepada kementerian. Mentan sudah memperjuangkan formasi 5.000 penyuluh di seluruh Indonesia," katanya.

Kelembagaan Penyuluhan
Eksistensi dan kinerja balai penyuluhan pertanian (BPP) harus diperkuat disertai upaya optimalisasi peran penyuluh pertanian, untuk menyikapi dinamika penyelenggaraan penyuluhan, maka seyogyanya keberadaan BPP harus didukung sarana dan prasarana yang memadai untuk dapat menjalankan fungsinya secara efektif dan efisien.

"Kelembagaan penyuluhan pertanian di tingkat kecamatan dan desa perlu dihidupkan dan ditumbuhkembangkan, termasuk memperkuat fungsi BPP sebagai simpul koordinasi," kata Kepala BPPSDMP.

Menurutnya, fungsi BPP yang awalnya sebagai tempat pertemuan para penyuluh, pelaku utama dan pelaku usaha dalam penyelenggaraan penyuluhan diharapkan dapat meningkatkan fungsi penyebarluasan informasi dan teknologi pertanian secara cepat, efektif dan efisien, untuk dapat memfasilitasi akses petani terhadap sumber-sumber permodalan, pasar, dan teknologi pertanian.

"Balai penyuluhan sebagai pusat data dan informasi pertanian di tingkat kecamatan dapat dijadikan sebagai pusat pendidikan, pelatihan dan pusat pengembangan kemitraan," kata Momon Rusmono. (Liene)
Denpasar of Bali (B2B) - The Indonesian Ministry of Agriculture reminded local governments to completing data on farmers and rice fields or the CPCL of each subdistrict to provincial levels, the deadline is September 2018, so there will be sanctions on local governments that fail to meet deadlines, the budget allocation will be transferred to other provinces.

It was stated by the Director General of Agency for Agricultural Extension and Human Resources Development (BPPSDMP) Momon Rusmono here on Wednesday (September 5) at a coordination meeting was opened by Director of Agricultural Extension Center or the Pusluhtan, Siti Munifah was accompanied by the Head of Program and Evaluation Division, Wayan Ediyana, and attended by 135 participants across the country.

"CPCL data must be completed until September 2018, there will be punishment for local governments that do not comply with deadlines then the budget allocation is transferred to other provinces," Mr Rusmono said.

He reminded taking care of agricultural extention must be serious, because the energy is extraordinary so it must be thought about how to build public trust especially farmers towards the existence of counseling carrying out the assistance function.

Mr Rusmono expected the Admin to handle the Agricultural Extension Information System website or the Simluhtan to build public trust for support national agricultural development.

"It is not easy to realize the priority task, but it must be considered about how to strengthen agricultural extension centers or BPP at the subdistrict level. There must be a common perception at the central and regional levels, supported by synergies and advocacy of stakeholders," Mr Rusmono said.

According to him, the institutional function of extension is to organize and restructure the agricultural extension function.

"Developing a self-help agriculture extentionis for one village, supported by honorary agriculture extensionist well and wisely. If necessary, the district government through the regional civil service agency can submit a proposal to the ministry. Agriculture minister has approved an additional 5,000 agricultural extension agents for all of Indonesia," he said.

Agriculture Extentionist
The existence and performance of Indonesia´s agricultural extension offices at the subdistrict level or the BPP must be strengthened by optimizing its role in line with the dynamics of extension education, then the BPP must be supported by infrastructure and facilities to carry out its functions.

"Agricultura extension institutions at the subdistrict and village levels must be developed, including strengthening the function of the BPP as an extension coordination node," Mr Rusmono said.

According to him, the function of BPP which was initially as a meeting place for agricultural extensionist and farmers expected to improve the function of of agricultural technology dissemination of information and effective and efficient, to facilitate farmers´ access to sources of capital, markets and agricultural technology.

"The extension office is the center of agricultural data and information at the subdistrict level as the education, training center and partnership development center," he said.