Kabupaten Lebak Krisis Penyuluh Pertanian sejak Tiga Tahun Terakhir
Indonesia`s Lebak District Lacks Agricultural Extension to Support Farmers
Editor : M. Achsan Atjo
Translator : Dhelia Gani

PUBLISHED: Sabtu, 21 September 2019 , 01:17:00 WIB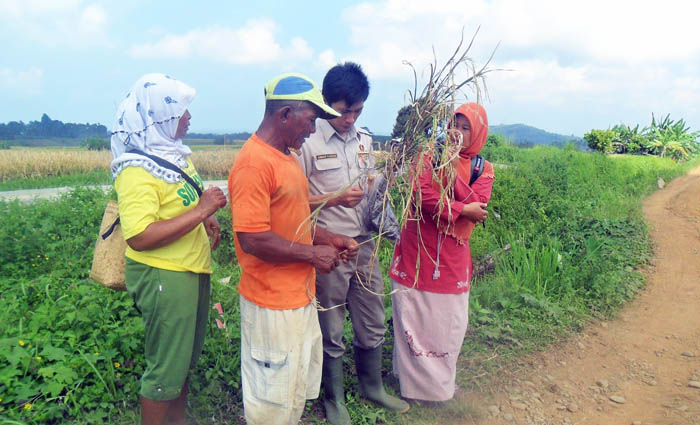 PENDAMPINGAN: penyuluhan pertanian merupakan pendidikan nonformal bagi petani melalui proses belajar mengajar, untuk mendorong minat belajar petani [Foto: istimewa]
Lebak, Banten [B2B] - Sejak tiga tahun terakhir, Kabupaten Lebak di Provinsi Banten kekurangan penyuluh pertanian, mendorong Pemerintah Kabupaten [Pemkab] setiap tahun mengusulkan penambahan maupun pengangkatan kepada Kementerian Pertanian RI untuk mencegah krisis akan mengarah pada kelangkaan jumlah penyuluh.
"Saat ini ada 135 penyuluh di Lebak, 50 orang berstatus pegawai negeri sipil dan selebihnya adalah tenaga honorer berstatus THL-TBPP," kata Kepala Bidang Penyuluhan di Dinas Pertanian dan Perkebunan Pemkab Lebak, Deni Iskandar, belum lama ini.
Menurutnya, Pemkab Lebak setiap tahun mengusulkan penambahan tenaga penyuluh pertanian kepada Kementan, apabila tidak segera ditambah dikhawatirkan memicu kelangkaan jumlah penyuluh.
Kabid Deni Iskandar khawatir krisis penyuluh pertanian akan mempengaruhi SDM pertanian yakni petani, yang perlu mendapat pembinaan untuk meningkatkan pengetahuan, sikap dan keterampilan di sektor pertanian.
"Kami khawatir jumlah penyuluh akan sangat berkurang, karena tahun depan banyak yang sudah memasuki masa pensiun," katanya.
Dia mengapresiasi langkah Pemkab Lebak yang merekrut tenaga penyuluh desa melalui instruksi Bupati Iti Octavia, yang didukung oleh mantri penyuluh desa untuk koordinasi dengan penyuluh kecamatan, yang tersebar di 340 desa.
Lebak of Banten [B2B] - Since the last three years, Indonesia's Lebak district of Banten province has lacked agricultural extensions, the district government annually proposes addition of agricultural extension to the agriculture ministry to prevent a crisis that will lead to scarcity.