Eselon 2 Kementan, Mentan Lantik Kapusdik dan Kapuslat BPPSDMP
The Inauguration Senior Officials of Indonesian Agriculture Ministry
Reporter : Gusmiati Waris
Editor : Cahyani Harzi
Translator : Dhelia Gani

PUBLISHED: Selasa, 13 November 2018 , 12:00:00 WIB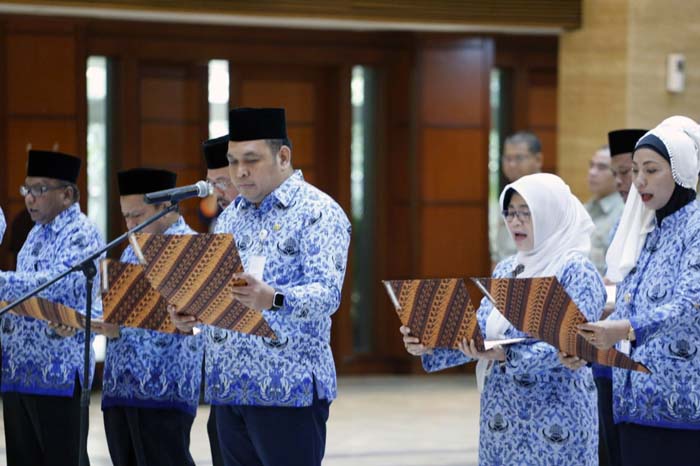 PAKTA INTEGRITAS: Direktur Alat & Mesin Pertanian Ditjen PSP, Andi Nur AS memimpin pembacaan pakta integritas, dan Kapusdik BPPSDMP, Idha Widi Arsanti (kanan) Foto: Humas Kementan/Makmur Hutagalung)
Jakarta (B2B) - Menteri Pertanian RI Andi Amran Sulaiman melantik 15 pejabat baru eselon dua Kementerian Pertanian RI, tiga di antaranya ditempatkan pada Badan Penyuluhan & Pengembangan SDM Pertanian (BPPSDMP) yakni Idha Widi Arsanti sebagai Kepala Pusat Pendidikan Pertanian (Pusdiktan); Bustanul Arifin Caya sebagai Kepala Pusat Pelatihan Pertanian (Puslatan); dan Wasis Sarjono sebagai Kepala Balai Besar Pelatihan Peternakan di Malang, Jatim (BPPP Malang).
Pejabat lain yang dilantik adalah Rishaferi sebagai Kepala Pusat Distribusi dan Cadangan Pangan di Badan Ketahanan Pangan (BKP) menggantikan Riwantoro yang dilantik sebagai Sekretaris BKP menggantikan Mulyadi Hendiawan, dengan posisi baru sebagai Sekretaris Ditjen Prasarana dan Sarana Pertanian (PSP).
Mentan mengingatkan kepada 15 pejabat baru yang dilantik untuk mendukung dan mendorong peningkatan kualitas SDM pertanian, meningkatkan pemanfaatan alat mesin pertanian (Alsintan) bantuan pemerintah untuk petani, melindungi petani dan meningkatkan kesejahteraan mereka, dan tidak menzalimi orang miskin.
"Tak kalah penting adalah jangan coba-coba korupsi atau terima suap, karena sanksinya berat. Langsung dicopot, harap berkaca pada mutasi, demosi dan pemecatan pada pejabat yang menyalahgunakan wewenang dan jabatannya," kata Mentan.
Pejabat struktural yang turut dilantik Mentan antara lain
1. Leli Nuryati: Kepala Pusat Perpustakaan dan Penyebaran Teknologi Pertanian di Sekjen Kementan.
2. Andi Nur Alam Syah: Direktur Alat dan Mesin Pertanian di Ditjen PSP.
3. Edi Purnawan: Direktur Perlindungan Tanaman Pangan di Ditjen Tanaman Pangan
Sementara keenam direktur Polbangtan dapat dilihat di
http://www.berita2bahasa.com/berita/08/07581311-direktur-polbangtan-mentan-lantik-rajiman-pimpin-kampus-yogyakarta-magelang
Jakarta (B2B) - Indonesian Agriculture Minister Andi Amran Sulaiman inaugurated 15 echelon second officials in his ministry, three of them were placed in the Directorate General of Agricultural HR Development or the BPPSDMP namely Idha Widi Arsanti as the Director of Agricultural Education Center; Bustanul Arifin Caya as the Director of Agricultural Training Center; and Wasis Sarjono as the Director of Malang´s Livestock Training Center.
Another ministry official appointed was Rishaferi as the Director of the Food Distribution and Reserve Center at the Food Security Agency or the BKP replace Riwantoro who was appointed as Secretary of BKP replace Mulyadi Hendiawan, with a new position as Secretary of the Directorate General of Agricultural Infrastructure and Facilities.
Minister Sulaiman reminded 15 new officials in the ministry to support and encourage the improvement of the quality of agricultural human resources, improve the utilization of agricultural machinery of government assistance to farmers, protect farmers and improve their welfare, and not abuse poor people.
"I remind you all not to try corruption or accept bribes, because the sanctions are severe. The sanction was fired to officials who abuse their authority and position," Mr Sulaiman said.