Mentan Pastikan Pangan Pokok Cukup dan Terkendali
Indonesian Agriculture Minister Ensure Rice Supplies More than Needs
Reporter : Gusmiati Waris
Editor : Cahyani Harzi
Translator : Dhelia Gani

PUBLISHED: Selasa, 05 Mei 2020 , 01:21:00 WIB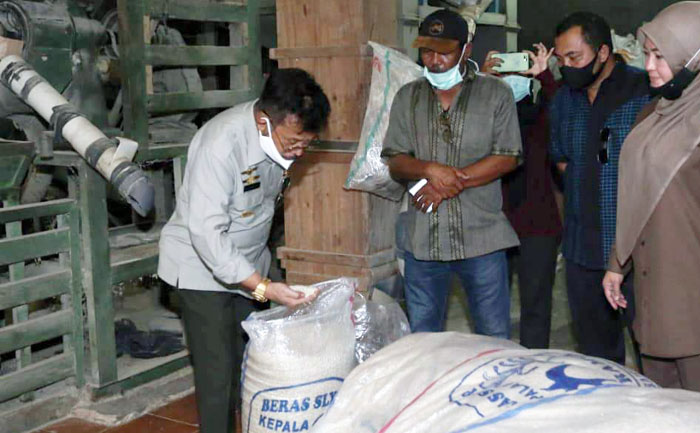 PENGGILINGAN BERAS: Mentan Syahrul Yasin Limpo [kiri] memeriksa hasil produksi penggilingan beras di sentra produksi Jawa Barat [Foto: Biro Humas Kementan]
Jakarta [B2B] - Menteri Pertanian RI Syahrul Yasin Limpo memastikan pangan pokok cukup dan terkendali, karena sebagian besar provinsi surplus produksi. Untuk beras, neraca hingga Juni diperkirakan 6,4 juta ton; gula pasir 1,07 juta ton; dan minyak goreng 5,7 juta ton.
Hal itu mengacu pada data stok dan perkiraan bahan pokok yang diterbitkan oleh Badan Ketahanan Pangan [BKP] menunjukkan bahwa beberapa bahan pokok pangan periode April - Juni 2020 masih cukup dan aman.
Mentan Syahrul mengatakan Kementerian Pertanian RI mengembangkan strategi sistem logistik nasional dalam menyederhanakan rantai pasok dan intervensi distribusi.
Caranya? "Salah satunya dengan mengalihkan komoditas dari daerah yang surplus ke daerah yang defisit. Saat ini, setidaknya ada 28 propinsi dalam kondisi terkendali," kata Mentan di Jakarta, Senin [4/5].
Kendati begitu, dua provinsi yakni Kalimantan Utara dan Maluku perlu mendapat perhatian lebih, maka hal terpenting adalah adalah distribusi pangan berjalan dengan lancar.
"Identifikasi wilayahnya, kita punya pemetaannya. Ini perintah Presiden supaya semua kementerian bekerja sama menutup defisit. Artinya, tidak ada lockdown, tidak ada isolasi, tidak melakukan penguncian dan tidak membuat rintangan terhadap distribusi pangan," kata Mentan.
Jakarta [B2B] - Indonesian Agriculture Ministry ensure national rice supplies more than enough, with dry milled grain harvest estimate of two million hectares of rice fields across Indonesia in January and February 2020, with an average production of at least six million tonnes per hectare will produce 12 million tons of milled grain, while the rice supplies in Logistics Agency, known as the Bulog, about 1.7 million tons.