Belum Ada Anggaran, Pemkab Kepahiang Hanya Rekrut 22 Penyuluh THL-TBPP
Online Exam of Indonesian Agricultural Extensionist in Bengkulu Province
Editor : M. Achsan Atjo
Translator : Dhelia Gani

PUBLISHED: Selasa, 26 Februari 2019 , 12:17:00 WIB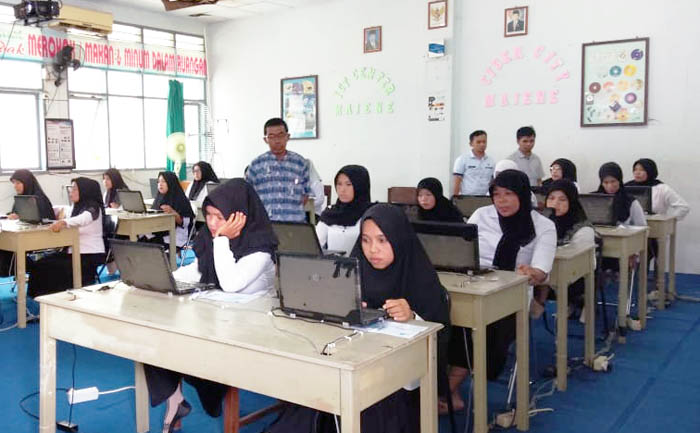 Penyuluh THL-TBPP Provinsi Sulawesi Barat mengikuti tes seleksi ASN-P3K di Kabupaten Majene (Foto: Humas Pusluhtan BPPSDMP Kementan)
Kepahiang, Bengkulu (B2B) - Pemerintah Kabupaten Kepahiang di Provinsi Bengkulu memutuskan hanya merekrut 22 penyuluh pertanian THL-TBPP sebagai aparatur sipil negara - pegawai pemerintah dengan perjanjian kerja (ASN-P3K) lantaran belum tersedia anggaran pemerintah daerah untuk membayar gaji bidan dan guru honorer, meskipun rekrutmen tersebut sudah diinstruksikan Kementerian Pendayagunaan Aparatur Negara - Reformasi Birokrasi.
Kepala Dinas Pertanian Pemkab Kepahiang, Hernawan mengatakan rekrutmen ASN-P3K tahun ini hanya dikhususkan bagi penyuluh pertanian berstatus ´tenaga harian lepas - tenaga bantu penyuluh pertanian´ disingkat THL-TBPP mengacu pada Peraturan Pemerintah No 49/2018 tentang Manajemen P3K dan SK Kementerian Pertanian No 2/2019 tentang Rekrutmen P3K Kementerian Pertanian. Sementara rekrutmen P3K khusus honorer kategori (K2) untuk bidan dan guru honorer belum dilakukan tahun ini.
"Ada 22 penyuluh pertanian THL-TBPP adalah yang tidak diangkat sebagai CPNS pada 2017, karena usianya lebih 35 tahun, tapi SK Kementan tentang P3K menjadi dasar bagi mereka bisa mengikuti tahapan tes P3K," kata Hernawan kepada pers di Kepahiang, Senin (25/2).
Menurutnya, setelah melalui serangkaian proses administrasi sesuai persyaratan dan ketentuan rekrutmen ASN-P3K, Kepala Badan Kepegawaian dan Pengembangan SDM (BKDPSDM) Pemkab Kepahiang, Periyandi menjelaskan bahwa 22 peserta calon ASN-P3K sudah mengikuti tes uji kompetensi yang diawasi langsung oleh tim dari Kementerian Pertanian RI.
"Seluruh peserta wajib mengerjakan soal seleksi selama 75 menit yang meliputi kompetensi teknis dan manajerial, sosio kultural dan wawancara. Serangkaian tes sudah diikuti oleh 22 penyuluh THL-TBPP Kepahiang dan kini tinggal menunggu hasil tes," kata Hernawan.
Kepahiang of Bengkulu (B2B) - Kepahiang district government in Bengkulu province decided to only recruit 22 honorary agricultural extension as the government employee with a work agreement or the ASN-P3K, because the local government budget is not yet available to pay the salaries of health nurses and honorary teachers, even though the recruitment has been instructed by the central government in Jakarta.
Head of Kepahiang Agriculture Office, Hernawan said priority recruitment of honorary agricultural extensionists refers to central government regulations of agriculture ministry while recruitment for health nurses and honorary teachers has not been conducted this year.
"22 Kepahiang honorary agricultural extensionists who participated in the selection yesterday after they are failing to be appointed as candidates for civil servants last year, because it´s over 35 years old," said Hernawan, who goes by one name, like many Indonesians.
According to him, after the administrative process according to the terms and conditions of recruitment of Indonesian civil servants, Kepahiang´s Head of Human Resources and Development Office, Periyandi, said that 22 honorary agricultural extensionist had taken the selection test under supervised of the ministry´s team.
"They must answer the selection questions for 75 minutes, including technical and managerial competencies, socio-cultural and interviews," Hernawan said.