Kementan Dampingi dan Kawal Percepatan Penyelesaian Tugas Belajar ASN
Millennial Farmers Development are the Target of Indonesia`s Grant Program
Editor : M. Achsan Atjo
Translator : Dhelia Gani

PUBLISHED: Kamis, 23 Juni 2022 , 12:28:00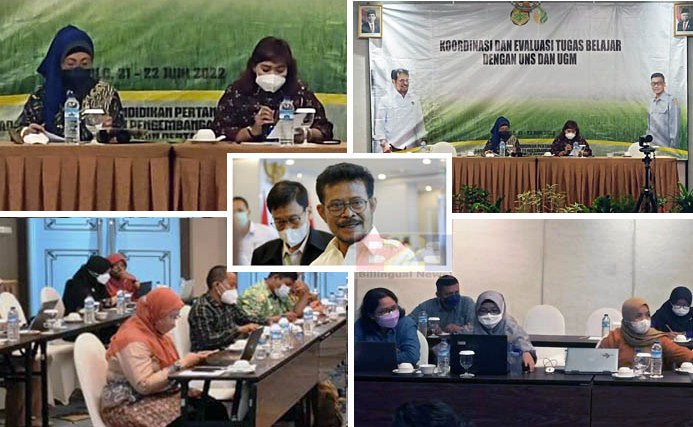 PUSDIKTAN BPPSDMP: Kepala Pusdiktan Idha Widi Arsanti memimpin Rapat Koordinasi dan Evaluasi Tugas Belajar ASN Kementan dengan perguruan tinggi negeri mitra di Solo, guna mendampingi dan mengawal penyelesaian tugas belajar
Solo, Jateng [B2B] - Tuntutan peningkatan kualitas dan kemampuan SDM pertanian tidak hanya bertumpu pada penyuluh, petani serta tenaga pendidik semata, namun juga jajaran Aparatur Sipil Megara [ASN] lingkup Kementerian Pertanian RI baik di pusat maupun di daerah.
Dalam upaya mendukung keberhasilan pembangunan pertanian, Kementan melalui Badan Penyuluhan dan Pengembangan SDM Pertanian [BPPSDMP] berkomitmen untuk mengembangkan kompetensi SDM melalui program peningkatan kapasitas dan kompetensi ASN berupa pemberian beasiswa tugas belajar yang merupakan bagian tidak terpisahkan dari program pembinaan ASN.
Upaya tersebut sejalan dengan harapan Menteri Pertanian RI Syahrul Yasin Limpo bahwa peran SDM dalam pertanian sangat penting dalam pembangunan pertanian.
"Peran SDM dalam pembangunan pertanian sangat vital, karena kita terus menggenjot kemampuan, pengetahuan dan skill SDM pertanian," kata Mentan.
Sementara Kepala BPPSDMP Kementan, Dedi Nursyamsi menggarisbawahi tentang pemegang peran dalam kemajuan sektor pertanian adalah SDM.
"Hal paling menonjol dari negara maju adalah SDM-nya. Apabila sektor pertanian ingin maju, maka harus dimulai dari kemajuan sumber daya manusia pertanian," katanya.
Harapan dan arahan tersebut dilaksanakan Kementan Kementan bersama Universitas Sebelas Maret [UNS] di Solo dan Universitas Gadjah Mada [UGM] di Yogyakarta mengadakan monitoring dan evaluasi kegiatan tugas belajar selama dua hari di Solo, Jawa Tengah pada 21 - 22 Juni 2022.
Kegiatan yang dihadiri oleh perwakilan UNS, perwakilan UGM serta perwakilan mahasiswa dari UNS dan UGM tersebut diharapkan dapat mencari solusi terbaik pada permasalahan yang dihadapi oleh peserta tugas belajar.
Solusi yang disampaikan berupa pendampingan intensif dari alumni tugas belajar yang berprestasi untuk dapat membantu peserta tugas belajar yang mengalami hambatan, serta diberikan keringanan dari Perguruan Tinggi Mitra [PTM ] berupa kemudahan dalam proses penyelesaian studinya.
Baik secara administrasi maupun pada saat penelitian. Diharapkan dengan adanya solusi tersebut, peserta tugas belajar yang mengalami hambatan dapat segera menyelesaikan studi dengan hasil memuaskan.
Kepala Pusat Pendidikan Pertanian BPPSDMP Kementan [Pusdiktan] Idha Widi Arsanti pada saat pembukaan kegiatan menyampaikan bahwa banyak upaya yang telah dilakukan dalam penanganan peserta tugas belajar yang mengalami masalah pada studinya.
"Salah satunya, melakukan koordinasi pendampingan dan pengawalan secara intensif bagi peserta tugas belajar yang bermasalah atau kadaluarsa dengan unit eselon I asal instansi peserta tugas belajar," katanya.
Dalam upaya mewujudkan SDM pertanian berkualitas, unggul dan mampu mendukung tugas pekerjaan yang diemban sebagai Pegawai Negeri Sipil [PNS], maka Kementan mengadakan kegiatan pengiriman tugas belajar bagi para pegawainya.
Tugas belajar program S2 dan S3 dalam negeri tersebut dilakukan Kementan melalui kerja sama dengan 13 perguruan tinggi negeri [PTN] terkemuka di Indonesia yakni Institut Pertanian Bogor [IPB], UGM, UNS, Universitas Diponegoro [Undip], Universitas Brawijaya [Unbraw], Universitas Padjadjaran (Unpad), Universitas Sumatera Utara [USU], Universitas Andalas [Unand], Universitas Hasanudin [Unhas], Universitas Jenderal Soedirman [Unsoed], Universitas Indonesia [UI], Institut Teknologi Bandung [ITB], dan Universitas Airlangga [Unair]. [Yess]
Solo of Central Java [B2B] - The role of agricultural vocational education in Indonesia such as the the Agricultural Development Polytechnic or the SMKPPN, to support Indonesian Agriculture Ministry seeks to maximize its efforts to produce millennial entrepreneur.
Youth Enterpreneurship And Employment Support Services Program or the YESS, to support Indonesian Agriculture Ministry seeks to maximize its efforts for the millennial entrepreneur.
Indonesian Agriculture Minister Syahrul Indonesia Yasin Limpo stated that the government´s commitment to developing agriculture, especially in the development of advanced, independent and modern agricultural human resources.
"The goal is to increase the income of farming families and ensure national food security. Farmer regeneration is a commitment that we must immediately realize," Minister Limpo said.
He reminded about the important role of vocational education, to produce millennial farmers who have an entrepreneurial spirit.
"Through vocational education, we connect campuses with industry so that Polbangtan graduates meet their needs and are ready for new things," Limpo said.