Kementan akan Sinergikan Platform Belajar bagi Mahasiswa S2 dan S3
Millennial Farmers Development are the Target of Indonesia`s Grant Program
Editor : M. Achsan Atjo
Translator : Dhelia Gani

PUBLISHED: Selasa, 02 Agustus 2022 , 18:35:00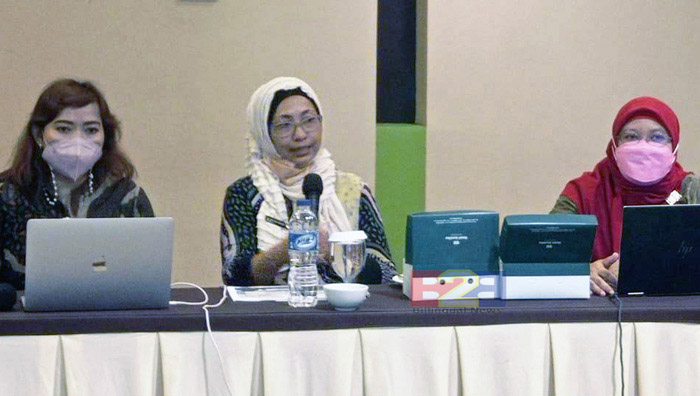 PROGRAM YESS: Kepala Pusat Pendidikan Pertanian BPPSDMP Kementan [Pusdiktan] Idha Widi Arsanti [tengah] memimpin rapat didampingi Koordinator Program dan Kerjasama Pusdiktan, Saptorini [kiri]
Jakarta [B2B] - Guna mempermudah pemantauan sekaligus evaluasi pelaksanaan tugas belajar program S2 dan S3 bagi Pegawai Negeri Sipil [PNS] di lingkup Kementerian Pertanian RI, maka akan dikembangkan sebuah sistem aplikasi berbasis website, sebagai platform belajar yang mewadahi mahasiswa dan pembimbing.
Hal tersebut merupakan upaya Kementan untuk menciptakan SDM pertanian yang maju, mandiri dan modern sesuai arahan Menteri Pertanian RI Syahrul Yasin Limpo melalui pelaksanaan tugas belajar.
"Peran SDM dalam pembangunan pertanian sangat vital. Oleh karena itu, kita terus menggenjot kemampuan, pengetahuan dan skill SDM pertanian," katanya.
Sementara Kepala Badan Penyuluhan dan Pengembangan SDM Pertanian Kementan [BPPSDMP] Dedi Nursyamsi menggarisbawahi bahwa pemegang peran dalam kemajuan sektor pertanian adalah SDM.
Menurutnya, yang paling menonjol dari negara maju adalah sumber daya manusianya. Apabila sektor pertanian ingin maju, maka harus dimulai dari kemajuan sumber daya manusia.
Kehadiran platform merupakan solusi dari berbagai permasalahan yang kerap dialami mahasiswa selama menyelesaikan program studinya. Termasuk kesulitan menemukan publikasi jurnal nasional maupun internasional, komunikasi dengan dosen pembimbing.
Belum optimalnya pendampingan dan pengawalan secara bersama antara Pusdiktan kepada peserta tugas belajar (Tubel) hingga minimnya penguasaan TOEFL para mahasiswa tersebut. Jadi, pembimbing dan peserta tubel bisa melihat update data kemajuan studi secara tepat dan berkala. Diharapkan permasalahan studi pun bisa teridentifikasi dengan cepat.
Masih terkait aplikasi, Kepala Pusat Pendidikan Pertanian BPPSDMP Kementan [Pusdiktan] Idha Widi Arsanti meminta adanya pembaharuan dari dua platform yang ada. Pasalnya, untuk aplikasi tugas belajar hanya boleh ada satu aplikasi saja dengan sistem yang lengkap.
"Untuk e-Tubel dan SIBERLIAN harus bisa diintegrasikan sehingga bisa menciptakan sistem yang sempurna untuk tugas belajar," kata Idha.
Kendati demikian, sembari merencanakan pembuatan platform yang mensinergikan keduanya, untuk sementara, Kementan akan menghubungkan SIBERLIAN dan E-Tubel satu sama lain. [Yess]
Jakarta [B2B] - The role of agricultural vocational education in Indonesia such as the the Agricultural Development Polytechnic or the Polbangtan, to support Indonesian Agriculture Ministry seeks to maximize its efforts to produce millennial entrepreneur.
Youth Enterpreneurship And Employment Support Services Program or the YESS, to support Indonesian Agriculture Ministry seeks to maximize its efforts for the millennial entrepreneur.
Indonesian Agriculture Minister Syahrul Indonesia Yasin Limpo stated that the government´s commitment to developing agriculture, especially in the development of advanced, independent and modern agricultural human resources.
"The goal is to increase the income of farming families and ensure national food security. Farmer regeneration is a commitment that we must immediately realize," Minister Limpo said.
He reminded about the important role of vocational education, to produce millennial farmers who have an entrepreneurial spirit.
"Through vocational education, we connect campuses with industry so that Polbangtan graduates meet their needs and are ready for new things," Limpo said.