Pasca UU No 23/2014, Kementan Akselerasi Terbitnya RPP PUPK Penyuluhan Pertanian
Indonesian Govt Accelerates Regulations of Agricultural Extension
Editor : M. Achsan Atjo
Translator : Dhelia Gani

PUBLISHED: Jum'at, 06 September 2019 , 12:06:00 WIB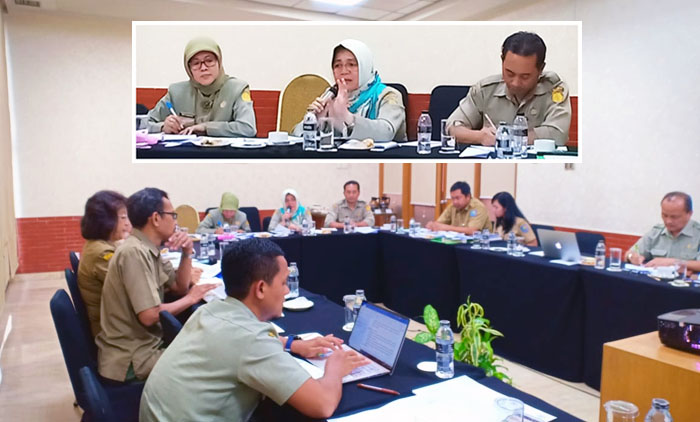 RAKOR RPP PUPK: Kepala Pusluhtan BPPSDMP Kementan, Leli Nuryati [tengah, inset foto] memimpin rapat didampingi Kabid Kelembagaan dan Ketenagaan Penyuluh - Pusluhtan, Joko Samiyono [Foto2: Humas Pusluhtan]Kepala Pusluhtan BPPSDMP Kementan, Leli Nuryati [te
Depok, Jabar [B2B2] - Kementerian Pertanian RI berupaya melakukan akselerasi dan konsolidasi terhadap upaya percepatan terbitnya Rancangan Peraturan Pemerintah Pelayanan Urusan Pemerintahan Konkuren [RPP PUPK] di bawah koordinasi Kementerian Koordinator Perekonomian bersama tiga kementerian: pertanian, dalam negeri serta kehutanan dan lingkungan hidup agar penyelenggaraan kegiatan penyuluhan pertanian berjalan maksimal dan efektif, untuk mendukung penguatan kelembagaan penyuluhan di provinsi/kabupaten/kota hingga kecamatan/kelurahan/desa pasca terbitnya UU Pemerintah Daerah No 23/2014 menggantikan UU Pemerintahan Daerah No 32/2004.
"Dirasa perlu adanya akselerasi dalam pembahasan penerbitan RPP PUPK untuk mendukung penyelenggaraan penyuluhan pertanian berjalan maksimal dari tingkat provinsi hingga tingkat desa atau kelurahan," kata Leli Nuryati, Kepala Pusat Penyuluhan Pertanian [Pusluhtan] mewakili Kepala BPPSDMP Kementan, Prof [R] Dedi Nursyamsi dalam arahannya pada pertemuan di Depok, Jabar pada Senin [2/9].
Sebagaimana diketahui, urusan pemerintahan konkuren merupakan salah satu unsur dari klasifikasi urusan pemerintahan yang terdiri atas urusan pemerintahan absolut, urusan pemerintahan konkuren, dan urusan pemerintahan umum sebagaimana diatur pada UU Pemerintah Daerah No 23/2014 Pasal 9 ayat [1]. Urusan Pemerintahan Konkuren [UPK] merupakan urusan pemerintahan yang dibagi antara pemerintah pusat dan daerah provinsi dan daerah kabupaten/kota. Pelaksanaan urusan pemerintahan konkuren terdiri dari urusan yang menjadi bagian daerah provinsi dan daerah kabupaten/kota.
"Pelaksanaan kewenangan UPK tersebut diharapkan agar dalam penyelenggaraan penyuluhan pertanian dapat berjalan efektif dan efisien, dapat memperkuat kelembagaan penyuluhan pertanian di kecamatan dan desa/kelurahan. Dengan begitu, fungsi dan peran kelembagaan penyuluhan pertanian menjadi lebih optimal, menjadi lembaga penyuluhan pertanian terdepan dalam melayani pelaku utama dan pelaku usaha dan masyarakat pertanian lainnya untuk transfer teknologi inovasi bidang pertanian," kata Leli Nuryati.
Menurutnya, kewenangan provinsi bidang penyuluhan pertanian dalam kerangka urusan pemerintahan konkuren mencakup: 1] pengembangan ketenagaan penyuluhan pertanian; 2] pengembangan penerapan penyuluhan pertanian; dan 3] pengembangan kapasitas kelembagaan ekonomi petani berbasis kawasan.
"Sementara itu pelaksanaan penyuluhan pertanian menjadi kewenangan daerah kabupaten/kota meliputi pengembangan kapasitas kelembagaan penyuluhan pertanian di kecamatan dan desa/kelurahan; pengembangan kapasitas kelembagaan petani di kecamatan dan desa/kelurahan; 3 penyediaan dan pemanfaatan sarana dan prasarana penyuluhan pertanian; dan pembentukan badan usaha milik petani," kata Leli Nuryati. [Liene]
Depok of West Java [B2B] - Indonesian Agriculture Ministry seeks to accelerate and consolidate the efforts of Indonesian government to issue the Draft Government Regulations for Concurrent Government Affairs under coordination of Indonesian Coordinating Ministry for Economic Affairs with three ministries: agriculture ministry, interior ministry, forestry and the environment ministry so that implementation of Indonesian agricultural extension activities runs optimally and effectively, to support institutional strengthening of agricultural extension, according to the senior official of Indonesian agriculture ministry.