PENAS XVI Sumbar 2020, Kepala Pusluhtan Dorong Pelibatan Generasi Milenial
The 16th Indonesian Fishermen and Farmer Summit in West Sumatera
Editor : M. Achsan Atjo
Translator : Dhelia Gani

PUBLISHED: Kamis, 14 Februari 2019 , 12:14:00 WIB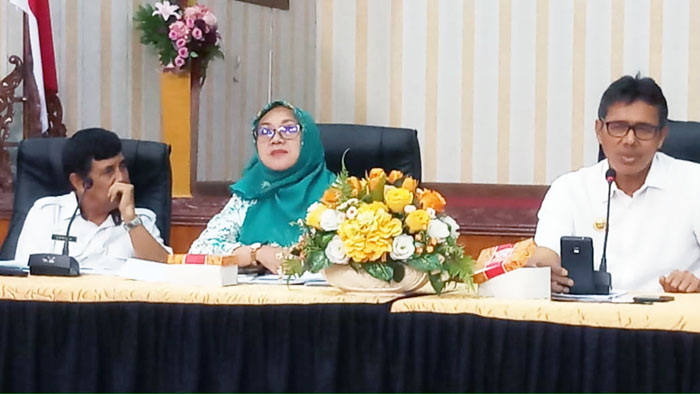 RAKOR PERSIAPAN: Kepala Pusluhtan BPPSDMP Kementan, Siti Munifah (tengah) memimpin Rakor Penas XVI 2020 dihadiri Gubernur Sumbar, Irwan Prayitno (kanan) dan Kadistan Candra Purnomo (Foto: Pusluhtan)
Padang, Sumbar (B2B) - Pekan Nasional Petani Nelayan ke-16 disingkat Penas XVI 2020 di Sumatera Barat diharapkan melibatkan generasi milenial, untuk menarik perhatian para pemuda/i Indonesia pada sektor pertanian, sementara pemerintah provinsi menyatakan siap menjadi tuan rumah bagi 50.000 peserta dan diharapkan mendorong pertumbuhan ekonomi daerah dari akomodasi, kuliner, dan suvenir di Sumbar.
Hal itu mengemuka dari rapat persiapan Penas XVI 2020 yang dipimpin Kepala Pusat Penyuluhan Pertanian - Kementerian Pertanian (Pusluhtan) Siti Munifah di Padang, Rabu (13/2) yang dihadiri oleh Gubernur Sumbar Irwan Prayitno; Kepala Dinas Tanaman Pangan Hortikultura dan Perkebunan Pemprov Sumbar, Candra Purnomo; dan Ketua Umum Kontak Tani Nelayan Andalan (KTNA) Winarno Tohir.
"Pelibatan generasi milenial akan menjadi daya tarik tersendiri bagi Penas XVI 2020 untuk menarik perhatian generasi muda kembali bertani, sehingga lebih meriah berkumpul dengan pemuda tani dan penyuluh pertanian dari seluruh Indonesia," kata Siti Munifah, pejabat eselon dua di Badan Penyuluhan dan Pengembangan SDM Pertanian (BPPSDMP).
Dia juga menyoroti persiapan penyelenggaraan Penas di Sumbar, khususnya terkait kehadiran 50.000 peserta ketimbang Penas XV di Aceh yang hanya dihadiri 35.000 peserta.
Gubernur Irwan Prayitno memastikan Sumbar akan siap menjadi tuan rumah Penas 2020, mengingat peluang Sumbar menjadi tuan rumah Penas XVI melalui kesepakatan nasional bukanlah hal mudah, juga berdampak signifikan pada pertumbuhan ekonomi daerah.
"Sumbar siap menjadi tuan rumah Penas, mengingat pada 2020 akan ada lima kegiatan skala nasional dan melibatkan kehadiran presiden sehingga prasarana dan sarana kegiatan harus sudah dilakukan mulai tahun ini," kata Irwan P.
Candra Purnomo memastikan kesiapan anggaran daerah, APBD 2019 sudah disiapkan mendukung persiapan kegiatan Penas XVI 2020. "Tentunya peran pemerintah pusat tetap prioritas utama mendukung sukses Penas XVI 2020."
Seusai rapat dilakukan peninjauan ke pusat lokasi Penas XVI 2020 di Kelurahan Aie Pacah, Kecamatan Koto Tengah, Kota Padang. (Lin)
Padang of West Sumatera (B2B) - The 16th Indonesian Fishermen and Farmer Summit or the Penas XVI 2020 in West Sumatera province expected to involve the millennial generation, to attract the attention of Indonesian youth in the agricultural sector, while the provincial government said it was ready to host 50,000 participants which will have a significant impact on the accommodation, culinary and souvenir business in West Sumatra.
It was revealed of Penas XVI 2020 coordination meeting of Penas XVI 2020 led by Director of Agricultural Extension Center of Agriculture Ministry, Siti Munifah here on Wednesday (February 13), which was attended by West Sumatra Governor Irwan Prayitno; Head of West Sumatra Agriculture Service, Candra Purnomo; and General Chair of Indonesian Fishermen and Farmers Association, Winarno Tohir.
"Millennials will be the main attraction of Penas XVI 2020 to attract the attention of younger generation back to farming," Siti Munifah said.
She also highlighted preparation of organizing Penas in West Sumatra, in particular participation of 50,000 participants across the country, or more than Penas XV participants in Aceh, only 35,000 people.
Governor Irwan Prayitno confirmed that West Sumatra would be ready host Penas 2020, considering the opportunity to host Penas XVI through a national agreement is not easy, also has a significant impact on regional economic growth.
"West Sumatra is ready to host Penas, considering that in 2020 there will be five national scale activities so that the construction of infrastructure and facilities has been carried out starting this year," Governor Prayitno said.
Candra Purnomo ensures the readiness of regional budget to support the Penas XVI 2020 activities. "Central government support is a priority for the success of Penas XVI 2020."
After the meeting, Munifah and meeting participants reviewed the center of Penas XVI 2020 activity in Aie Pacah village of Koto Tengah subdistric, Padang city.