Tiap Hari, Petani Nunukan Ekspor Pisang Kepok ke Malaysia
Indonesian Agriculture Anticipate Covid-19 by Weaker Health Systems
Editor : M. Achsan Atjo
Translator : Dhelia Gani

PUBLISHED: Selasa, 05 Mei 2020 , 14:08:00 WIB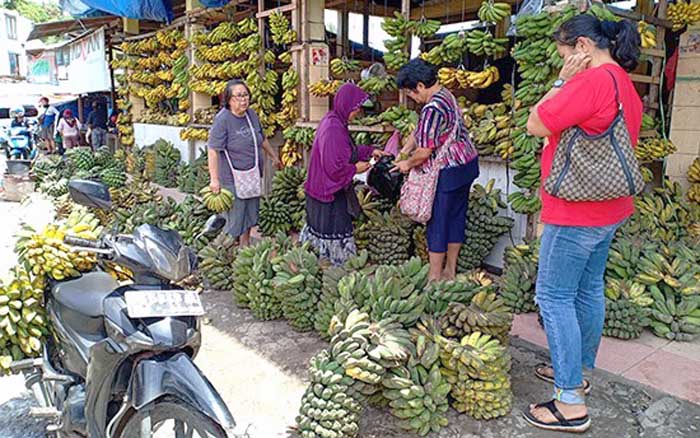 PASAR TRADISIONAL: Pisang kepok Nunukan selain diekspor ke Malaysia juga untuk memenuhi kebutuhan pasar lokal di Sebatik, Kaltara [Foto: istimewa]
Nunukan, Kaltara [B2B] - Pisang kepok kuning setiap hari diekspor ke negeri jiran Malaysia oleh petani di Kecamatan Sebatik Barat, memanfaatkan kedekatan wilayah Kabupaten Nunukan di Provinsi Kalimantan Utara. Minimal satu ton pisang kepok diekspor dari hasil produksi perkebunan pisang seluas 1,6 hektar.
Penyuluh pertanian pusat di Kementerian Pertanian RI, Bambang Gatut Nuryanto selaku pendamping kegiatan penyuluhan pertanian Provinsi Kalimantan Utara [Kaltara] mengatakan kelompok tani [Poktan] Aji Kuning adalah merupakan salah satu Poktan yang tetap ke lapangan, untuk kelanjutan produksi pisang kepok memenuhi kebutuhan domestik maupun ekspor ke Malaysia.
"Para petani khususnya Poktan Aji Kuning didampingi penyuluh dari BPP Sebatik Barat melakukan panen pisang setiap hari dari luasan lahan 1,6 hektar. Hasil produksi rata-rata satu ton per hari," kata Bambang Gatut Nuryanto melalui pernyataan tertulis yang dihimpun Pusat Penyuluhan Pertanian [Pusluhtan BPPSDMP], Senin [5/4].
Hasil panen pisang kepok kuning, katanya, dikumpulkan Poktan Aji Kuning kemudian dijual pada pengepul di Lalosalo Sebatik seharga Rp2.366 per kg, selanjutnya diekspor ke Malaysia melalui jalur laut.
Ekspor pisang segar rata-rata satu ton, maksimal dua ton dilakukan setiap hari yang berlangsung sepanjang tahun, namun tetap mematuhi aturan ekspor komoditas pertanian khususnya phytosanitary certificate yang dilakukan oleh Stasiun Karantina Pertanian Tarakan wilayah kerja Sebatik, lazimnya dipersyaratkan oleh negara tujuan ekspor khususnya Malaysia.
Menurut Bambang GN, Menteri Pertanian RI Syahrul Yasin Limpo menginstruksikan petani dan penyuluh tetap bekerja di lapangan dan memanfaatkan kelebihan hasil pertanian atau surplus produksi untuk ekspor.
"Para petani Sebatik Batik sampai hari ini terus berupaya mandiri menyediakan kebutuhan pangan khususnya pisang kepok kuning untuk pasar domestik maupun ekspor ke Malaysia," kata Bambang GN.
Sementara Kepala BPPSDMP Kementan Prof Dedi Nursyamsi saat videoconference dengan petani dan penyuluh dari seluruh Indonesia berulangkali mengingatkan untuk mematuhi Protokol Kesehatan untuk menangkal pandemi Covid-19.
"Petani dan penyuluh dan pemangku kepentingan selama berada di lapangan wajib mengenakan masker, jaga jarak, hindari kerumunan dan sering cuci tangan pakai sabun untuk menangkal Corona," pesan Kepala BPPSDMP Kementa, Prof Dedi Nursyamsi.
Kepala Pusat Penyuluhan Pertanian [Pusluhtan BPPSDMP] Leli Nuryati mengapresiasi dukungan penyuluh pertanian yang setia mendampingi petani di lapangan.
"Pangan berperan penting untuk memenuhi kebutuhan dasar manusia sekaligus menjaga stabilitas nasional di tengah krisis Covid-19," kata Leli Nuryati. [Liene]
Lebak of Banten [B2B] - Indonesia´s Agriculture Ministry is in intensive care after testing positive for the novel coronavirus, as civil servants in head office and across the country were ordered to close over the health threat. The World Health Organization has said it is particularly concerned about high-risk nations with weaker health systems, which who may lack the facilities to identify cases.