Dunia dan Akhirat, Peran Ganda Penyuluh sekaligus Ulama dari Luwu Utara
The Dual Role of Indonesian Agricultural Extensionist as Islamic Scholar
Editor : M. Achsan Atjo
Translator : Novita Cahyadi

PUBLISHED: Senin, 10 Juni 2019 , 01:30:00 WIB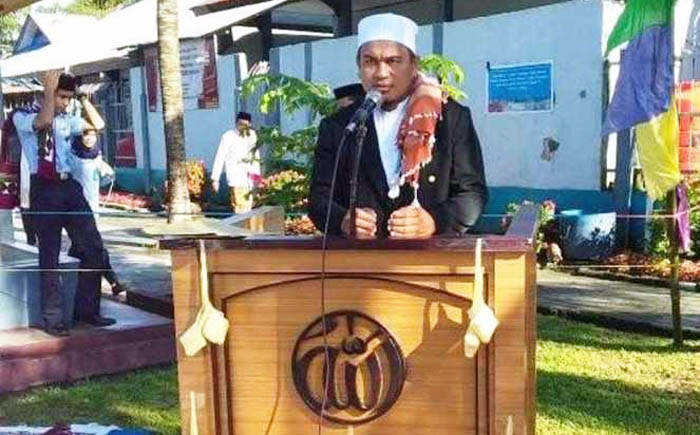 RUTAN MASAMBA: Muhammad Ilham, penyuluh pertanian di Desa Sumilin dan Desa Pincara di Kecamatan Masamba, Kabupaten Luwu Utara, Sulsel saat khutbah di Rutan Masamba [Foto: sulselsatu.com]
KELEBIHAN Muhammad Ilham boleh disebut langka, lantaran ´menguasai ilmu dunia dan akhirat´ mengingat peran gandanya sebagai penyuluh pertanian sekaligus ulama.
Dia didaulat menjadi khatib pada Shalat Ied di Rumah Tahanan [Rutan] kelas IIB Masamba di Kecamatan Mappedeceng, Kabupaten Luwu Utara, Provinsi Sulawesi Selatan, Rabu pagi [5/6].
Mengenakan jas warna hitam dan kopiah putih, Ilham menyampaikan khutbah Idulfitri tentang ´muasabah diri setelah berpuasa´ di hadapan 300-an jemaah, terdiri atas warga binaan dan pegawai Rutan Masamba.
"Ustadz itu sarjana pertanian, tapi juga jago ceramah," kata seorang jamaah.
Kelebihan penyuluh pertanian kelahiran 1986 tersebut diapresiasi oleh Armiady, Kepala Dinas Ketahanan Pangan [DKP] Kabupaten Luwu Utara.
"Alhamdulillah ... dari sekian ratus penyuluh pertanian di Luwu Utara, ada satu yang mampu berdakwah," kata Armiady.
Ditemui usai khutbah Idulfitri, Ilham mengaku terharu dapat menyampaikan pesan-pesan Islam kepada warga binaan Rutan Masamba di hari yang fitri.
"Ada tangis dan kerinduan kepada keluarga mereka di hari Lebaran ini. Semoga di hari yang fitri ini, kita semua melakukan introspeksi dan bermuasabah setelah sebulan lamanya berpuasa," kata Ilham.
Dia mensyukuri nikmat mendapat amanah menjadi khatib, dan selama Ramadan, penyuluh di Desa Sumilin dan Desa Pincara di Kecamatan Masamba berkeliling ceramah di beberapa kecamatan dari Kabupaten Luwu Utara hingga Rongkong, kecamatan di wilayah pegunungan.
Namanya pun masuk dalam daftar penceramah yang diedarkan Persamilra, dan Ilham selalu menyisipkan pesan-pesan tentang pembangunan pertanian kepada para jamaahnya yang sebagian besar adalah petani seperti dilansir sulselsatu.com.
THE ADVANTAGES of Muhammad Ilham may be called rare, because it played a dual role as an agricultural extensionist and Islamic scholar.
He was appointed as preacher on Ied Prayers at Masamba Detention House [Rutan Masamba] in Mappedeceng subdistrict of North Luwu district in South Sulawesi province, Wednesday morning [June 5].
Wearing a black coat and white skullcap, Ilham delivered the Eid al-Fitr sermon about ´contemplation after fasting´ in the presence of 300 worshipers, consisting of prisons and employees of Masamba Detention Center.
"Islamic scholars are agricultural graduate, but also good as an Islamic speaker," said one congregation.
The man born in 1986 was appreciated by Armiady, the Head of North Luwu´s Food Security Agency.
"Thank God ... of hundreds of agricultural extension in North Luwu, there is one who is able become an Islamic cleric," said Armiady who goes by one name, like many Indonesians.
Met after the Eid al-Fitr sermon, Ilham claimed to be touched to be able to convey Islamic teachings to prisoners in the Masamba Detention House.