Sekretaris BKP Kementan di Bali, Pantau Stok dan Fluktuasi Harga Pangan
Indonesia`s Bali Ensure Stocks and Food Prices is Under Control
Reporter : Gusmiati Waris
Editor : Cahyani Harzi
Translator : Dhelia Gani

PUBLISHED: Sabtu, 30 Desember 2017 , 13:09:00 WIB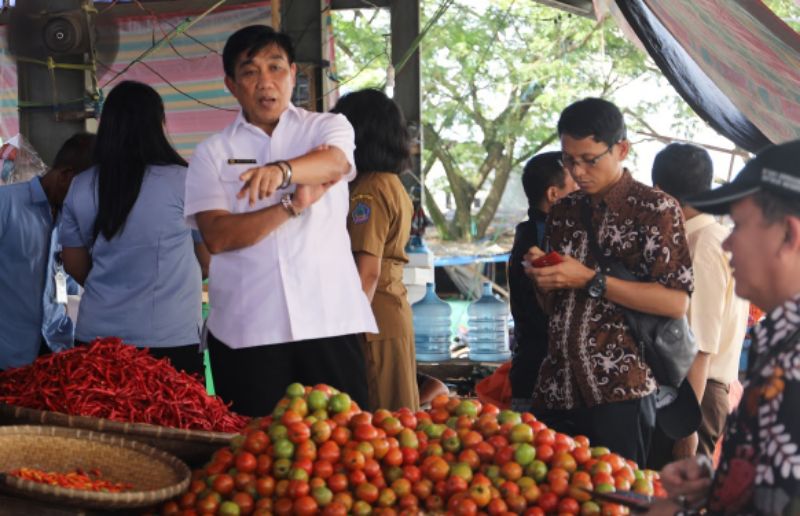 PANGAN POKOK BALI: Sekretaris Badan Ketahanan Pangan (BKP) Mulyadi Hendiawan memantau stok dan pasokan pangan di Bali (Foto: Humas BKP Kementan)
Denpasar, Bali (B2B) - Stok dan harga pangan pokok berpengaruh signifikan terhadap gejolak inflasi khususnya menjelang Tahun Baru 2018, hal itu mendorong Pemerintah RI khususnya Kementerian Pertanian memantau pasokan dan fluktuasi harga di tingkat pengecer dan konsumen, seperti dilakukan oleh Sekretaris Badan Ketahanan Pangan (BKP) Mulyadi Hendiawan di Denpasar, Bali pada Jumat (29/12).
Mulyadi didampingi Kepala Dinas Ketahanan Pangan Provinsi Bali I Wayan Mardiana mengunjungi Pasar Kreneng dan Pasar Badung di Denpasar, dan diketahui hanya beras medium yang melonjak harganya dari Rp8.800 ke Rp10.300 sejak Lebaran lalu dan kini merangkak ke Rp11.000 per kg lantaran pengaruh distribusi akibat cuaca ekstrim.
Menyikapi hal itu, Mulyadi mengungkap upaya pemangkasan rantai distribusi pangan harus ditingkatkan untuk mengatasi gejolak harga tersebut atau mesti lebih pendek dari sembilan kini lima dan ke depan cukup tiga atau empat rantai pasok pangan.
I Wayan Mardiana menimpali bahwa harga beras premium naik karena meningkatnya permintaan beras premium menjelang tahun baru yang dipicu lonjakan turis lokal dan mancanegara di ´pulau dewata´ tersebut.
"Bali surplus beras 55.000 ton hingga Desember 2017 tapi lonjakan jumlah turis di Bali memicu kenaikan harga karena permintaan beras premium meningkat," kata Wayan.
Satgas Pangan dari Polda Bali, Kanit III Subdit I Ditreskrimsus, Kompol I Wayan Sinaryasa memastikan tidak ada distributor dan pedagang yang menimbun. "Dulu ada tapi sudah ditindak, dan sekarang tidak ada lagi yang berani."
Wayan menilai harga beras premium hingga Rp11.000 per kg masih wajar karena permintaan konsumen meningkat terkait kunjungan wisatawan, bukan karens ulah spekulan yang menimbun beras.i
Saat ini harga pangan per kg di tingkat pengecer untuk beras medium adalah Rp10.300 sampai Rp. 11.000, gula putih Rp12.500, daging sapi segar Rp100.000, bawang merah Rp23.000, cabai keriting Rp24.000, dan telur ayam Rp1.400 per butir.
Denpasar, Bali (B2B) - Stocks and prices of staple foods affect inflation in Indonesia especially ahead of New Year 2018, it encourages Indonesian government especially the agriculture ministry to monitor supply and price fluctuations at retail and consumer level, as was done by the Secretary of Food Security Agency, or the BKP, Mulyadi Hendiawan here on Friday (December 29).
Mr Hendiawan accompanied by his colleague, official from Bali province, I Wayan Mardiana visited Kreneng and Badung traditional market in Denpasar,
and it is known that only medium rice prices rose from 8,800 to 10,300 rupiah since the last Eid, and is now up to 11,000 rupiah per kg due to extreme weather affect the distribution.
Responding to that, Mr Hendiawan revealed efforts to cut the distribution chain to overcome the price increase of staple food, or should be shorter than nine to five, and ideally enough to three or four food supply chains.
I Wayan Mardiana said premium rice prices rose due to increased demand for premium rice before the new year due to the increasing number of local and foreign tourists in Bali.
"Bali currently has a surplus of 55,000 tons, but the increasing number of tourists in Bali has triggered rising rice prices as demand increases," Mr Mardianana said.
Food Task Force from Bali Police, Commissioner I Wayan Sinaryasa ensure there are no distributors and merchants who hoard. "The food hoarder has been arrested, and no one has dared."
Sinaryasa rate premium rice price of 11,000 per kg is still reasonable because consumer demand is increasing, not caused rice hoarders.
Currently the staple food price per kg at the retailer level for medium rice 10,300 to 11,000, white sugar 12,500, fresh beef 100,000, shallot 23,000, red curly chilli 24,000, and chicken egg 1,400.