Big Data Pertanian, Pusluhtan BPPSDMP Gelar FGD Aplikasi Simluhtan
Indonesian`s Agriculture Ministry is Compiling Agriculture Big Data
Editor : M. Achsan Atjo
Translator : Dhelia Gani

PUBLISHED: Jum'at, 14 Juni 2019 , 01:32:00 WIB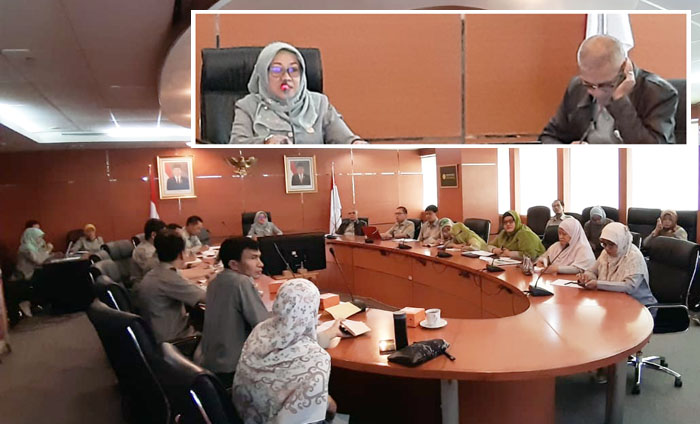 LINTAS ESELON SATU: Kepala Pusluhtan BPPSDMP Siti Munifah didampingi Kabid Penyelenggaraan Penyuluhan, I Wayan Ediana sebagai moderator [inset atas] membuka FGD lintas eselon satu Kementan [Foto2: Pusluhtan]
Jakarta [B2B] - Indonesia menyongsong era ´bonus demografi ´ ditandai meningkatnya digital native dari Generasi Z yang melek teknologi ketimbang digital migrants [Generasi X] yang terjadi pada 2020 - 2035 ketika generasi milenial menjadi variabel penting baik sebagai konsumen maupun produsen, sektor pertanian pun harus menyesuaikan dengan memanfaatkan Big Data sebagai karakteristik Pertanian 4.0 menghasilkan produk unggul, presisi, efisien dan berkelanjutan.

Pemerintah RI menyadari peran vital Big Data sebagai database pertanian nasional yang kelak menjadi acuan dari para pemangku kepentingan, khususnya Kementerian Pertanian RI untuk merealisasikan program kerja, dengan mengembangkan aplikasi Sistem Informasi Manajemen Penyuluhan Pertanian (Simluhtan) yang menjadi tanggung jawab Badan Penyuluhan dan Pengembangan SDM Pertanian [BPPSDMP].

"Big Data adalah keniscayaan mendukung pertanian 4.0 maka focus group discussion atau FGD yang digelar hari ini bertujuan menggali dan mengumpulkan berbagai ide, masukan dan gagasan terkait kebutuhan pengembangan aplikasi Simluhtan, sehingga dapat menjadi dasar dari unit kerja eselon satu lingkup Kementan dalam merealisasikan programnya," kata Kepala Pusat Penyuluhan Pertanian [Pusluhtan BPPSDMP] Siti Munifah saat membuka FGD bertajuk ´Membangun Big Data Pertanian´ yang digelar Bidang Penyelenggaraan Penyuluhan - Pusluhtan di Jakarta, Kamis [13/6].

Menurut Siti Munifah, dengan memahami Big Data maka suatu organisasi seperti Kementan akan dengan mudah mengolah dan menganalisis sekumpulan data atau suatu permasalahan yang sedang dihadapi baik dari internal maupun eksternal organisasi. Organisasi tersebut dapat menghemat biaya, mengehamat waktu, dan menetapkan keputusan yang tepat.

Kabag Program dan Kebijakan Kementan, Prayudhi Samsuri menekankan pentingnya membangun Big Data Pertanian untuk memudahkan kontrol dan pengendalian pelaksanaan setiap program/kebijakan Kementan, dan mengapresiasi langkah Pusluhtan menghadirkan pejabat berkompeten dari setiap unit kerja eselon satu serta Pusat Data dan Informasi Pertanian [Pusdatin] untuk melakukan koordinasi dan sinkronisasi penyusunan Big Data Pertanian.

"Sasaran kebijakan dan program Kementan adalah petani, sehingga perlu membangun database petani dengan baik dan valid, yang dapat dipertanggungjawabkan maka database petani dan kelompoknya dikeluarkan dari satu pintu yaitu BPPSDMP Kementan," kata Prayudhi Samsuri.

Aplikasi Simluhtan
Kabid Penyelenggaraan Penyuluhan - Pusluhtan, I Wayan Ediana selaku moderator FGD menguraikan konsep ringkas pembangunan sistem data dan proses upgrade aplikasi Simluhtan yang saat ini sedang disiapkan oleh Subbidang Informasi dan Materi Penyuluhan Pertanian - Pusluhtan.

"Ada dua hal pokok yang menjadi fokus kali ini untuk menjadi frame agar FGD berlangsung efektif dan efisien yakni data mining dan data processing," kata Wayan Ediana.

Sebagaimana diketahui, data mining mencakup bagaimana proses mendapatkan data, jenis data yang dikumpulkan, sumber data. Sementara data processing meliputi proses pengolahan data verifikasi dan validasi sistemnya agar data yang ditampilkan valid, akurat dan dapat dipertanggung jawabkan.

Menurutnya, ada lima hal yang menjadi fokus rumusan FGD. Pertama, kesepakatan data yang diakomodir berupa data kelompok tani, petani, kepemilikan lahan, dan jenis program.yang diterima petani. Kedua, melakukan registrasi ulang secara berkala terhadap kelompok pelaku utama yang sudah masuk dalam aplikasi dengan tujuaan verifikasi dan validasi data. Ketiga, memberikan kode unik kepada setiap kelompok pelaku utama berdasarkan lokasi provinsi, kabupaten, kecamatan, desa dan program yang diterima.

"Keempat, konsolidasi data setiap eselon satu Kementan berdasarkan nomor induk kependudukan atau NIK petani. Kelima, rencana input data dilakukan oleh setiap penyuluh pertanian yang tersebar di lebih dari 6.500 balai penyuluhan pertanian atau BPP di seluruh Indonesia," kata Wayan Ediana yang didampingi Kasubbid Informasi dan Materi Penyuluhan Pertanian - Pusluhtan, Septalina Pradini.
Jakarta [B2B] - Indonesia faces the era of ´bonus demography´ marked by increasing digital native of Generation Z rather than digital migrants or Generation X from 2020 - 2035 when the millennial generation becomes an important variable both as consumers and producers, the agricultural sector must adjust to utilizing Big Data as a characteristic of Agriculture 4.0 to produce superior, precise, efficient and sustainable products.

Indonesian government realizes the vital role of Big Data as the national agricultural database that will later become a reference for stakeholders, especially Indonesian Agriculture Ministry to realize work programs, by developing an Agricultural Extension Management Information System application [Simluhtan] which is the responsibility of Directorate General of Agricultural HR Development [BPPSDMP Kementan].

"Big Data is a necessity to support agriculture 4.0, so a group discussion forum or FGD held today aims to explore and gather various ideas, input and ideas related to Simluhtan´s application development needs, so that it can become the ministry´s database to realize the program," said Director of Agricultural Extension Center [Pusluhtan] Siti Munifah while opened FGD about Big Data here on Thursday [June 13].

According to Munifah, by understanding Big Data, an organization such as the agriculture ministry will be easier to process and analyze a data set or problems that are being faced both of internal and external organizations. The organization can save costs, save time, and make the right decisions.

Head of the ministry´s Program and Policy, Prayudhi Samsuri emphasized the importance of development Big Data Agriculture to facilitate control of implementation of each ministry program/policy and appreciate Pusluhtan´s steps to bring competent officials from each of the first echelon work units and the Center for Agricultural Data and Information [Pusdatin] to coordinate and synchronize the preparation of Big Data Agriculture.

"The targets of the ministry´s policies and programs are farmers, so that they need to build farmer´s database properly and validly that is accountable, so the database of farmers and their groups comes out of one door, BPPSDMP Kementan," Samsuri said.

Simluhtan App
The Pusluhtan´s Head of Section for Organizing Agricultural Extension, I Wayan Ediana as the FGD moderator outlined the concise concept of data system development and the Simluhtan application upgrade process which is currently being prepared by the Subsection of Information and Agricultural Extension Materials - Pusluhtan.

"There are two main things that are the focus of this time to become frames, namely data mining and data processing," Ediana said.

Data mining about how the process of getting data, the type of data collected, data sources. While data processing includes data processing verification and validation of the system so that the data displayed is valid, accurate and accountable.

According to him, there are five things that are the focus of the FGD formulation. First, agreement on data from data from farmer groups, farmers, land ownership, and types of programs for farmers. Second, periodically re-register with farmers who have entered the application for data verification and validation. Third, create a unique code for each farmer group based on the location of the province, district, sub-district, village and program received.

"Fourth, data consolidation based on farmer population numbers. Fifth, the data input plan is carried out by each agricultural extensionists of 6,500 agricultural extension centers across the country," Ediana said who was accompanied by Head Subsection of Information and Agricultural Extension Materials, Septalina Pradini.