Andalkan PWMP, SMKPP Kementan Pacu Regenerasi Petani di Kalsel
Millennial Farmers Development are the Target of Indonesia`s SMKPPN Banjarbaru
Editor : Kemal A Praghotsa
Translator : Dhelia Gani

PUBLISHED: Minggu, 22 Januari 2023 , 01:03:00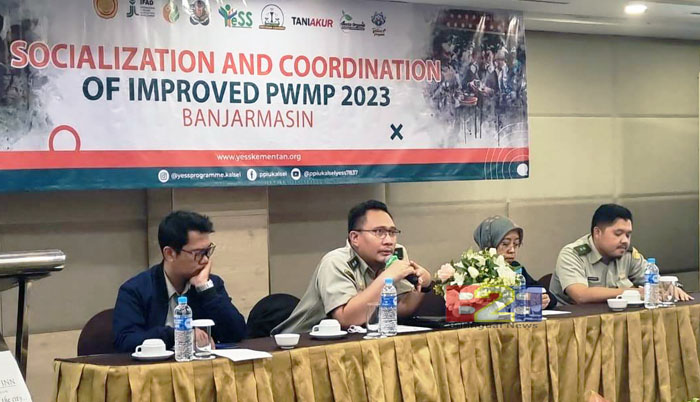 SMKPPN BANJARBARU: Kepala SMK-PP Negeri Banjarbaru, Budi Santoso [ke-2 kiri] membuka kegiatan ´Sosialisasi dan Koordinasi untuk Meningkatkan PWMP pada 2023´ [Socialization And Coordination Of Improved PWMP 2023] didampingi Kasubag TU, Kasubag TU Johan Pujianto [kanan].
Banjarmasin, Kalsel [B2B] - Kementerian Pertanian RI terus berupaya mewujudkan komitmen pertanian yang maju, mandiri, dan modern antara lain melalui Program Penumbuhan Wirausaha Muda Pertanian [PWMP] untuk memacu regenerasi petani di Provinsi Kalimantan Selatan [Kalsel] dengan menghadirkan banyak petani milenial.
Menteri Pertanian RI, Syahrul Yasin Limpo mengatakan petani milenial berperan penting dalam pengelolaan pertanian saat ini, untuk mengembangkan pertanian yang efektif, efisien dan transparan.
"Hal itu bisa dilakukan melalui petani milenial yang modern. Modern itu berarti di dalamnya kita bicara SDM. Bagaimana mau cepat, kalau masih pakai kendaraan kemarin. Bagaimana mau maju, kalau ilmu, teknologi dan mekanisasi masih seperti yang kemarin," katanya.
Pada kesempatan tepisah, Kepala Badan Penyuluhan dan Pengembangan SDM Pertanian Kementan [BPPSDMP] Dedi Nursyamsi menambahkan guna mendukung pembangunan pertanian maju, mandiri dan modern, maka penyiapan dan pencetakan SDM pertanian unggulan perlu dilakukan.
"Melalui institusi pendidikan vokasi, Kementan akan melahirkan SDM yang kompetitif sebagai tenaga dan pengusaha pertanian milenial yang andal, kreatif, inovatif, profesional dan mampu menyerap lapangan pekerjaan sektor pertanian sebanyak mungkin," katanya.
Dedi Nursyamsi menambahkan pengusaha pertanian milenial diharapkan mampu menjadi resonansi, penggebuk tenaga muda di sekitarnya untuk menjadi SDM pertanian unggulan yang mampu menggenjot pembangunan pertanian menjadi pertanian maju, mandiri dan modern.
Menindaklanjuti upaya tersebut, Kementan bekerjasama dengan International Fund for Agricultural Development [IFAD] melalui Program Youth Enterpreneurship and Employment Support Services [YESS] bergerak untuk mendukung dan memfasilitasi calon atau petani milenial melalui Program PWMP.
Salah satu wilayah pelaksanaan PWMP Program YESS di Indonesia, dilaksanakan di SMK-PP Negeri Banjarbaru sebagai Projects Provincial Implementation Unit [PPIU] di Kalsel.
Dengan dukungan Program YESS, SMK-PP N Banjarbaru terus berupaya meningkatkan kapasitas peserta didiknya melalui PWMP. Guna memaksimalkan Program PWMP diperlukan berbagai persiapan, salah satunya melalui kegiatan ´Sosialisasi dan Koordinasi untuk Meningkatkan PWMP pada 2023´ [Socialization And Coordination Of Improved PWMP in 2023].
Kegiatan yang dikhususkan bagi praktisi, mentor dan pembimbing PWMP dari SMK-PP Negeri Banjarbaru berlangsung selama tiga hari, 19 - 21 Januari 2023 di Hotel Rattan In Banjarmasin.
Saat pembukaan acara, Kepala SMK-PP Negeri Banjarbaru, Budi Santoso mengatakan bahwa tugas utama di Kalsel ada dua yakni mencetak alumni SMK-PPN Banjarbaru sebagai job seeker dan job creator.
"Alhamdulillah sudah beberapa tahun di-support oleh Program PWMP, bahkan sudah tiga tahun ini di-support oleh Program YESS," katanya.
Budi Santoso menambahkan bahwa pihaknya dalam Indikator Kinerja Utama [IKU] ditargetkan minimal 10 orang setiap tahun menjadi pengusaha muda di bidang pertanian, tak hanya terkait budidaya juga kemampuan mengakses Kredit Usaha Rakyat [KUR].
"Semoga tahun ini targetnya tercapai," katanya saat membuka kegiatan tersebut didampingi Kasubag TU SMK-PP Negeri Banjarbaru, Johan Pujianto.
Budi Santoso menjelaskan bahwa komoditas atau bidang usaha yang diambil oleh setiap kelompok PWMP pada 2023 akan disesuaikan dengan kompetensi keahlian, sehingga mereka lebih serius pada bidangnya.
"Rencananya, kelompok PWMP pda 2023 akan ada 35 kelompok. Semoga nantinya, mentor dapat memacu semangat mereka sehingga kelak mereka menjadi generasi muda yang terjun di pertanian," katanya. [Tim Ekspos SMKPPN Banjarbaru]
Banjarmasin of South Borneo [B2B] - The role of agricultural vocational education in Indonesia such as the the Agricultural Development Polytechnic or the Polbangtan, to support Indonesian Agriculture Ministry seeks to maximize its efforts to produce millennial entrepreneur.
Youth Enterpreneurship And Employment Support Services Program or the YESS, to support Indonesian Agriculture Ministry seeks to maximize its efforts for the millennial entrepreneur.
Indonesian Agriculture Minister Syahrul Indonesia Yasin Limpo stated that the government´s commitment to developing agriculture, especially in the development of advanced, independent and modern agricultural human resources.
"The goal is to increase the income of farming families and ensure national food security. Farmer regeneration is a commitment that we must immediately realize," Minister Limpo said.
He reminded about the important role of vocational education, to produce millennial farmers who have an entrepreneurial spirit.
"Through vocational education, we connect campuses with industry so that Polbangtan graduates meet their needs and are ready for new things," Limpo said.