24,92 Juta Ton Produksi Gabah Triwulan I 2019, BKP Kementan Optimalkan Sergap
24.92 Million Tons, Indonesia`s Rice Production in First Quarter of 2019
Editor : M. Achsan Atjo
Translator : Dhelia Gani

PUBLISHED: Rabu, 23 Januari 2019 , 01:47:00 WIB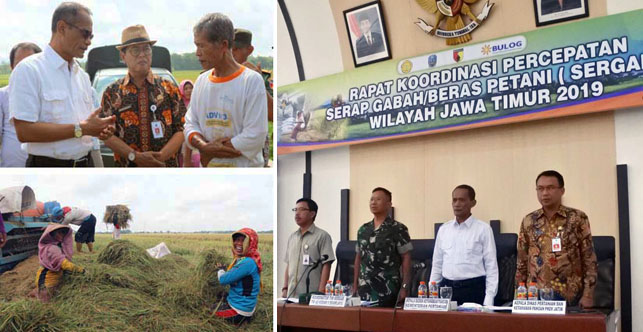 RAKOR SERGAP JATIM: Kepala BKP Kementan, Agung Hendriadi pantau Sergap Bulog (kiri atas dan bawah); memimpin Rakor didampingi Kadistan Jatim, Hadi Sulistiyo (kanan) dan Kadivre Bulog Jatim, Muhammad Hasyim (kiri)
Surabaya, Jatim (B2B) - Produksi padi Indonesia pada triwulan pertama 2019 menunjukkan trend positif, diperkirakan mencapai 24,92 juta ton gabah kering giling disingkat GKG dalam triwulan pertama 2019 tersebut. Produksi GKG Januari diperkirakan mencapai 4,31 juta ton, naik dua kali lipat pada Februari sekitar 7,87 juta ton, dan 12,74 juta ton produksi GKG pada Maret.
Kepala Badan Ketahanan Pangan di Kementerian Pertanian RI (BKP) Agung Hendriadi mengatakan bahwa pemerintah merespons cepat peningkatan produksi padi triwulan pertama 2019, untuk mengantisipasi harga gabah di tingkat petani jatuh lantaran produksi GKG melimpah, dengan mengoptimalkan dukungan Badan Urusan Logistik (Bulog) menyerap gabah petani sesuai harga yang disepakati.
"Produksi padi Januari hingga Maret 2019 akan meningkat, ketersediaan beras untuk konsumsi cukup dan surplus tinggi. Kementan dan Bulog meningkatkan sinergi untuk memastikan optimalisasi serapan gabah Bulog dari petani yang sedang mengalami panen raya," kata Agung Hendriadi pada rapat koordinasi serapan gabah petani (Rakor Sergap) pada Selasa (22/1) di Surabaya, Jatim.
Menurutnya, kegiatan Sergap sangat penting untuk melindungi petani apabila harga gabah jatuh, dan meningkatkan cadangan beras pemerintah, sehingga langkah Kementan bersama para pemangku kepentingan sangat vital untuk mengoptimalkan serapan gabah petani.
Kepala BKP Agung H memimpin Rakor Sergap Jatim didampingi Kepala Pusat Distribusi dan Cadangan Pangan BKP Kementan, Risfaheri. Turut hadir perwakilan petani dan Perpadi; Kepala Dinas Pertanian dan Ketahanan Pangan Jawa Timur, Hadi Sulistiyo; Kepala Divre Bulog Jawa Timur, Muhammad Hasyim; Komandan Korem dan para komandan Kodim dari seluruh Kodam V Brawijaya.
"Saya lihat yang hadir disini semangat semua, sehingga saya sangat yakin, kita pasti bisa," kata Agung H.
Dia menguraikan tujuh strategi Sergap yang dilakukan Kementan dan Bulog bersama pemerintah daerah dan pihak-pihak terkait: Pertama, meningkatkan integritas pelaksana. Kedua, peningkatan customer service melalui sistem jemput bola; pemetaan informasi panen, dan gudang Bulog akan buka meski hari libur. Ketiga mempermudah kerjasama PO dengan petani. Keempat, peningkatan kesiapan anggaran pembelian gabah/beras. Kelima, pembentukan Satker Divre/Sub-Divre. Keenam, penambahan gudang operasional di lebih seribu unit. Ketujuh, penyiapan lebih dari 60 unit pengolahan gabah/beras.
Surabaya of East Java (B2B) - Indonesia rice production in the first quarter of 2019 showed a positive trend, it is estimated that 24.92 million tons of dry grain are milled or GKG. January's GKG production is estimated at 4.31 million tons, is expected to almost double in February to 7.87 million tons, and 12.74 million tons of estimated GKG production in March.
Director General of the Food Security Agency at the Indonesian Agriculture Ministry or the BKP, Agung Hendriadi said that the government responded quickly to the increase in rice production in the first quarter of 2019, to anticipate the GKG price at the farm level fell due to abundant production, by optimizing the support of Indonesian Logistics Agency or the Bulog buy farmer's grain according to the agreed price.
"Indonesia rice production of January to March 2019 will increase, the availability of rice for consumption is sufficient, the ministry and Bulog are increasing synergies to ensure optimization of GKG purchases from farmers who are harvesting rice," said Hendriadi here on Tuesday (January 22).
According to him, the Bulog buying of GKG from farmers is very important to protect farmers if the price falls, and increasing the government's rice reserves, so that the ministry's steps with stakeholders are vital to optimize the purchase of GKG from farmers.
Agung Hendriadi led a coordination meeting in Surabaya, the provincial capital of East Java accompanied by the Head of the Food Distribution and Reserve Center, Risfaheri. Also present representatives of farmers; head of the East Java agricultural service office, Hadi Sulistiyo; and Head of the East Java Bulog Regional Division, Muhammad Hasyim.
"I see all enthusiasm, so I'm very sure, we can do it," Hendriadi said.
He outlined seven ministerial strategies with Bulog, local government and related parties: First, improve implementing integrity. Second is the increasing customer service, mapping of rice harvest information, and the Bulog warehouse remains open on holidays. Third, it is easier to buy GKG of farmers. Fourth, prepare money to purchase rice from farmers. Fifth, increase the work unit task in each regional subdivision of Bulog. Sixth, adding an operational warehouse of more than one thousand units. Seventh, preparing more than 60 GKG processing units.