Penyuluh Sosialisasi SOP Covid-19, Pasar Tani Aceh Bukti #pertaniancegahcorona
Indonesian Agriculture Anticipate Covid-19 by Weaker Health Systems
Editor : M. Achsan Atjo
Translator : Dhelia Gani

PUBLISHED: Kamis, 09 April 2020 , 01:33:00 WIB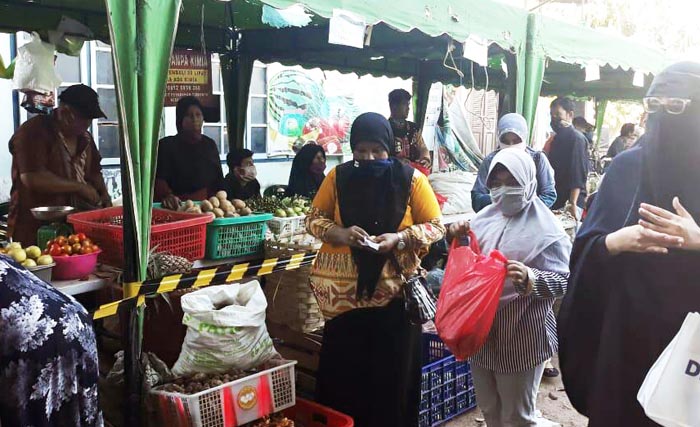 JAGA JARAK: Pasar Tani di Banda Aceh tetap berjalan mematuhi SOP Covid-19 untuk mendukung petani menjaga kestabilan pasokan ke pasar dengan harga terjangkau [Foto: Humas Pusluhtan/Nurlisma]
Banda Aceh, Aceh [B2B] - Pasar Tani kembali diadakan di Banda Aceh, ibukota Provinsi Aceh setelah sempat absen, karena patuhi imbauan pemerintah untuk 'menjaga jarak dan hindari kerumunan' demi menangkal penyebaran virus Corona. Pasar Tani kembali digelar oleh Dinas Pertanian dan Perkebunan [Distanbun] Pemprov Aceh, kemarin [8/4], dengan menerapkan Protokol Kesehatan yang ditetapkan Badan Kesehatan Dunia [WHO].
Pasar Tani menerapkan standar operasional prosedur [SOP] Covid-19. Waktu buka dibatasi pukul 08:00 hingga 14:00. Pembeli dan penjual wajib mengenakan masker. Jaga jarak satu minimal 1,5 meter. Hindari kerumunan. Tidak boleh lama bertransaksi serta disiplin dan tertib. Sosialisasinya didukung penyuluh pertanian Aceh melalui aplikasi online pesan instan, WhatsApp kepada petani dan konsumen
Kepala Distanbun Aceh, A Hanan mengatakan kegiatan Pasar Tani kembali diadakan untuk menindaklanjuti instruksi Gubernur Aceh tentang 'tata kelola pasar di tengah pandemi Covid-19 untuk mendukung pemasaran hasil produksi petani dan memenuhi kebutuhan konsumen' dengan menggandeng ojek online, GoJek untuk mendukung layanan pesan - antar kepada pembeli seperti diinstruksikan Menteri Pertanian RI Syahrul Yasin Limpo [SYL] untuk memastikan pertanian tidak berhenti.
Plt Gubernur Aceh Nova Iriansyah, katanya, berharap kegiatan Pasar Tani tetap berjalan dengan mematuhi SOP mencegah Covid-19 agar dapat membantu petani memenuhi kebutuhan pangan dan menjaga kestabilan pasokan ke pasar dengan harga terjangkau.
"Pasar Tani tetap diadakan di Banda Aceh agar petani tetap dapat berjualan. Tujuan utamanya, mempertemukan petani dan pembeli tanpa perantara atau pengepul sehingga harga jual produksi pertanian tetap terjaga untuk meningkatkan pendapatan petani lokal," kata A Hanan seperti dilaporkan penyuluh Aceh, Nurlisma melalui pernyataan tertulis kepada Pusat Penyuluhan Pertanian [Pusluhtan BPPSDMP].
Pasar Tani mengubah konsep pasar tradisional menjadi pasar modern yang mengedepankan kualitas dan nilai tambah produk pertanian maupun jasanya. Diadakan dua kali dalam sebulan, setiap Rabu pada minggu kedua dan keempat setiap bulan. Lokasinya di Komplek Perkantoran Distanbun Aceh di Jl Teuku Panglima Nyak Makam, Lampineung, Banda Aceh.
"Pasar Tani yang menjual hasil produksi tanaman pangan, hortikultura dan perkebunan serta peternakan selalu dinantikan warga Banda Aceh dan sekitarnya, karena produknya berkualitas dan segar namun harganya terjangkau," kata A Hanan. [Liene]
Banda Aceh of Aceh [B2B] - Indonesia´s Agriculture Ministry is in intensive care after testing positive for the novel coronavirus, as civil servants in head office and across the country were ordered to close over the health threat. The World Health Organization has said it is particularly concerned about high-risk nations with weaker health systems, which who may lack the facilities to identify cases, according to official of the region.