Perlindungan Perkebunan, DitjenBun Bentuk 31 BPT dan 61 Unit RPO
Indonesian Forms Special Team to Overcome Plantation Plant Pest Organisms
Reporter : Gusmiati Waris
Editor : Cahyani Harzi
Translator : Dhelia Gani

PUBLISHED: Sabtu, 10 November 2018 , 14:13:00 WIB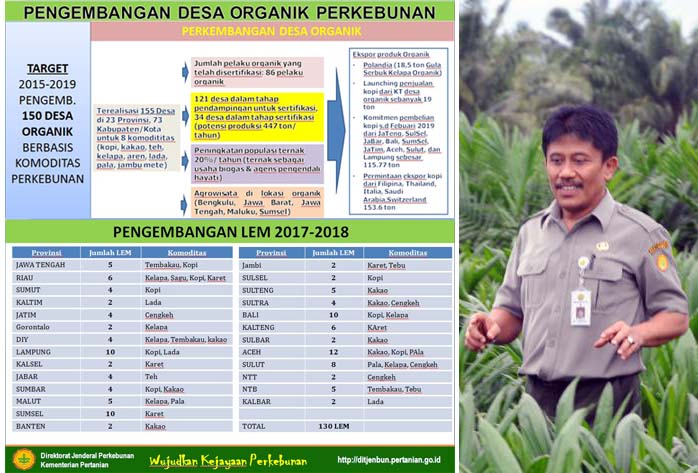 OPT ENDEMIS: Dirjen Perkebunan Bambang WD memantau pelaksanaan BPT dan RPO di sentra komoditas perkebunan di daerah. (Foto & Tabel: Humas Ditjen Perkebunan)
Jakarta (B2B) - Direktorat Jenderal Perkebunan di Kementerian Pertanian RI berupaya mengatasi organisme pengganggu tanaman (OPT) dan non OPT, dengan membentuk 31 unit Brigade Proteksi Tanaman (BPT) dan 61 unit Regu Pengendali OPT (RPO) di 31 provinsi, didukung kendaraan operasional dan sarana pengendalian OPT, untuk mendukung peningkatan produksi dan produktivitas komoditas perkebunan berkelanjutan di seluruh Indonesia.

Dirjen Perkebunan Kementan, Bambang Wahyu Dwiantoro mengatakan penanganan OPT endemis fokus pada pusat-pusat serangan OPT di sentra pengembangan komoditas perkebunan kakao, kopi, karet, kelapa, tebu di 13 provinsi.

"Setiap BPT terdiri atas 10 personel dari dinas perkebunan provinsi dan kabupaten, sementara tiap regu RPO didukung 10 petani atau perwakilan dari kelompok tani di lokasi pengembangan komoditas perkebunan yang sudah membentuk lembaga ekonomi masyarakat atau LEM, atau lokasi yang ditetapkan oleh Bappenas sebagai daerah miskin atau sudah mengikuti pelatihan SL-PHT," kata Dirjen Bambang WD kepada pers di Jakarta, Jumat (10/11).

Penanganan OPT endemis di sentra pengembangan komoditas perkebunan dengan aksi pengendalian komoditas kakao di Sulawesi Tengah, Nusa Tenggara Barat (NTB), Aceh, Kalimantan Utara, Sulawesi Selatan dan Sulawesi Barat seluas 2.525 hektar. OPT kopi di Jawa Barat, Bengkulu, Sulawesi Utara, dan Sulawesi Selatan seluas 1.325 ha. OPT karet di Sumatera Selatan dan Jambi seluas 400 ha; OPT kelapa di Sulawesi Utara seluas 300 ha; OPT tebu di Jawa Tengah, DIY, dan Jawa Timur seluas 475 ha.

Desa Organik
Ditjen Perkebunan juga mengemban amanat NawaCita untuk mengembangkan 'Desa Pertanian Organik' berbasis komoditas perkebunan yang tersebar di 155 desa di 23 provinsi, dengan delapan komoditas binaan yakni kopi, kakao, teh, kelapa, aren, lada, pala, dan jambu mete.

Direktur Perlindungan Perkebunan, Dudi Gunadi mengatakan saat ini kegiatan tersebut sampai pada tahap pendampingan untuk sertifikasi 121 desa dan tahap sertifikasi untuk 34 desa, dengan potensi produksi masing-masing komoditas kopi sebanyak 163 ton, gula aren 23 ton, jambu mete 23 ton, kakao 165 ton, pala 18 ton, teh 43 ton, lada tujuh ton, kelapa lima ton.

"Untuk produk-produk organik ini mulai dilakukan penjajagan pasarnya dengan launching ekspor gula serbuk kelapa, gula serbuk aren, dan kopi senilai Rp14,3 miliar," kata Dudi Gunadi.

Menurutnya, beberapa pasar potensi yang akan menjadi tujuan ekspor dari produk organik antara lain Polandia, Inggris, Selandia Baru, Italia, Filipina, Thailand, Saudi Arabia, dan Swiss. Pemasaran produk pertanian organik juga dilakukan melalui pengembangan digitalisasi perdagangan, e-Commerce, mulai dilakukan pada petani kopi dan kelapa di Jawa Timur dan Jawa Tengah serta petani aren di Banten.
Jakarta (B2B) - Directorate General of Plantations of Indonesian Agriculture Ministry seeks to eradicate plant pest organisms or the OPT and non-OPT, by forming 31 plant protection brigade units or the BPT and 61 squad units controlling plant control organisms in 31 provinces, supported by operational vehicles and pest control facilities. The teams aims to increase production and productivity of sustainable plantation commodities across the country.

Director General of Plantation, Bambang Wahyu Dwiantoro said the said the team worked in the development centers of cocoa, coffee, rubber, coconut, sugar cane plantation commodities in 13 provinces.

"Each the BPT consists of 10 personnel of provincial and district plantation offices, while each RPO team was supported by 10 farmers or representatives of farmer groups at the plantation development locations who have formed community economic institutions or LEM," Mr Dwiantoro told the press here on Friday (November 10).

The handling of pests is endemic in plantation commodity development centers for cocoa in Central Sulawesi, West Nusa Tenggara, Aceh, North Kalimantan, South Sulawesi and West Sulawesi of 2,525 hectares. Coffee in West Java, Bengkulu, North Sulawesi and South Sulawesi of 1,325 hectares. Rubber in South Sumatra and Jambi of 400 hectares; Coconut in North Sulawesi of 300 hectares; sugar cane in Central Java, Yogyakarta and East Java of 475 hectares.

Organic Villages
The Directorate General of Plantation also carries the mandate of improving people's welfare or NawaCita to develop plantation commodity-based 'Organic Farming Villages' spread in 155 villages in 23 provinces, with eight assisted commodities namely coffee, cocoa, tea, coconut, palm sugar, pepper, nutmeg, and cashew.

The Director of Plantation Protection, Dudi Gunadi, said that currently activity reached the mentoring phase for 121 village certification and certification stages for 34 villages, with production potential of 163 tons of coffee, 23 tons of palm sugar, 23 tons of cashew, 165 tons of cocoa, 18 tons of nutmeg, 43 tons of tea, seven tons of pepper, five tons of coconut.

"The market for these organic products began to be explored by launching exports of coconut powder sugar, palm sugar, and coffee worth IDR 14.3 billion," Mr Gunadi said.

According to him, several potential markets that will become export destinations for organic products include Poland, Britain, New Zealand, Italy, Philippines, Thailand, Saudi Arabia and Switzerland.

Marketing of organic agricultural products was also carried out through e-Commerce development, starting with coffee and coconut farmers in East and Central Java and palm farmers in Banten.