P4S dan Tematik, Program Pelatihan Utama BPPSDMP 2018 Dukung Target Strategis Kementan
Indonesian Govt Encourages Farmers to Develop Modern Agribusiness
Editor : M. Achsan Atjo
Translator : Dhelia Gani

PUBLISHED: Rabu, 17 Januari 2018 , 14:14:00 WIB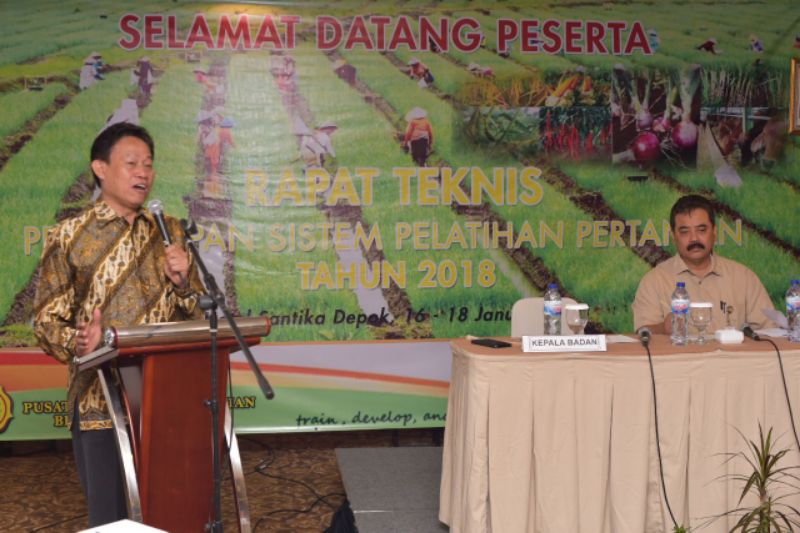 Kepala Badan SDM Pertanian Kementan, Momon Rusmono menyampaikan arahan saat membuka ´rapat teknis sistem pelatihan pertanian´ di Depok didampingi Kapuslatan, Widi Hardjono (Humas BPPSMDMP Kementan/Eko Saputra)
Depok, Jabar (B2B) - Badan Penyuluhan dan Pengembangan SDM Pertanian (BPPSDMP) mendorong pengembangan pusat pelatihan pertanian dan perdesaan swadaya nasional (P4S) dan pelatihan tematik dengan pendekatan on job training di sentra produksi pangan.

Kepala BPPSDMP Kementan, Momon Rusmono mengatakan pelatihan P4S dan Diklat Tematik melakukan pendekatan pada kondisi lapangan yang dihadapi petani, sebagai solusi untuk mengatasi masalah serius dalam pembangunan pertanian, lantaran menurunnya minat generasi muda untuk mengelola lahan pertanian sehingga P4S dan Diklat Tematim ke depan akan dikembangkan menjadi sentra pelatihan pertanian terpadu.

"Idealnya, lokasi pelatihan P4S dan Diklat Tematik terintegrasi dengan lahan untuk kedelai. Hortikultura terkait komoditas bawang putih, peternakan sapi dan rumah kompos untuk peternakan, dan produksi rempah-rempah sesuai program strategis kementerian untuk 2018," kata Momon Rusmono kepada pers usai membuka ´rapat teknis pemantapan sistem pelatihan pertanian 2018´ di Santika Hotel - Depok, Rabu (17/1).

Kementan sampai saat ini, menurut Momon, telah mengembangkan P4S sebagai tempat pelatihan dan pemagangan dari petani untuk petani, sehingga dapat mendorong petani menanam komoditas pangan bukan sekadar dikonsumsi namun membuka wawasan mereka tentang perdagangan produk agribisnis, dan hingga saat ini telah berdiri lebih 1.000 P4S di seluruh Indonesia.

Tampak hadir para kepala unit pelaksana teknis (UPT) bidang pelatihan dari seluruh Indonesia di antaranya Kepala Balai Pelatihan Peternakan - BBPP Kupang, Adang Warya; Kepala BBPP Malang, Apri Handono; Kepala Balai Besar Pelatihan Pertanian - BBPP Ketindan, Kresno Suharto; Kepala BBPP Batang Kalukku, Kemal Mahfud; Kepala BBPP Lembang, Bandel Hartopo; Kepala BBPP Binuang, Anwar Syarief; Kepala Balai Pelatihan Pertanian - BPP Lampung, Bhakti Poerwadikarta; Kepala BPP Jambi, Muhammad Sjarif; Kepala Pusat Pelatihan Manajemen Kepemimpinan Pertanian (PPMKP) Heri Suliyanto.

Dia mengatakan BPPSDMP Kementan berkomitmen melakukan revolusi mental terhadap penyuluh pertanian dan SDM pertanian, maka P4S selayaknya mengembangkan berbagai materi pelatihan antara lain teknik pengolahan lahan, ekologi tanah, pembenihan padi-kedelai, pengendalian hama terpadu, penanganan pasca panen dan teknologi penyimpanan padi-kedelai.

"BPPSDMP Kementan juga akan mengembangkan secara reguler kepada P4S untuk memberikan pembekalan untuk siswa sekolah menengah dan para pemuda tani agar mengerti dan menghayati bagaimana menjadi seorang petani modern. Metodenya sesuai degan jiwa muda mereka dalam bentuk outbound atau kemah tani," kata Momon Rusmono.

Diklat Tematik
Diklat Tematik merupakan pola pelatihan baru yang diterapkan oleh Kementan sejak 2016 yang dilakukan di lokasi target pelatihan, hal ini berbeda dengan pelatihan reguler yang dilaksanakan di balai pelatihan, dengan materi dan kurikulum yang telah ditetapkan oleh balai pelatihan, kata Momon Rusmono.

Sementara tema, materi, dan kurikulum pelatihan tematik disusun berdasarkan potensi pertanian di wilayah target pelatihan yang dilaksanakan di tingkat balai penyuluhan pertanian (BPP) tingkat kecamatan di masing-masing kabupaten/kota.

"BPP di tingkat kecamatan menjadi tempat kegiatan pelatihan tematik, karena BPP kecamatan merupakan kelembagaan penyuluhan pertanian yang langsung bersentuhan dengan masyarakat tani, sehingga dampak dari pelatihan dapat langsung diketahui oleh petani dan peternak," kata Momon Rusmono.

Dia menambahkan model pelatihan menerapkan pembelajaran yang berorientasi pada pemecahan masalah dan pengambilan keputusan berdasarkan kesesuaian materi yang dibutuhkan peserta pelatihan.
Depok of West Java (B2B) - Indonesian´s Directorate General of Agricultural Extension and Human Resources Development or the BPPSDMP encourages agricultural training activities support the strategic program of agriculture ministry by developing a self-help agricultural training center in the countryside, and on-the-job training in food production centers, locally known as the Diklat Tematik and P4S, according to senior official.

Director General of the BPPSDMP Momon Rusmono said the training pattern is an approach to the field conditions faced by farmers, solutions to overcome agricultural problems, especially to invite young people to the agricultural sector, and in the future will be developed into an integrated agricultural training center.

"Ideally, the training location is integrated with land for soybean, horticultural subsector related to garlic commodities, cattle ranches and compost houses for livestock, and spice production according to the ministry´s strategic program for 2018," Mr Rusmono told the press here on Wednesday (January 17) after opened the 2018 technical meeting of agricultural training system.

The agriculture ministry until now has developed the P4S as the training and apprenticeship for farmers to develop food commodities for agribusiness products, and to date more than 1,000 P4S have been established across the country.
It was attended by director of technical implementation unit of agriculture training across the country among others Adang Warya of Kupang Livestock Training Center, known by its Indonesian acronym BBPP Kupang and Apri Handono of BBPP Batu Malang; Kresno Suharto of Ketindan Agriculture Training Center or the BBPP Ketindan; Kemal Mahfud of BBPP Batangkaluku; Bandel Hartopo of BBPP Lembang; Anwar Syarief of BBPP Binuang; Bhakti Poerwadikarta of Lampung's Agriculture Training Center or BPP Lampung; Muhammad Sjarif of BPP Jambi and Heri Suliyanto of Center for Agricultural Extension and Development of Human Resources.
He said the BPPSDMP is committed to a mental revolution for the agricultural extension and agricultural human resources, and the P4S should develop various training materials such as land management, soil ecology, soybean-rice cultivation, integrated pest management, post-harvest handling and soybean-rice storage technology.

"The ministry will also develop regularly to the P4S to train high school students, and young farmers to understand and learn how to be a modern farmer. The training method could be outbound activities or farming camp," Mr Rusmono said.

The Thematics Training
The thematic training as a new pattern of training of Indonesian Agriculture Ministry since 2016 conducted simultaneously across the country, is conducted in target location of the training differs from regular training, with the materials and curriculum set by the training center.

Meanwhile the theme, materials, and thematic curriculum are organized based on agricultural potentials in the target areas of training at subdistrict education extension centers in each district/city.

"The subdistrict education extension centers as the location for thematic training activities, because it is an agricultural extension institution that is in contact with the farming community," Mr Rusmono said.

He said the training model applies problem-oriented learning, and decision-making based on the material fit required by the trainees.