Kunjungi PPMKP Ciawi, Mentan Hadiri Konsolidasi 35 BEM Fakultas Pertanian
Indonesian Agricultural Students Mapping Agricultural Development in 6 Provinces
Editor : M. Achsan Atjo
Translator : Dhelia Gani

PUBLISHED: Selasa, 04 Desember 2018 , 14:16:00 WIB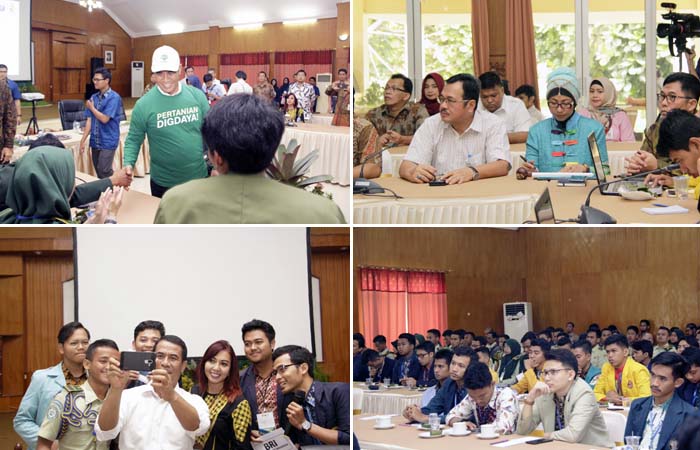 MAHASISWA MILENIAL: Mentan Andi Amran Sulaiman disambut hangat mahasiswa; Kapuslattan Bustanil AC, Kapusdiktan Idha W Arsanti, dan Kepala PPMKP Ciawi Herry Suliyanto (kiri atas); dan 35 BEM PTN dan PTS (Foto2: Humas BPPSMDP/Eko Saputra)
Ciawi, Jabar (B2B) - Menteri Pertanian RI Andi Amran Sulaiman pagi ini, Selasa (4/12) mengunjungi PPMKP Ciawi, Bogor, Jawa Barat menghadiri ´konsolidasi nasional mahasiswa pertanian´ yang diikuti 120 perwakilan dari 35 Badan Eksekutif Mahasiswa (BEM) fakultas pertanian perguruan tinggi negeri dan swasta di seluruh Indonesia.
Menteri Pertanian RI Andi Amran Sulaiman tiba di Pusat Pelatihan Manajemen dan Kepemimpinan Pertanian - PPMKP Ciawi pukul 09:00 disambut oleh Kepala PPMPKP Herry Suliyanto didampingi Idha Widi Arsanti, Kepala Pusat Pendidikan Pertanian (Pusdiktan) di Badan Penyuluhan dan Pengembangan SDM Pertanian (BPPSDMP) Kementerian Pertanian RI dan Kepala Pusat Pelatihan Pertanian (Puslatan) Bustanul Arifin Caya. Kedua pejabat eselon dua BPPSDMP tersebut hadir di Ciawi mewakili Kepala Badan SDM Kementan, Momon Rusmono.
Presiden BEM Institut Pertanian Bogor (IPB) M Nurdiansyah mengatakan kegiatan ´Mapping Desa dan Evaluasi Program Pertanian Nasional´ dengan pendekatan studi kasus di 14 desa pada lima kluster di enam provinsi: Sumatera Selatan, Jawa Barat, Jawa Tengah, Bali dan Nusa Tenggara, dan Kalimantan.
"Tujuan kegiatan melakukan analisis kondisi progran pertanian secara umum yang dapat memberikan gambaran kondisi program pertanian yang ada, baik dari aspek kekuatan, kelemahan, peluang dan tantangan atau dikenal sebagai SWOT," kata Nurdiansyah mahasiswa IPB Bogor Angkatan 2015.
Mentan menyambut baik kegiatan mapping dan evaluasi 35 BEM dari PTN dan PTS untuk mengetahui harapan warga pedesaan secara umum terhadap pembangunan desa mereka, dan memberikan rekomendasi strategis dan fungsional pengembangan potensi wilayah pedesaan berbasis pertanian bagi pembangunan pedesaan secara umum, berdasarkan hasil analisis kondisi lingkungan. (Esap)
Ciawi of West Java (B2B) - Indonesian Agriculture Minister Andi Amran Sulaiman this morning, Tuesday (December 4) attended the ´national consolidation of agricultural students´ here which was attended by 120 representatives of 35 Senate Students or the BEM in agricultural faculties of state and private universities across the country.
Minister Sulaiman arrived at the Agriculture Management and Leadership Training Center or PPMKP Ciawi in Bogor subdistrict, 60 km of Jakarta at 9:00 a.m. Minister Sulaiman was warmly welcomed by Director of PPMPKP Herry Suliyanto accompanied by Idha Widi Arsanti, Director Agricultural Education Center or Pusdiktan and Director Agricultural Training Center or Puslatan, Bustanul Arifin Caya, who was represent Director General of Extension and Development of HR Agriculture, Momon Rusmono.
Chairman of IPB´s Senate Students, Mohammad Nurdiansyah said the training of mapping activities said M Nurdiansyah with the case study approach in 14 villages in five clusters of provinces: South Sumatra, West Java, Central Java, Bali and Nusa Tenggara, and
"The purpose of activity to analyze conditions of agricultural program in general about conditions of Indonesia´s agricultural programs, from aspects of strengths, weaknesses, opportunities and challenges or SWOT," Nurdiansyah said.
Minister Sulaiman welcomed the activities of students to find out farmers´ expectations, and strategic recommendations to the central government about national agricultural development.