Korporasi Petani, BPPSDMP Kementan Gelar Rakor Upsus #Serasi di Palembang
Indonesian Govt Identification Potential Swampland Farmers in South Sumatra
Reporter : Gusmiati Waris
Editor : Cahyani Harzi
Translator : Dhelia Gani

PUBLISHED: Jum'at, 18 Januari 2019 , 14:53:00 WIB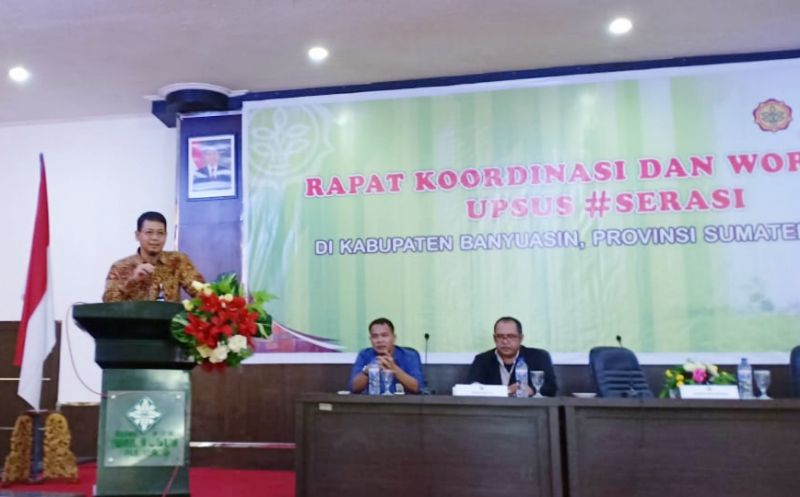 SesBa BPPSDMP Kementan Andriko Noto Susanto mewakili KaBadan SDM Momon Rusmono membuka sekaligus memberi arahan pada peserta Rakor di Palembang (Foto: B2B/Mya)
Palembang, Sumsel (B2B) - Rumusan model bisnis korporasi petani dan pola penumbuhan dan penguatan petani milenial akan menjadi fokus kegiatan rapat koordinasi (Rakor) dan workshop Upsus #Serasi yang digelar Badan Penyuluhan dan Pengembangan SDM Pertanian (BPPSDMP) Kementerian Pertanian RI di Palembang, Sumatera Selatan pada Jumat siang (18/1).
Rakor dan workshop dibuka oleh Sekretaris BPPSDMP Andriko Noto Susanto mewakili Kepala BPPSDMP Momon Rusmono yang memberi arahan tentang penumbuhan dan pengembangan model bisnis korporasi yang dikorporasikan melalui program Kementerian Pertanian RI ´Selamatkan Rawa Sejahterakan Petani´ disingkat #Serasi di Provinsi Sumatera Selatan.
Sesba Andriko NS mewakili Momon R mengelaborasi peran kelompok tani (Poktan) dalam program #Serasi, penumbuhan dan pengembangan model korporasi dan model bisnis petani di lokasi pilot project pada tiga desa di Kecamatan Muara Telang.
Rakor rencananya dihadiri oleh Kepala Pusat Penyuluhan Pertanian (Pusluhtan) Siti Munifah namun berhalangan hadir dan diwakili Kasubbid Kelembagaan Petani, Yoyon Haryanto; Direktur Perlindungan Tanaman Ditjen Tanaman Pangan, Edy Purnawan hadir mewakili Sekretaris Ditjen Tanaman Pangan, Maman Suherman; dan Kepala BPTP Sumsel, Amirudin Pohan. Dijadwalkan hadir Kepala Dinas Pertanian, Tanaman Pangan dan Hortikultura Sumatera Selatan, Erwin Noor Wibowo.
Potensi petani milenia di lokasi pilot project #BPPSDMP yang tersebar di tiga desa: Telang Rejo, Telang Karya, dan Telang Makmur, akan dikembangkan pula pada delapan kecamatan di Banyuasin.
Rakor menghadirkan pula Koordinator balai penyuluhan pertanian (BPP) di delapan kecamatan dari 19 kecamatan di Banyuasin. Mereka antara lain dari Muara Telang, Air Salek, Muara Padang, Muara Sugihan, Banyuasin II, Makarti Jaya, Rambutan, dan Ilir yang membawahi 48 desa.
Palembang, South Sumatra (B2B) - Formulation of the farmer´s corporate business model and pattern of growth and strengthening of millennial farmers will be the focus of coordination meeting activities here on Friday afternoon (January 18) held by Indonesian Agriculture Ministry´s under the control of the Directorate General if Agricultural HR Extension and Development or the BPPSDMP.
Coordination meetings and workshops will be opened by Director General of BPPSDMP, Momon Rusmono who will give direction about development of farmer´s corporate business model of the swampland use program for agriculture´ or the #Serasi in South Sumatera province.
Rusmono will also elaborate on the role of farmer groups in the #Serasi program, development of corporate model and farmer business model at the pilot project location in three villages of Muara Telang subdistrict.
Millennial farmers´ potential in #BPPSDMP pilot project locations in three villages: Telang Rejo, Telang Karya, and Telang Makmur, will also be developing in eight sub-districts in Banyuasin.
Coordination Meeting will also present an agricultural extension center coordinator in eight sub-districts from 19 sub-districts in Banyuasin. They came from Muara Telang, Air Salek, Muara Padang, Muara Sugihan, Banyuasin II, Makarti Jaya, Rambutan, and Ilir representing 48 village heads.