Anomali Harga, Mentan Buktikan Stok Beras Medium di Pasaran Memadai
Indonesian Agriculture Minister Monitors Stock and Rice Price in the Market
Reporter : Gusmiati Waris
Editor : Cahyani Harzi
Translator : Dhelia Gani

PUBLISHED: Kamis, 08 November 2018 , 14:58:00 WIB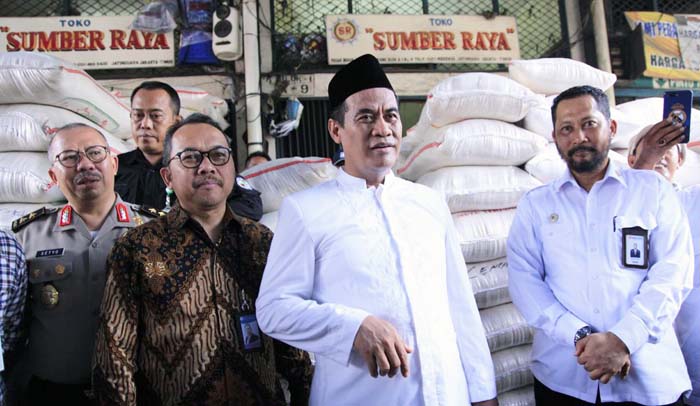 BLUSUKAN BERAS: Mentan Amran Sulaiman (peci hitam) menjawab pers didampingi Dirut Bulog Budi Waseso (kanan), Ketua Satgas Pangan Irjen Setyo Wasisto (kiri) dan Dirut Food Station, Arief PA (Foto: Humas Kementan/Makmur H)
Jakarta (B2B) - Begitu mendengar kabar harga beras medium di pasaran bergerak naik, Menteri Pertanian RI Andi Amran Sulaiman langsung bergerak cepat memantau ketersediaan dan harga beras di Pasar Induk Beras Cipinang (PIBC) pada Kamis subuh (8/11).
Mentan Amran Sulaiman melakukan inspeksi mendadak alias Sidak bersama Direktur Utama Perum Bulog, Budi Waseso; Ketua Satgas Pangan Polri, Irjen Setyo Wasisto dan diterima oleh Direktur Utama PT Food Station Cipinang Jaya, Arief Prasetyo Adi.
"Kita mengecek pangan di lapangan mulai jam lima subuh tadi. Alhamdulillah semua stabil. Tidak ada alasan (harga naik). Maaf jangan lagi harga beras dibawa ke ranah politik," kata Mentan.
Dia menilai, kenaikan harga beras medium akhir-akhir ini tergolong anomali karena stok beras di PIBC cukup. Publik perlu mengetahui bahwa spesifikasi beras premium adalah 5% broken (pecah), sementara beras premium di pasar sekitar 15% broken, dan jumlahnya sangat banyak ketimbang medium.
"Stok beras di PIBC hari ini mencapai 50 ribu ton, kemarin 51 ribu ton. Lebih tinggi dari biasanya. Padahal pergerakan harga beras medium sudah diantisipasi pemerintah melalui Bulog dengan operasi pasar untuk menekan inflasi," kata Arief PA.
Budi Waseso yang akrab disapa Buwas mengatakan siap mendukung PIBC dengan menambah stok beras medium untuk mendukung pengendalian harga.
"Stok kita sangat banyak, jumlahnya 2,7 juta ton. Bulog operasi pasar setiap hari. Saya malah berharap bisa serap tiap hari 15 ribu ton untuk stabilisasi harga," kata Buwas.
Jakarta (B2B) - After hearing rumour medium rice price in the market moved up, Indonesian Agriculture Minister Andi Amran Sulaiman directly monitor the availability and price of rice in Jakarta´s Central Rice Market or the PIBC here on Thursday morning (November 8).
Minister Sulaiman made unannounced visits with President Director of National Logistics Agency or the Bulog, Budi Waseso; and received by President Director of Cipinang Jaya Food Station, Arief Prasetyo Adi.
"We checked the market from five o´clock in the morning. Thank God everything is stable. There is no reason (price goes up)," he told the press.
He considered, currently the price of medium rice is anomalous because the rice stock in PIBC is sufficient. Consumers need to know the specifications of premium rice are 5% broken, while broken premium rice on the market is around 15%.
"Today´s stock of rice at PIBC is 50 thousand tons, yesterday 51 thousand tons. Higher than usual," Mr Adi said.
Mr Waseso said he was ready to support PIBC to add medium rice stocks to support price control.
"Bulog´s stock is more than enough, 2.7 million tons. Bulog is ready to support controlling rice prices," Mr Waseso said.