Penas 2020, BPPSDMP Kementan Koordinasi Teknis dengan Pemprov Sumbar
Coordination Meeting of the 16th Indonesian Fishermen and Farmer Summit
Editor : M. Achsan Atjo
Translator : Dhelia Gani

PUBLISHED: Selasa, 22 Oktober 2019 , 14:06:00 WIB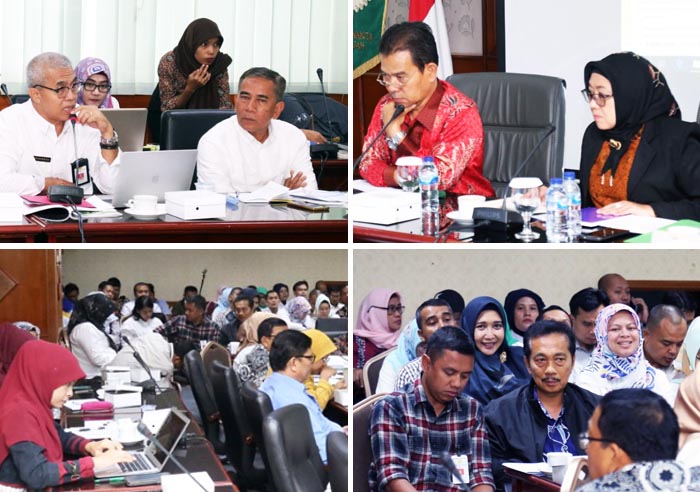 RAKOR PERSIAPAN: Sekretaris BPPSDMP Siti Munifah [kanan atas]; Kabid Penyelenggaraan Penyuluhan, I Wayan Ediana [kiri atas]; Kabag Humas M Arif Cahyono dan Kasubbag Humas Ditjen PSP Kementan, Yani R [Foto2: Humas/Eko S]
Jakarta [B2B] - Kementerian Pertanian RI secara intensif melakukan koordinasi dengan Pemerintah Provinsi Sumatera Barat untuk memastikan Pekan Nasional Petani - Nelayan XVI [Penas 2020] di Kota Padang pada 20 - 25 Juni 2020 berjalan sukses dan lancar. Penas 2020 bakal mempertemukan sekitar 50.000 partisipan terdiri atas petani, nelayan, petani hutan dan penyuluh pertanian dari seluruh Indonesia.
"Tujuan Penas 2020 bertujuan meningkatkan motivasi pelaku utama dan pelaku usaha di bidang pertanian sekaligus sebagai media tukar menukar informasi, teknologi dan pengalaman antara para petani - nelayan, peneliti, penyuluh, pihak swasta dan pemerintah," kata Sekretaris BPPSDMP Kementan, Siti Munifah dalam arahannya saat membuka rapat koordinasi [Rakor] Penas 2020 di Jakarta, belum lama ini.
Siti Munifah mengingatkan panitia pelaksana Penas pada pemerintah provinsi dan kota untuk menuntaskan ´petunjuk pelaksanaan´ [Juklak]. Panitia tingkat pusat aktif koordinasi panitia daerah untuk melaksanakan kegiatan sesuai timeline, sehingga apabila ada perubahan mendadak segera ditindaklanjuti oleh pihak-pihak terkait di tingkat panitia pusat dan daerah.
"Khusus kegiatan Gelar Teknologi, mengingat waktunya sudah Oktober 2019, maka persiapannya harus lebih intensif, karena akan ditampilkan pada puncak acara Penas 2020 di Padang dapat berjalan baik," katanya.
Tampak hadir Ketua Kontak Tani Nelayan Andalan [KTNA] Winarno Tohir; para koordinator dan wakil koordinator dari tujuh bidang di antaranya Kabid Penyelenggaraan Penyuluhan - Pusluhtan, I Wayan Ediana; Kabag Humas Kementan, Mochamad Arief Cahyono; Kabid Program dan Evaluasi - Pusluhtan BPPSDMP Kementan, Rizal Fakhriza; Kasubbag Humas Ditjen PSP Kementan, Yani Rahmawati; dan Kasubbid Informasi dan Materi Penyuluhan - Pusluhtan, Septalina Pradini.
Penas 2020, menurut Siti Munifah, diharapkan melibatkan generasi milenial, untuk menarik perhatian para pemuda/i Indonesia pada sektor pertanian, sementara pemerintah provinsi menyatakan siap menjadi tuan rumah bagi 50.000 peserta dan diharapkan mendorong pertumbuhan ekonomi daerah dari akomodasi, kuliner, dan suvenir di Sumbar.
"Pelibatan generasi milenial akan menjadi daya tarik tersendiri bagi Penas XVI 2020 untuk menarik perhatian generasi muda kembali bertani, sehingga lebih meriah berkumpul dengan pemuda tani dan penyuluh pertanian dari seluruh Indonesia," kata Siti Munifah, pejabat eselon dua di Badan Penyuluhan dan Pengembangan SDM Pertanian (BPPSDMP).
Siti Munifah mengatakan bahwa Penas 2020 akan menggelar pengembangan teknologi, kemitraan usaha dan jaringan informasi agribisnis tentunya para petani bisa menyaksikan secara langsung untuk belajar dan mengikuti proses magang.
Kegiatan Penas 2020 meliputi tujuh kegiatan besar antara lain upacara, dan apresiasi; kepemimpinan, dan kemandirian kontak tani nelayan; kemitraan usaha, dan jaringan informasi agribisnis; pengembangan teknologi, dan kualitas produksi agribisnis; pengembangan wirausaha petani-nelayan, dan kesadaran lingkungan; sinkronisasi program pembangunan pertanian pusat, dan daerah; kesekretariatan. [Liene]
Jakarta [B2B] - Indonesian Agriculture Ministry intensively coordinated with the West Sumatra provincial government to ensure the 16th Indonesian Fishermen and Farmer Summit or the Penas XVI 2020 in Padang city expected to involve the millennial generation, to attract the attention of Indonesian youth in the agricultural sector, while the provincial government said it was ready to host 50,000 participants which will have a significant impact on the accommodation, culinary and souvenir business in West Sumatra, according to the senior official of agriculture ministry.