SDM Pertanian, DPR RI Minta Kementan Fokus Pengembangan Kapasitas Petani
Indonesia`s Agriculture Minister Outlines the 2020 Target in Parliament
Editor : M. Achsan Atjo
Translator : Dhelia Gani

PUBLISHED: Selasa, 18 Februari 2020 , 14:07:00 WIB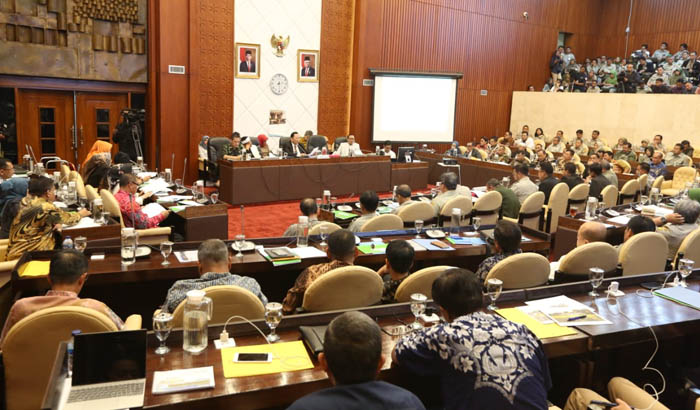 RAPAT KERJA: Raker Mentan SYL dengan Komisi IV DPR [Foto: Biro Humas Kementan]
Jakarta [B2B] - Komisi IV DPR RI meminta Kementerian Pertanian RI fokus pada pengembangan capacity building para petani di Indonesia, karena pengembangan SDM adalah salah satu visi Presiden RI Joko Widodo, yakni 'SDM Unggul, Indonesia Hebat'. DPR RI belum melihat ada program yang diperuntukkan untuk mengembangkan SDM para petani, sehingga di dalam perubahan komposisi pagu anggaran Kementan tahun 2020, hal itu seharusnya dapat diakomodir.
Anggota Komisi IV DPR RI Yohanis Fransiscus Lema mengatakan dari paparan yang disampaikan Menteri Pertanian Syahrul Yasin Limpo [SYL] belum terlihat ada perhatian yang fokus terhadap pengembangan kapasitas petani, terutama jika dikaitkan dengan distribusi bantuan yang dilakukan Kementan.
"Komisi IV DPR melihat tekanannya lebih pada aspek teknis administratif, padahal petani adalah aktor dan subyek dari pertanian ini. Saya usul perlu ada semacam program pengembangan kapasitas yang dilakukan sehingga petani tidak sekedar diposisikan sebagai penerima bantuan," kata Yohanis FL pada rapat kerja dengan Mentan SYL di Jakarta, Senin [17/2/].
Guna meningkatkan kapasitas petani tersebut, politisi PDI-Perjuangan ini menilai perlu ada konsekuensi anggaran yang terjadi, ia pun memastikan dukungannya agar pemberdayaan petani ini mendapatkan anggaran program yang memadai. Karena bagaimanapun peningkatan kualitas SDM semestinya menjadi fokus utama seluruh kementerian di periode kedua Presiden Jokowi ini.
"Kita tahu Presiden Jokowi mencanangkan 'SDM Unggul, Indonesia Hebat'. Saya kira Kementan juga harus terjemahkan menjadi petani unggul maka pertanian menjadi hebat. Karena itu saya ingin juga ada alokasi anggaran yang memadai untuk membuat petani ini menjadi lebih berdaya," kata legislator daerah pemilihan [Dapil) Nusa Tenggara Timur [NTT].
Kendati begitu, dia mengapresiasi sikap Mentan SYL yang senantiasa nasionalisme dalam menggunakan paradigma di bidang pertanian, salah satunya sering menggelorakan semangat swasembada, kemandirian dan kedaulatan pangan. Adapun tujuan dari paradigma itu adalah untuk memangkas komoditas asing dan mengutamakan produk dalam negeri sehingga program pemberdayaan kapasitas petani itu sangat selaras dengan semangat swasembada dan kemandirian serta kedaulatan pangan.
"Saya senang dan apresisiasi, Mentan sangat nasionalis, kata-kata kunci yang digunakan swasembada, kemandirian dan kedaulatan pangan yang tujuannya adalah secara sistematis memangkas komoditas asing, pada level paradigma itu saya salut tapi yang jadi tantangan adalah menerjemahkan dari level paradigma ke regulasi lalu dari regulasi ke aksi implemetasi," ujarnya.
Yohanis FL pun meminta Mentan untuk mampu menyelaraskan paradigma tersebut menjadi aksi implementasi yang nyata.
Jakarta [B2B] - Indonesian Agriculture Minister Syahrul Yasin Limpo expects parliamentary support to encourage farmers, agricultural extension workers and stakeholders to support increased strategic food production.