Ada Gagal Panen, Pangan Timor Tengah Selatan Tetap Cukup Sampai 2021
Indonesia`s East Nusa Tenggara Anticipate Covid-19 by Weaker Health Systems
Editor : M. Achsan Atjo
Translator : Dhelia Gani

PUBLISHED: Selasa, 21 April 2020 , 01:48:00 WIB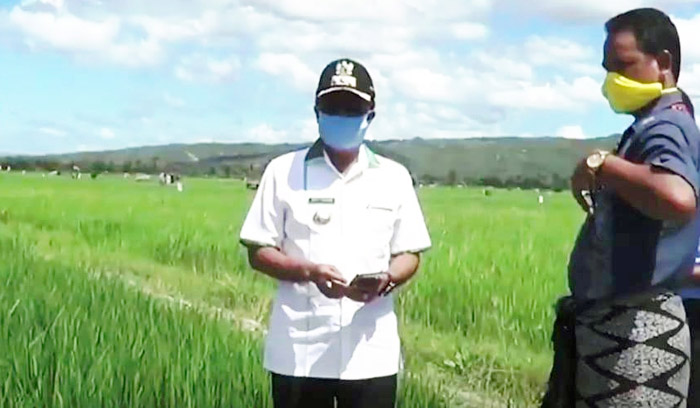 PANTAU LAPANGAN: Bupati Epy Tahun [kiri] mengakui dua kecamatan gagal panen akibat minimnya curah hujan, namun potensi luas lahan tanam 2.270 hektar dan lahan yang telah diolah 2.214 hektar [Foto: Humas Pusluhtan]
Timor Tengah Selatan, NTT [B2B] - Minimnya curah hujan di Provinsi Nusa Tenggara Timur [NTT] memicu gagal panen pada dua kecamatan di Kabupaten Timor Tengah Selatan [TTS], Amanuban Selatan dan Kualin. Kendati begitu, Bupati Epy Tahun meyakini ketersediaan pangan pokok memadai hingga 2021, merujuk pada 2.270 hektar lahan pertanian dengan produktivitas minimal 5,5 ton gabah kering giling [GKG] per hektar.
Bupati Epy Tahun mengakui dua kecamatan gagal panen akibat minimnya curah hujan, namun potensi luas lahan tanam 2.270 hektar dan lahan yang telah diolah 2.214 hektar, sehingga tidak mempengaruhi ketersediaan pangan bagi seluruh warga TTS.
"Stok pangan TTS sangat cukup, bahkan sampai 2021 dengan potensi luas tanam 2.270 hektar. Kalau pun produktivitas rata-rata empat ton per hektar saja sudah cukup memenuhi kebutuhan beras masyarakat TTS," kata Bupati Epy Tahun, Jumat pekan lalu [17/4] saat memantau kondisi lahan pertanian di tengah pandemi Covid terhadap pertanian TTS didampingi Dorus, Koordinator BPP Amanubah.
Menyikapi dampak gagal panen, Bupati Epy Tahun pagi ini, Selasa [21/4] dijadwalkan menyerahkan beras cadangan kepada petani dan warga terdampak gagal panen, seraya mengingatkan bahwa pertanian harus tetap jalan untuk memenuhi kebutuhan pangan rakyat.
"Para penyuluh yang membina petani yang terkena dampak gagal panen, harus segera mengajak mereka untuk mengolah tanah, membuat bedengan untuk ditanami sayuran atau tanaman musiman," katanya yang disarikan penyuluh pertanian pusat, Yulia dan dihimpun oleh Pusat Penyuluhan Pertanian [Pusluhtan BPPSDMP Kementan].
Dorus mengatakan sangat senang atas kunjungan Bupati Epy Tahun sekaligus memberi dukungan moril kepada petani dan warga, yang saat ini didorong penyuluh setempat untuk segera mengolah tanah sebelum ditanami tanaman hortikultura.
"Kepada petani, kami mengingatkan agar waspada Covid-19 dengan cara jaga jarak, hindari kerumunan dan rajin mencuci tangan," katanya mengutip instruksi Menteri Pertanian RI Syahrul Yasin Limpo [SYL] kepada petani dan penyuluh untuk tetap ke lapangan tanpa pernah lupa pada Protokol Kesehatan.
Hal serupa disosialisasikan oleh Kepala BPPSDMP untuk meningkatkan semangat petani dan penyuluh terhadap penyebaran virus Corona.
Dalam kesempatan tersebut, Bupati Epy Tahun mengingatkan memanfaatkan mekanisasi pertanian sebagai ´pintu masuk´ menuju era digital 4.0. [Liene]
Timor Tengah Selatan of NTT [B2B] - Indonesia´s Agriculture Ministry is in intensive care after testing positive for the novel coronavirus, as civil servants in head office and across the country were ordered to close over the health threat. The World Health Organization has said it is particularly concerned about high-risk nations with weaker health systems, which who may lack the facilities to identify cases, according to senior official of the ministry.