Sinergi Balai Penyuluhan, BKKBN Berniat Jalin Kerjasama BPPSDMP Kementan
Indonesian Population Agency Intend Synergy of Extention with Agriculture Ministry
Editor : M. Achsan Atjo
Translator : Dhelia Gani

PUBLISHED: Senin, 03 Juni 2019 , 01:49:00 WIB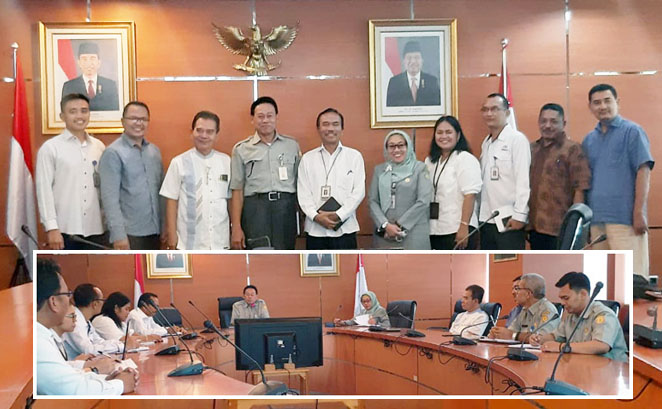 RAPAT KOORDINASI: Kepala BPPSDMP Momon Rusmono [ke-4 kiri], Sekretaris Utama BKKBN Nofrijal [ke-5 kiri] dan Kepala Pusluhtan BPPSDMP Siti Munifah [ke-5 kanan] Foto2: Penyelenggaraan Penyuluhan/S Pradini
Jakarta [B2B] - Badan Kependudukan dan Keluarga Berencana Nasional [BKKBN] berniat menjalin kerjasama dengan Kementerian Pertanian RI, untuk meningkatkan kinerja 7.000 Balai Penyuluhan Keluarga Berencana [BPKB] melalui sinergi dengan 5.647 Balai Penyuluhan Pertanian [BPP] dari 7.094 kecamatan di seluruh Indonesia, sehingga memudahkan koordinasi dan sinergi penyuluh BKKBN dan penyuluh pertanian, guna meningkatkan kesejahteraan keluarga Indonesia termasuk keluarga petani.
Hal itu dikemukakan oleh Sekretaris Utama BKKBN Nofrijal pada rapat koordinasi dengan Kepala BPPSDMP Kementan, Momon Rusmono didampingi Kepala Pusluhtan BPPSDMP, Siti Munifah; Kabid Penyelenggaraan Penyuluhan Pusluhtan, I Wayan Ediana; yang dihadiri Ketua KTNA Winarno Tohir di Jakarta, belum lama ini.
"BKKBN bermaksud melakukan kerjasama dengan Kementan khususnya Pusluhtan BPPSDMP, target dan tujuan kedua penyuluh adalah kesejahteraan keluarga, begitu pula dengan keluarga petani sebagai bagian dari tugas penyuluh KB, khususnya kaum ibu dan anak," kata Nofrijal.
Menurutnya, Balai Penyuluhan KB bertugas memberikan penyuluhan seputar program Kependudukan Keluarga Berencana Pembangunan Keluarga (KKBPK). Secara umum, penyuluh pertanian dapat mendorong petani untuk mengajak istri dan anak mengikuti penyuluhan KB.
Menyikapi hal itu, Momon Rusmono mengapresiasi itikad BKKBN untuk melakukan sinergi BPP dan BPKB di seluruh Indonesia, karena memang tujuan penyuluhan dari kedua lembaga pemerintah adalah kesejahteraan keluarga.
"Penjajagan kerjasama BKKBN dengan Kementan akan dibahas lebih lanjut oleh BPPSDMP cq Pusluhtan," kata Momon Rusmono seraya meminta Kepala Pusluhtan Siti Munifah untuk membahas lebih lanjut dengan pejabat terkait dari BKKBN.
Tampak hadir pejabat eselon IV Bidang Penyelenggaraan Penyuluhan Pusluhtan; Kasubbid Pemberdayaan Kelembagaan Petani, Yoyon Haryanto dan Kasubbid Informasi dan Materi Penyuluhan, Septalina Pradini. [Liene]
Jakarta [B2B] - Indonesian Population and Family Planning Agency [BKKBN] intends to cooperate with the Agriculture Ministry to improve performance of 7,000 family planning extention centers [BPKB] through synergy with 5,647 agricultural extension centers [BPP] of 7.094 sub-districts across the country, thus facilitate coordination and synergy of family planning and agricultural extensionists, to improve the welfare of Indonesian families, including farm families.
It was stated by Secretary General of BKKBN Nofrijal at the coordination meeting with the ministry´s Director General of HR Agriculture, Momon Rusmono accompanied by Director of Agricultural Extension Center, Siti Munifah and number of senior agriculture ministry officials here recently.