Semangat Petani, BKP Kementan Kembangkan Korporasi Usaha Tani di Sembalun
Indonesia Apply Food Security and Vulnerability Atlas in West Nusa Tenggara
Reporter : Gusmiati Waris
Editor : Cahyani Harzi
Translator : Dhelia Gani

PUBLISHED: Rabu, 03 Juli 2019 , 01:49:00 WIB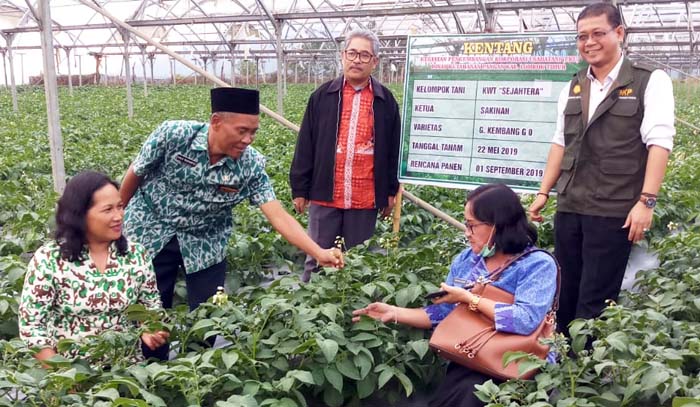 KOMODITAS KENTANG: Kepala Pusat Ketersediaan dan Kerawanan Pangan BKP Kementan, Andriko Noto Susanto [berdiri kanan] di lahan KWT Sejahtera di Sembalun, NTB [Foto: Humas BKP Kementan]
Lombok Timur, NTB [B2B] - Kementerian Pertanian RI melakukan intervensi kebijakan untuk meningkatkan status ketahanan pangan wilayah yang dianalisis berdasarkan ´Peta Ketahanan dan Kerentanan Pangan´ atau Food Security and Vulnerability Atlas/FSVA sebagai basis membangun sistem pangan nasional, dengan Pengembangan Korporasi Usaha Tani [PKU] oleh Badan Ketahanan Pangan [BKP Kementan] di Kecamatan Sembalun, Kabupaten Lombok Timur, Provinsi Nusa Tenggara Barat [NTB].
"Intervensi yang dilakukan PKU mencakup on farm dan off farm terkait kelembagaan, regulasi, dan pasar lintas sektor secara terintegrasi pada beberapa kelompok tani secara korporasi," kata Andriko Noto Susanto, Kepala Pusat Ketersediaan dan Kerawanan Pangan BKP di Sembalun, Selasa [2/7].
Menurutnya, kegiatan PKU bukan hanya bertujuan meningkatkan produktivitas komoditas pangan, juga harus menghasilkan produk turunan yang mampu menembus pangsa pasar lebih luas, sehingga memberi nilai tambah dan keuntungan lebih besar bagi anggota gabungan kelompok tani [Gapoktan].
"Kementan berharap ke depan, Gapoktan yang dibina menjadi PKU berkembang menjadi lembaga usaha berbadan hukum sehingga usahanya semakin berkembang," kata Andriko NS kepada PKU di Sembalun yang membudidayakan bawang putih dan kentang.
Kepala Dinas Ketahanan Pangan Lombok Timur, Mashur menyampaikan terima kasih pada pengembangan PKU di wilayahnya, yang diyakini mampu meningkatkan produktivitas Gapoktan, yang tentunya berdampak pada peningkatan kesejahteraan dan pengentasan kemiskinan."
"Budidaya dan bisnis usaha olahan kentang dan bawang putih adalah usaha utama kami, yang diyakini berkembang apalagi setelah dikunjungi tim dari pusat semakin memotivasi kami bekerja lebih giat," kata Ketua Gapoktan Lendak Kuta, Minardi.
Gapoktan juga sudah menghasilkan olahan bawang putih berupa black garlic (bawang putih hitam), yang diyakini memiliki khasiat bagi kesehatan tubuh karena kaya nutrisi, sumber antioksidan dan lain-lain. Hal itu didukung dikenalnya Sembalun yang berhawa dingin sebagai destinasi wisata, yang berpeluang menjadikan bawang putih hitam sebagai produk oleh-oleh bagi wisatawan domestik dan mancanegara.
"Pengembangan usaha budidaya kentang dan bawang putih hingga ke produk olahan dalam kemasan, sebagai hulu dan hilir, dapat menjadi peluang bisnis yang menjanjikan. BKP Kementan harapkan PKU di Sembalun ini dapat direplikasi daerah lain," kata Andriko NS.
East Lombok of West Nusa Tenggara [B2B] - Indonesian government through the Agriculture Ministry conducts policy interventions to improve the region´s food security status which is analyzed based on the Food Security and Vulnerability Atlas [FSVA] as the basis for building a national food system, by developing a Farming Corporation [PKU] by the Food Security Agency in in Sembalun sub-district of East Lombok district in West Nusa Tenggara province.