UPKK Dibentuk, Petani Bati-Bati Olah Lahan #Serasi Kalsel Mulai Oktober
Indonesian Govt Supports Budget for Developing Paddy Fields in Wetlands
Editor : M. Achsan Atjo
Translator : Dhelia Gani

PUBLISHED: Sabtu, 20 Juli 2019 , 01:51:00 WIB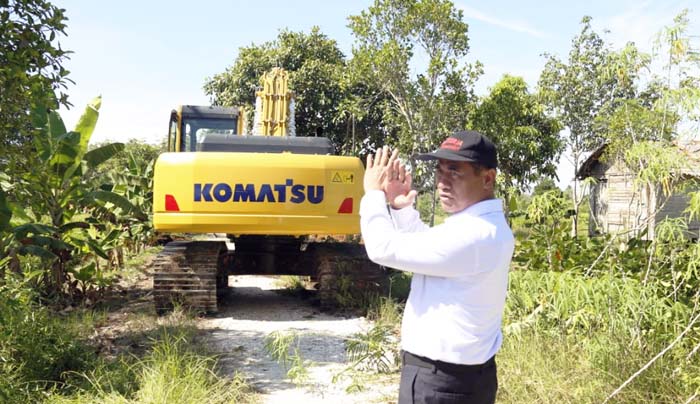 MENTAN TURUN TANGAN: Mentan Amran Sulaiman tak sungkan turun tangan memarkirkan ekskavator di lahan #Serasi Kalsel, demi mendukung kelancaran olah tanah dan olah lahan [Foto: Humas Kementan]
Tanah Laut, Kalsel [B2B] - Provinsi Kalimantan Selatan termasuk dalam golongan rawa lebak, kabupaten yang turut melaksanakan adalah Tanah Laut, potensinya 17.750 hektar, 2.255 hektar di antaranya berada di Kecamatan Bati-Bati, namun baru mulai dilakukan pengolahan lahan pada Oktober - November 2019, karena petani setempat akan panen raya padi pada September - Oktober mendatang.
Kepala Dinas Tanaman Pangan dan Hortikultura Kalsel, Syamsir Rahman mengatakan bahwa Kecamatan Bati-Bati mempunyai potensi lahan rawa sangat luas dan belum dimanfaatkan dengan baik, sehingga perlu dikelola unutk meningkatkan kesejahteraan petani melalui program ´Selamatkan Rawa Sejahterakan Petani´ disingkat #Serasi.
"Untuk pelaksanaan pengolahan lahan akan diberikan bantuan Rp4,3 juta yang akan dimasukkan ke rekening UPKK, maka ketua UPKK diharapkan memahami pos-pos penggunaan dana, agar tidak terjadi kesalahan dalam pengelolaan dana sehingga tidak dapat di-SPJ-kan," kata Syamsir Rahman.
Penyuluh pertanian Kementerian Pertanian RI, Edizal mengatakan Pusat Penyuluhan Pertanian [Pusluhtan BPPSDMP Kementan] mendorong dan mendukung terbentuknya ´unit pengelola keuangan dan kegiatan´ disingkat UPKK, yang berperan vital mendukung petani memanfaatkan bantuan dari Kementan untuk ´optimasi lahan rawa dan pasang surut´ dari #Serasi.
Terkait pembentukan UPKK, menurut Edizal, ketua UPKK dipilih dari pengurus kelompok tani/gabungan kelompok tani [Poktan/Gapoktan] yang termasuk dalam program #Serasi, "tapi tidak boleh ketua Poktan atau Gapoktan."
"Untuk rehabilitasi saluran irigasi akan memakai excavator, yang nantinya akan dipakai bergiliran dengan UPKK lain di Kecamatan Bati-Bati. Biaya pemindahan excavator dari satu kecamatan ke kecamatan lain akan ditanggung oleh pemerintah yang tertuang dalam rencana anggaran biaya atau RAB yang tersusun dalam Survey Investigation Design atau SID," kata Edizal.
Menurutnya, sebagian besar kegiatan SID di Bati-Bati sudah selesai, namun belum seluruhnya disampaikan ke pemerintah kabupaten. Penyuluh pertanian di BPP Kecamatan Bati-Bati diharapkan aktif memberikan pendampingan dalam penguatan mendukung penerima UPKK di lahan #Serasi Kalsel meningkatkan pengetahuan, keterampilan, dan sikap petani.
"Penyuluh akan berupaya menggugah petani agar mau dan mampu mengaplikasikan teknologi terutama pemanfaatan Alsintan, saat ini budidaya padi dari IP 100 menjadi IP 200 dengan produktivitas tinggi," kata Edizal. [Edz]
Tanah Laut of South Borneo [B2B] - Indonesian Agricultural Extension of the Agriculture Ministry [Pusluhtan BPPSDMP Kementan] encourage and support the formation of financial and activity management units [UPKK] to support farmers to use budget assistance of Agriculture Ministry to develop swamp land for rice fields in South Borneo especially in Tanah Laut district.