Padi Amfibi, Tumpang Sari dengan Jeruk dan Jagung a la Penyuluh Papua Barat
Indonesian Agriculture Ministry Anticipate Covid-19 by Weaker Health Systems
Editor : M. Achsan Atjo
Translator : Dhelia Gani

PUBLISHED: Jum'at, 10 April 2020 , 15:15:00 WIB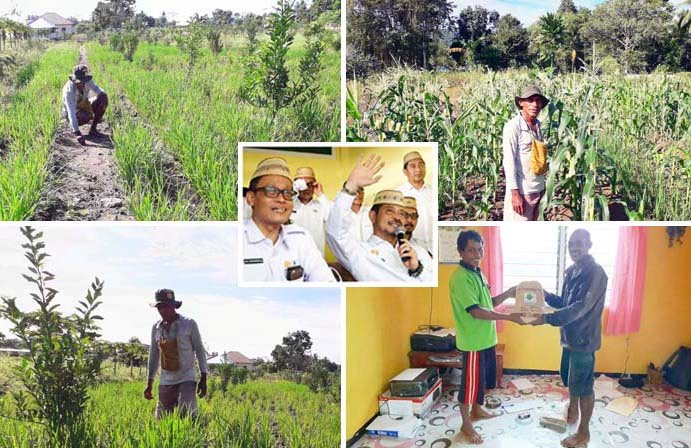 BERLIPAT GANDA: Penyuluh BPTP Sostenes Konyep mengawasi hasil diseminasi inovasi di Kebun Anday milik Kementan; Mentan SYL dan Kepala BPPSDMP Prof Dedi Nursyamsi terus mendorong inovasi penyuluh [Foto2: Humas Pusluhtan]
Fakfak, Papua Barat [B2B] - Pepatah ´ikhtiar menjalani, untung menyudahi´ layak disandangkan pada upaya Sostenes Konyep, penyuluh pertanian BPTP Papua Barat di Kabupaten Fakfak melakukan demonstration rice plot [Demplot] tumpangsari padi amfibi dengan jagung manis dan jeruk di lahan seluas 0,5 hektar di kebun percontohan Anday milik Kementerian Pertanian RI.
Arahan Kepala BPPSDMP Prof Dedi Nursyamsi bahwa "hanya penyuluh pertanian inovatif yang eksis di era 4.0" mendasari kinerja penyuluh pertanian BPTP Papua Barat agar petani mencontoh dan melakukan replikasi dari diseminasi inovasi padi amfibi dari hasil pemuliaan Balitbangtan.
"Petani mendapat hasil ganda dari budidaya padi sebagai pangan pokok, juga dapat penghasilan tambahan dari tanaman jagung manis dan tanaman jeruk. Petani dapat untung dobel," kata Sostenes Konyep di Fakfak, Rabu [8/4] melalui pernyataan tertulis yang dihimpun Pusat Penyuluhan Pertanian [Pusluhtan BPPSDMP Kementan] di Jakarta.
Pandemi global Covid-19 tak menyurutkan tekad dan kinerja dirinya selaku motivator dan inovator pertanian, melalui inovasi kepada petani sebagai mitra kerja di lapangan, untuk mendukung pemenuhan kebutuhan pangan. Pasalnya, penyuluh pertanian di Kostrawil Papua Barat wajib melakukan diseminasi inovasi teknologi kepada petani adalah kelaziman, bukan sekadar mengejar kredit lalu menghitung realisasi tunjangan kinerja [Tukin].
Tumpangsari padi, jagung dan jeruk dia lakukan dengan memanfaatkan padi amfibi hasil pemuliaan varietas Inpago 11 dan Towuti dengan inovasi tumpangsari Jarwo 2:1 jarak tanam 40:20 antara varietas Inpago 11 dengan tanaman jagung manis dan tumpangsari varietas Towuti dengan tanaman jeruk melalui metode Demplot.
Hasil kinerja Sostenes Konyep kemudian direplikasi oleh petani di Distrik Bomberay, Fakfak, yang memanfaatkan hasil Demplot di Kebun Anday milik Kementan. Tidak sia-sia waktu tempuh sejauh lima jam perjalanan lantaran petani mitranya menyambut baik diseminasi inovasinya.
Pendampingan diawali menyiapkan lahan dengan alat mesin pertanian [Alsintan] hingga cara tanam sistem Legowo 2:1 dengan jarak tanam 40:20:12. Petani pun mendapat 19 kg benih padi amfibi Balitbangtan terdiri atas varietas Inpago 10, Inpago 11, Inpago 12 dan Towuti.
Sostenes Konyep berharap hasil Demplot tersebut dapat menepis kekhawatiran petani mitranya terhadap kebutuhan pangan di masa pandemi Covid-19 sekaligus menambah pendapatan petani. [Liene]
Fakfak of West Papua [B2B] - Indonesia´s Agriculture Ministry is in intensive care after testing positive for the novel coronavirus, as civil servants in head office and across the country were ordered to close over the health threat. The World Health Organization has said it is particularly concerned about high-risk nations with weaker health systems, which who may lack the facilities to identify cases.