Bimtek KEP, Pusluhtan BPPSDMP Apresiasi Inisiasi Pemprov Aceh
Aceh Provincial Govt Holds Agribusiness Technical Guidance for Farmers
Editor : M. Achsan Atjo
Translator : Dhelia Gani

PUBLISHED: Rabu, 26 Juni 2019 , 15:20:00 WIB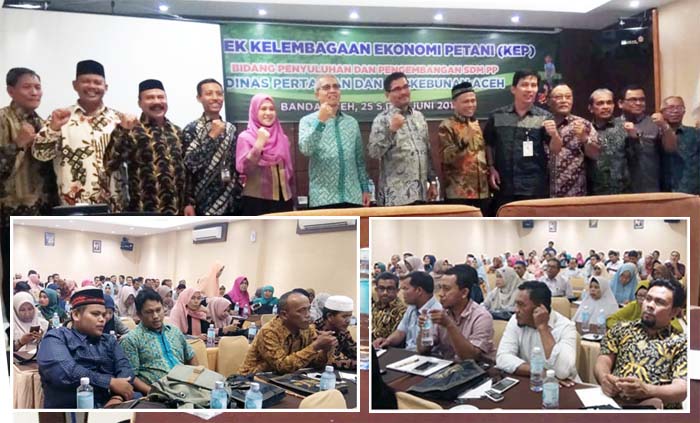 BIMBINGAN TEKNIS: Kabid Penyelenggaraan Penyuluhan - Pusluhtan, I Wayan Ediana [batik hijau, ke-6 kiri] dan Kadinas Pertanian Aceh, A Hanan [ke-7 kanan] dan para peserta Bimtek KEP [Foto2: Humas Pusluhtan]
Banda Aceh, Aceh [B2B] - Pemerintah Provinsi Aceh berupaya menyamakan persepsi dan pemahaman kepada kelompok tani [Poktan] tentang pengembangan Kelembagaan Ekonomi Petani [KEP] seraya meningkatkan pengawalan dan pendampingan penyuluh pertanian terhadap pembangunan pertanian Aceh melalui bimbingan teknis [Bimtek KEP]. Kegiatan Bimtek KEP diapresiasi oleh Badan Penyuluhan dan Pengembangan SDM Pertanian - Kementerian Pertanian RI [BPPSDMP Kementan] sebagai upaya menggerakkan ekonomi pedesaan melalui KEP.
Hal itu dikemukakan oleh Kepala Dinas Pertanian Pemprov Aceh, A Hanan dan I Wayan Ediana selaku Kepala Bidang Penyelenggaraan Penyuluhan di Pusat Penyuluhan Pertanian [Pusluhtan BPPSDMP Kementan] mewakili Kepala Pusluhtan, Siti Munifah pada pembukaan Bimtek KEP Aceh yang diikuti hampir 100 peserta terdiri atas pengurus Poktan dan penyuluh pertanian dari seluruh kabupaten di Provinsi Aceh pada Selasa [25/6] di Banda Aceh.
"Provinsi Aceh termasuk 10 provinsi utama penyedia pangan nasional, bila masyarakat Aceh bahu membahu bersatu untuk bekerja maksimal pasti Aceh dapat bergeser menjadi lima besar, dan penyuluh pertanian berperan penting mewujudkan target tersebut," kata A Hanan saat membuka Bimtek KEP di Banda Aceh.
Dia menguraikan tentang tiga harapan besar Pemprov Aceh terhadap pelaksanaan Bimtek KEP yakni: memberikan pemahaman kepada para pengambil kebijakan di tingkat kabupaten di seluruh Aceh tentang pengembangan KEP; menyamakan pemahaman para penyuluh selaku pendamping dalam menumbuhkembangkan KEP; dan membangun gerakan untuk meningkatkan pengawalan dan pendampingan penyuluh terhadap program pembangunan pertanian Aceh.
I Wayan Ediana mengapresiasi inisiasi Pemprov Aceh menggelar Bimtek KEP, meskipun belum mendapatkan anggaran penumbuhan KEP, namun komitmen Pemprov Aceh diakui sangat membantu petani untuk meningkatkan keterampilannya dalam pengembangan usaha taninya sehingga memiliki nilai tambah dan meningkatkan daya saing di pasar.
"Bimtek KEP ini sejalan dengan instruksi Presiden RI Joko Widodo pada pembukaan Musrenbangtan pada 5 Januari 2017 di Jakarta agar tidak membiarkan petani bekerja sendiri-sendiri dengan menguatkan manajemen dan organisasinya berbasis teknologi informasi dan komunikasi (TIK).
"Selanjutnya mereka [petani] didorong untuk berkelompok atau membentuk cluster agar komoditas pertanian yang diusahakannya memenuhi skala ekonomi dan memiliki daya saing," kata I Wayan Ediana mewakili Siti Munifah.
Tampak hadir Kepala Divisi Regional Perum Bulog Aceh, Sabaruddin Amrullah, Kepala Balai Pengkajian Teknologi Pertanian [BPTP] Aceh M Ferizal, Manager Analis Ekonomi Bank Indonesia, perwakilan Bank BNI, Direktur Bank Perkreditan Rakyat Aceh Sri Hartati dan Komisi Ahli Pertanian Provinsi Aceh. [Liene]
Banda Aceh of Aceh [B2B] - The Aceh provincial government seeks to equalize the perceptions and understanding of farmer groups [Poktan] about developing Farmer Economic Institutions [KEP] to increase escort and mentoring of agricultural extensionists for Aceh´s agricultural development through technical guidance [Bimtek KEP]. The activity was appreciated by Indonesian Agriculture Ministry´s Directorate of General of Agricultural HR Development [BPPSDMP Kementan] as an effort to move the rural economy through the KEP.
It was stated by Head of Aceh Provincial Government Agriculture Office, A Hanan and Head of Section for Organizing Agricultural Extension, I Wayan Ediana representing Director of Center for Agriculture Extention, Siti Munifah, was attended by nearly 100 participants of farmer groups and agricultural extension workers across the districts on Tuesday [June 25].
"Aceh province is among the 10 main provinces for national food providers, if Acehnese work hard together will make Aceh rise to the top five, and agricultural extension workers have an important role to realize these targets," said Hanan while opened the Bimtek KEP in Banda Aceh, capital of the province.
He described the three targets of Aceh provincial government provide understanding to policy makers at the district level, equalize the understanding of agricultural extensionists to support development of farmers' economic institutions; and developing a movement to increase escort and mentoring of agricultural extension workers to Aceh's agricultural development programs.