Silaturahim, Kunci Sukses BPPSDMP Capai Target 3 Pilar SDM Pertanian
Indonesian Agriculture Ministry Focus of Agricultural HR Development
Editor : M. Achsan Atjo
Translator : Dhelia Gani

PUBLISHED: Rabu, 12 Juni 2019 , 15:59:00 WIB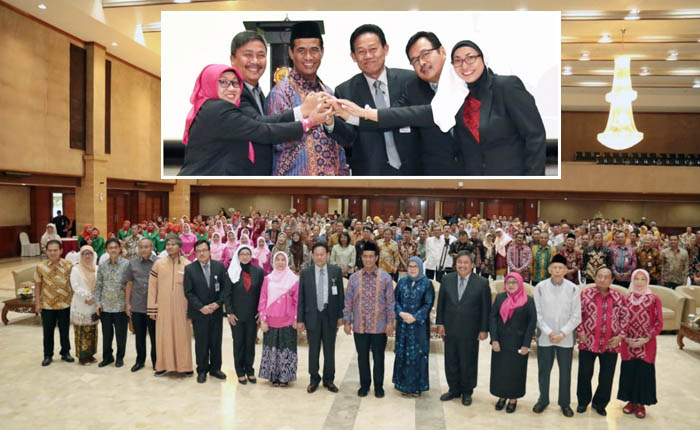 HALAL BIHALAL: Mentan Amran Sulaiman dan Kepala BPPSDMP Momon Rusmono bersama pejabat eselon dua BPPSDMP antara lain Kepala Pusluhtan Siti Munifah [inset] Foto2: Humas BPPSDMP/Pito & Eko
Jakarta [B2B] - Menteri Pertanian RI Andi Amran Sulaiman dan Kepala BPPSDMP Kementan Momon Rusmono melakukan silaturahim dengan seluruh jajaran unit kerja Badan SDM Pertanian yang mengusung semangat ´silaturahim adalah kunci sukses mencapai target Tiga Pilar SDM pertanian´. Kegiatan halal bihalal di Jakarta, Rabu [12/6] dihadiri Sinis Munandar, Winny Dian Wibawa dan Pending Dadih Permana, ketiganya mantan Kepala BPPSDMP Kementan.

Mentan Amran Sulaiman didampingi istrinya, Hj Martati Sulaiman disambut hangat oleh jajaran Badan Penyuluhan dan Pengembangan SDM Pertanian [BPPSDMP] yang bermarkas di Gedung D kantor pusat Kementan kawasan Ragunan.

"Saya secara pribadi menghaturkan mohon maaf lahir batin kepada seluruh jajaran BPPSDMP Kementan. Hal terpenting adalah saya sangat puas atas persentase kehadiran pegawai di hari pertama kerja setelah cuti bersama Lebaran betul-betul memuaskan," kata Mentan mengawali sambutannya.

Dia mengingatkan seluruh jajaran BPPSDMP lebih serius dan bekerja keras meningkatkan kualitas SDM pertanian, untuk mencapai target 3 Pilar SDM mengingat Presiden RI Joko Widodo menetapkan 2019 sebagai tahun awal pembangunan SDM pertanian.

Menurut Mentan, Kementan pada era Joko Widodo - Jusuf Kalla mampu meraih banyak prestasi yang dahulu sulit diraih seperti kenaikan pendapatan domestik bruto [PDB], Opini Wajar Tanpa Pengecualian [WTP] dari Badan Pemeriksa Keuangan RI selama tiga tahun berturut-turut, penghargaan anti gratifikasi dari Komisi Pemberantasan Korupsi [KPK].

"Capaian kita ini sangat luar biasa. Soal inflasi misalnya, lompatannya cukup bagus. PDB naik, Opini WTP dan penghargaan KPK berhasil kita raih. Saya minta ini dipertahankan dan ditingkatkan. Saya sangat mengharapkan BPPSDMP Kementan harus terlibat penuh mempertahankan capaian ini ke depan," kata Amran Sulaiman.
Tampak hadir Sekretaris BPPSDMP Kementan, Prihasto Setyanto; Kepala Pusat Penyuluhan Pertanian [Pusluhtan] Siti Munifah; Kepala Pusat Pelatihan Pertanian [Puslatan] Bustanul Arifin Caya dan sejumlah pejabat eselon dua, tiga dan empat serta para kepala unit pelaksana teknis [UPT] BPPSDMP Kementan dari seluruh Indonesia.

Tiga Pilar SDM
Sebelumnya, Momon Rusmono dalam sambutannya mengharapkan BPPSDMP Kementan fokus pada tiga pilar SDM pertanian: penyuluhan, pendidikan dan pelatihan, mengingat 2019 adalah tahun yang mengawali fokus pemerintah dalam pembangunan SDM pertanian.

"Dengan silaturahim dan terjaganya kekeluargaan akan memperkuat program-program BPPSDMP menciptakan SDM pertanian yang mandiri, profesional dan berdaya saing," kata Momon Rusmono yang juga menjabat Pelaksana Tugas [Plt] Sekjen Kementan.

Visi misi BPPSDMP diwujudkan melalui program peningkatan penyuluhan, pelatihan pertanian, dan pendidikan pertanian yang dijabarkan melalui dua program aksi: Gerakan Pemberdayaan Petani Terpadu (GPPT) dan Gerakan Regenerasi Petani.

"Pusat Penyuluhan Pertanian atau Pusluhtan melakukan penguatan fungsi balai penyuluhan pertanian sebagai kelembagaan penyuluhan pertanian di kecamatan. Didukung penguatan kelembagaan penyuluhan pertanian di desa, yang lebih dikenal sebagai pos penyuluhan desa atau kelurahan disingkat Posluhdes," kata Momon Rusmono.

Pusat Pendidikan Pertanian (Pusdiktan) mengembangkan program Penumbuhan Wirausahawan Muda Pertanian (PWMP) sejak 2016 untuk menumbuhkan, meningkatkan minat, keterampilan, dan jiwa kewirausahaan generasi muda di bidang pertanian.

"Dari sisi peningkatan kompetensi SDM pertanian maka Pusat Pelatihan Pertanian atau Puslatan mengembangkan pelatihan teknis pertanian dengan menerapkan pola pelatihan on the job training disingkat OJT yakni tematik, sekolah lapang, dan kegiatan magang sehingga petani dapat lebih cepat mengadopsi teknologi baru," katanya. [Cha]
Jakarta [B2] - Indonesian Agriculture Minister, Andi Amran Sulaiman and Director General of Agricultural HR Development [BPPSDMP Kementan] Momon Rusmono held Eid al-Fitr hospitality with civil servants of BPPSDMP Kementan here on Wednesday [June 12]. Attended by Sinis Munandar, Winny Dian Wibawa and Pending Dadih Permana, formers of Director General of BPPSDMP Kementan.
"I personally conveyed an inner apology to all civil servants. I am also happy because the level of attendance of civil servants remains high on the first day of work after the Eid holidays," Minister Sulaiman said.
He also requested that all line ministries be more serious to increase agricultural production considering that Indonesia currently has the opportunity to increase exports of agricultural commodities.
According to him, the ministry achieved many achievements that were previously difficult to achieve such as an increase in gross domestic income, Unqualified Opinion [WTP] of the Supreme Audit Board [BPK] for three consecutive years, an anti gratification award of Indonesia Anti-graft Commission [KPK].
"Our achievements are very remarkable. For example, the inflation problem has dropped significantly. I ask will be maintained and improved. I really hope BPPSDMP Kementan must be fully involved in maintaining the achievement going forward," Minister Sulaiman said.
Agricultural HR Development
Agricultural HR Development Momon Rusmono emphasized the vision of developing professional, independent and competitive agricultural human resources to support achievement of food sovereignty and welfare of farmers.

The vision and mission is improvement of agricultural extension, agricultural training, and agricultural education in the action program: integrated farmer empowerment movement and farmer regeneration.

"The Agricultural Extension Center or Pusluhtan strengthening agricultural extension centers in the subdistrict supported by strengthening village agricultural extension services," Mr Rusmono said in his speech.

The Agricultural Education Center or Pusdiktan developing the Agriculture Young Entrepreneur Development program or PWMP since 2016 to increase the interests, skills and entrepreneurial spirit of the younger generation in the agricultural sector.

"The Pusdiktan has made transformation of Agricultural Extension College or STPP into Agricultural Development Polytechnic or Polbangtan of orientation graduated as agricultural extensionist become job creators," said Mr Rusmono who was accompanied by Secretary of BPPSDMP Andriko Noto Susanto.

Related to the competency of agricultural HR, Agricultural Training Center or Puslatan develop agricultural technical training with training patterns ´on the job trainning´ or OJT through thematic training, field practice, and apprenticeship programs so farmers are faster to adopt new technologies.