100 Desa Kakao, Penyuluh `Kunci Sukses` Program Readsi di Sulteng
Indonesian Agricultural Extensionist Support the READSI`s Program
Editor : M. Achsan Atjo
Translator : Dhelia Gani

PUBLISHED: Senin, 29 April 2019 , 01:58:00 WIB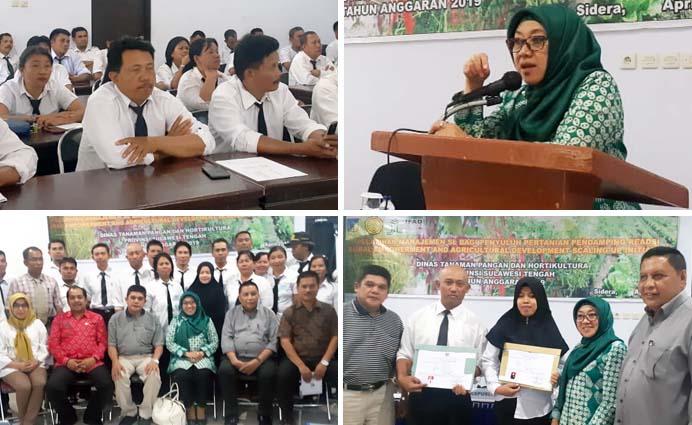 PELATIHAN MANAJEMEN: Kepala Pusluhtan BPPSDMP Siti Munifah [kanan atas] dialog dengan penyuluh, bersama peserta terbaik penerima sertifikasi Readsi didampingi Kabid Penyuluhan TPH Sulteng, M Adam [Foto: Pusluhtan/Rostika]
Palu, Sulteng [B2B] - Sekitar 40 penyuluh pertanian peserta pelatihan ´manajemen sekolah lapang [SL] pendamping´ berperan aktif memberdayakan petani di 100 desa potensi tanaman kakao dan tanaman pangan pada lima kabupaten di Provinsi Sulawesi Tengah, yang menjadi sasaran Program Rural Empowerment and Agricultural Development Scaling-up Initiative [Readsi].
Hal itu dikemukakan Kepala Pusat Penyuluhan Pertanian [Pusluhtan BPPSDMP] Siti Munifah saat menutup pelatihan yang berlangsung di UPT Pendidikan dan Pelatihan Dinas Tanaman Pangan dan Hortikultura [TPH] Pemprov Sulteng di Palu, Sabtu [27/4]. Siti Munifah juga didaulat menutup pelatihan yang telah berlangsung sepekan tersebut.
"Keterlibatan penyuluh sangat vital untuk mendukung peningkatan kapasitas petani melalui kegiatan pemberdayaan. Apabila produktivitas kakao meningkat maka penyuluh berkontribusi meningkatkan pendapatan devisa negara dari kakao," kata Siti Munifah dalam arahannya yang dihadiri oleh Kabid Penyuluhan Pertanian TPH Pemprov Sulteng, Muhammad Adam.
Dia mengharapkan penyuluh melakukan perbaikan pengelolaan budidaya [better farming] dengan perhitungan analisa usahatani yang mendetail, sehingga petani dapat memilih strategi usaha yang lebih menguntungkan [better business] sekaligus meningkatkan kesejahteraan petani kakao [better living].
"Penyuluh pendamping program harus mendukung transformasi kelembagaan petani, Poktan dan Gapoktan menjadi korporasi petani melalui dukungan manajerial sehingga pengelolaan usahanya dapat dikelola oleh pengurus korporasi lebih efisien dan menguntungkan atau better income," katanya lagi.
Siti Munifah juga mendapat pertanyaan dari beberapa penyuluh seperti "kapan kenaikkan BOP dapat diberikan oleh negara?" Pertanyaan lain tentang sarana transportasi, "apakah pendamping Readsi mendapatkan bantuan sepeda motor karena lokasi pendamping yang tersebar dan jauh jarak tempuhnya?"
Dalam pengelolaan kegiatan Readsi secara nasional, Badan Penyuluhan dan Pengembangan Sumber Daya Manusia Pertanian (BPPSDMP) dan Pusat Pelatihan Pertanian [Puslatan] menjadi pelaksana utama [executing agency] membentuk pengelola program nasional untuk mendukung kegiatan Readsi di tingkat provinsi dan kabupaten. [Ika]
Palu of South Sulawesi [B2B] - The training of agricultural extensionist to increase capacity of farmers for good agricultural practice and sustainable cocoa farming, is the main objective of training in Palu, the provincial capital of Central Sulawesi.
The objective of training to support increased income and the welfare of cocoa farmers at the READSI program location in Indonesian provinces: South Sulawesi, Central Sulawesi, and Southeast Sulawesi as well as Monev officers and farmers.
As is known, the alleviation of poor farmers is the focus of the Rural Empowerment and Agricultural Development Scaling-Up Innitiative program or the READSI held in eight districts of six provinces in Sulawesi, Kalimantan and East Nusa Tenggara.
The 70% practical learning methods and 30% theory, more participants in the field and direct practice so participants more easily understand the training material.